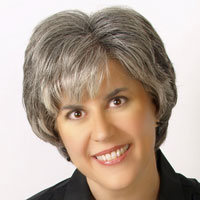 Jeannette Webb
Former columnist for
Practical Homeschooling Magazine
.
Jeannette Webb has worked with high school students for over 25 years, helping them develop public speaking, leadership, and interview skills, as well as prepare effective scholarship applications. She spent a decade with the OSU Cooperative Extension Service as 4-H and Youth Development Specialist and Resource Management Specialist before she became a home educator in 1993. A former OCHEC Trustee, she has also been a support group leader and conference speaker. In 2005, Jeannette received a Presidential Scholar Distinguished Teacher Award. Jeannette teaches "Homeschooling Through High School" seminars and is a college coach dedicated to helping homeschool students matriculate to America's top colleges, including her own two homeschool graduates, who are now attending top colleges. She can be reached through aiminghigherconsultants.com.

---
Homeschooling Articles by Jeannette Webb
SAT Prep for First Grade? We start homeschool with kindergarten. When do we start SAT prep?
Essays That Bring Home the Bacon College application and exam essays that bring home the bacon.
The Critical Junior Year Planning the eventful junior year of high school.
The Gift of a Mentor How the right mentors can bless your children.
How I Trained My Children to Be Leaders Jeannette lets us in on some of the secrets that have led to her children's amazing success.
Parents as Mentors What a parent needs to do to become an effective mentor for her children.
The Freshman Year of High School: Keep It Real How to have a successful freshman year of high school.
The Sophomore Year of High School: Emerging Butterflies What should our goals be for the sophomore year of high school?
Raising Gifted Children Right Seven top tips help parents avoid major mistakes with their gifted kids.
PSAT/SAT/ACT and National Merit Should you take the PSAT, the SAT, or the ACT? How do you prepare, and why should you care about these National Merit tests?
Senior Year: The Final Lap The last year of homeschool, graduation and on to college
How to Pick a College Match your talents and personality with the perfect college
Building a College Résumé With a few organizing techniques and documentation procedures, it becomes much less fraught making a college resume for your homeschool student.
The College Application You cannot fail in your college application if you follow these important steps.
Creating Your School Profile & Transcript Legend Tips on how to make a school profile.
How to Make a High School Transcript There are many elements which go into a high school transcript.
Going Deeper Learn how Jeannette Webb challenges her children to push themselves beyond their comfort zones in their education.
Developing Passion Find out how to let passion flower in your home.
High School Research Sometimes it cannot hurt to think big for high school research projects.
10 Ways to Prepare Your Home for Joyful Learning Sacrifice a little neatness and make your home a place where kids love to learn.
Print-Rich Environment Nothing promotes learning like a house full of books.
For Them or With Them? A Mother's Dilemma Should we do things for our children or alongside them?