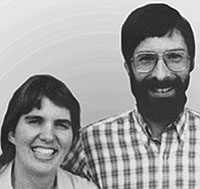 Howard and Susan Richman
Former columnists for
Practical Homeschooling Magazine
.
Howard and Susan Richman have four always-homeschooled children, two in college, and have written several books about homeschooling, including Three R's at Home. You can visit their web site at www.pahomeschoolers.com.

---
Homeschooling Articles by Howard and Susan Richman
"Our State Organization Grants Recognized Diplomas" Howard Richman explains how Pennsylvania Homeschoolers pulled this off.
Colleges Without Walls Howard Richman imagines the college of the future.
Contests for your Kids The Richmans tell you how to enter.
Team Contests Sue Richman briefs you on contests your homeschool group can enter.
Getting College Credit for Your Homeschool Susan Richman tells us how to prepare our children for the AP Exams and beyond.
Driver Education Homeschooled kids can get in driving accidents too. Here's how to do driver's ed right.
Scholarship Search Services: Help or Scam? Wondering about those college scholarship search services? DON'T!
AP Courses At Home Preparing for Advanced Placement tests at home.
Time to Think About College Board Testing... The PSAT, the SAT I and SAT II, what to do about them, and why you should care.
Listen to the Voices of the Past - Through the Internet! Primary source documents on the Internet.
Essay Contests for Teens Here's the scoop on essay contests you can enter.
Learn a Living Language! How and why...
How to Win the Geography Bee If you subscribe to National Geographic and paper your walls with maps, this is for you!
To Skip or Not to Skip... that is the question.
Think Math Contests! Contests that add pizzazz to math study.
Choosing the Best College for Your Homeschooler Choosing a college: What should you consider when you're looking through the viewbooks?
Speed Reading Learn to speed read! How it works, what books to buy, what to try!
What I've Learned about Learning... by Learning Hebrew Choosing a college: What should you consider when you're looking through the viewbooks?
Writing for Real Audiences... Why Writing Clubs Help Practical help for whatever you want to study.
Shakespeare and Creative Dramatics at Home The Shakespeare Sleepover Society and other creative ways home-schoolers are pursuing the dramatic arts.
12 Ways Homeschooling Is Like Housework How is homeschooling like housework? Read this and laugh!
Summer Studying... But Not at Home Summer academic camps... another way to homeschool away from home!
Homeschooling and Pets What can homeschooled kids learn from their pets?
How to Teach Your Children Not to Plagiarize Plagiarism can destroy a student's future life. Here's how to teach your kids to be honest writers.
Homeschoolers and Advanced Placement Advanced Placement exams can have great benefits for a homeschooler's college career. Find out how it works and how to find an online course.
A Homeschooler's Guide to the Recession Howard Richman gives us a clear view on how the recession got as bad as it did.