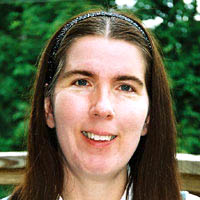 Melissa Morgan
Columnist for
Practical Homeschooling Magazine
.
Melissa L. Morgan is the co-author of Educational Travel on a Shoestring and Homeschooling on a Shoestring. With her husband, Hugh, she has homeschooled their three children from birth, taking advantage of many educational opportunities in the real world. She invites you to visit her website at www.eaglesnesthome.com.

---
Homeschooling Articles by Melissa Morgan
How to Avoid the 12 Most Common Curriculum Money Traps
Real World Learning for Less Inexpensive real-world learning.
Worldview on a Shoestring Teaching worldview on a limited budget.
Social Studies: Fun, Free, or Cheap Social studies, practically for free.
Superior Science on a Shoestring Science on a small budget.
Organize Your Homeschool On a Budget
What Does My Preschooler Need to Know? What does your preschooler need to learn, and how can you teach it?
Preschool for Pennies How to teach your preschoolers almost for free.
Special Needs Preschool Resources to help you teach preschoolers with special needs.
Getting Ready to Write How to get a preschooler ready for handwriting.
Science for Tots Teaching science to your preschoolers and getting everyone else involved at the same time.
Music for Tots Teaching preschoolers to sing and play inexpensive instruments.
History for Preschoolers Help your preschoolers learn history and love doing it.
Arts & Crafts Low-cost craft activities that bring activities to life for little ones.
Geography for Little Ones Preschool geography can be all fun and games.
Nursery Rhymes and "Tot Lit" Teach your little ones the joy of reading with "tot lit".
Getting Ready to Read How to teach the skills your little ones need to be ready to read.
Preschool Prep for Pennies How to do preschool at home inexpensively.
Every Day a Holiday Juice up your preschool with holiday units.
Hands-On Second Grade on a Shoestring
Exploring Interests in the Real World: Third Grade Tips Third grade on a shoestring.
Testing Tips For Little Ones What do your little ones know?
Physical Education on a Shoestring Inexpensive physical education for your preschooler.
Group Activities Group activities and field trips on a shoestring.
Character Matters for Kids Teaching good character on a slim budget.
Education Vacations Try educational vacations for hands-on geography and more.
Nature Study How to enjoy nature with your preschooler.
Parent-Led Bible Education A call to parents to take the lead in family devotions
Church-Based Christian Education Tips for setting up a homeschool-friendly Christian education program at your church
Safety Smart Turn your back for an instant, and your kamikaze kid is exploring a light bulb, playing in the street, or climbing the kitchen cabinets. This all can be avoided by teaching your kid to be safety smart.
Toddlercizing at Home Most youngsters can bop 'til you drop, so it's fun to see how long mom or dad can last.
Happiness Is . . . Holidays Learn some ways to make your holidays stress free!
Overworked, Underpaid, and Overjoyed Toddlers can be educated too!
Investing in Eternity with the National Bible Bee The grass withers and the flowers fall, but the Word of our God stands forever (Isaiah 40:8)
Types of Tykes: Enjoying Your Little Learner's Style What are the different learning styles, and how can one tell which is the best for their child?
Toddler Travel: Top Ten Tipe for Enjoying—Not Just Surviving—Educational Trips Toddler travels can be trying, but apply these tips and the road will likely become more pleasant.
Make Mom Play Ball: Physical Education for Tots What to think about when designing physical education activities for toddlers.
Team Teaching: Older Kids Save the Day! Make "team teaching" part of your homeschool's success.
Preschool thinking Skills How to begin training your preschooler's thinking skills
20 Chores Your Toddler Will Love Here are 20 chores your toddlers will be begging you to let them do