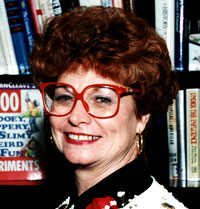 Janice VanCleave
Columnist for
Practical Homeschooling Magazine
.
Janice VanCleave is the author of fifty-two science experiment books for kids and educators. She is currently creating a homeschool section on her science website and invites you to visit her website and make suggestions for topics you'd like to see on her site, scienceprojectideasforkids.com.

---
Homeschooling Articles by Janice VanCleave
Daylight Savings Discover how daylight savings time works!
Meteorites What happens when a meteor strikes the earth?
Water from Gases How can we get liquid by combining two gases?
Flies on the Ceiling How do flies walk on the ceiling and what is it like to walk upside down?
Buoyancy Why a metal boat floats, but a metal ball sinks.
Walk Like a Bug How bugs walk without stepping on their own toes.
How Joints Work Build a model elbow!