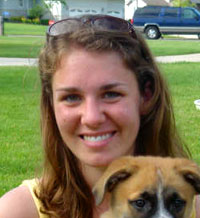 Amanda Freitag
Former columnist for
Practical Homeschooling Magazine
.
Amanda Freitag, homeschooled grades 7-12, received her writing degree from Northwestern College (St. Paul, MN) in May 2005. Two weeks later, she returned as Coordinator of Grants and Alumni & Parent Relations. She spends her spare time rescuing frogs from her dog, Henry, and freelancing as a magazine and grant writer.

---
Homeschooling Articles by Amanda Freitag
How to Teach Good Writing Without an English Degree Amanda breaks down what you need to know in order to teach college-ready writing skills.