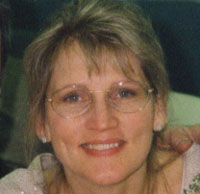 Kathy von Duyke
Former columnist for
Practical Homeschooling Magazine
.
Katherine von Duyke has home taught her 12 children for 17 years, and teaches algebra and earth science for Towle, a homeschool high school. She has written the Month by Month spelling guide, a companion guide to The Writing Road to Reading, and The Home Education Copybook, a resource for developing and using unit studies.

---
Homeschooling Articles by Kathy von Duyke
Use the Copier to Add Spice to Your Homeschool Kathy von Duyke has new ideas about how to use the copier (legally) for everything from household management to science.
Is It Mom or Memorex? Kathy von Duyke's educational tapes save her a lot of trouble.
Videos: Bane or Blessing? Kathy von Duyke helps you get those flickering images under control.
The Towle School Approach Kathy von Duyke describes a school just for homeschoolers.
Getting Organized Part 1 - Tips & Tricks Kathy von Duyke has great ideas on how to get organized.
Developing Your Teaching Style Kathy Von Duyke provides 13 ways to make sure they're learning what you're teaching.
Is Every Culture Equally Valid? Shivering in the rain forest, plus missions a la geography.
Getting Smart with Art How to teach your children "real" art the homeschool way.
How to be a Professional in Your Own Home How to become a pro teacher.
Banqueting Basics, Part 1 Three main courses and dessert.
Banqueting Basics, Part 2 More on the "Banquet Approach".
Sketchy Training Discover one of the world's most powerful teaching tools!
Introducing the Montessori Method The philosophy behind this child-friendly method, and some practical tips on how to make it work in your home.
The First Two Weeks of Montessori Homeschool How to get started? Here are tips for the first two weeks of a Montessori homeschool.
Periods, Planes, Ages & Stages How to teach children of all ages.
How Free Should They Be? When is freedom too free? Some tips for adding structure without squelching your child's spirit.
Phonics the Montessori Way Secrets of readiness, timing, and teaching letters with stories.
Phonics the Montessori Way, Part 2 More on teaching reading with phonics the Montessori way, this time with blending!
What I Learned at the Montessori Conference A visit to a Montessori conference that might change the future of your homeschool.
Montessori Math Math the Montessori way.
Montessori Language Arts at Home, Part 1 Language arts the Montessori way.
Montessori Language Arts at Home, Part 2
Building a Montessori Homeschooling Co-op Suggestions for how to start and maintain a Montessori co-op.