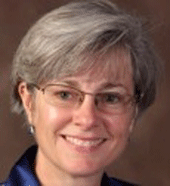 Diane Lockman
Columnist for
Practical Homeschooling Magazine
.

Diane Lockman, author of Trivium Mastery, practiced nine years as a CPA before cheerfully coming home to be with Meredith and Connor until they were old enough for school.
When Meredith was in first grade, diane heard about homeschooling.
She looked into it and a few weeks later, persuaded David to let her pull the kids out of school. Diane is the founder of The Classical Scholar (classicalscholar.com), a site for teaching other homeschool parents how to teach in the classical style.
When she's not reading, writing, managing the kids' education, or teaching live classes, Diane enjoys sewing period costumes.

---
Homeschooling Articles by Diane Lockman
Classical Education Made Much Easier Classical education does not have to be a chore.
The Post-Trivium Years: Wrestling with Meaningful Ideas What classical works should your children study, and how should they be guided in their understanding of such things?
Eloquent Kids in 5 Minutes a Day Your kids can easily become good speakers using these great tips.
Writing the Perfect Paragraph Steps for leading even reluctant writers to write the perfect paragraph—the classical way.
Making Economics Real: How We Use the News Showing the real-world benefits of learning economics
Try My Grammar Camp A fun way to teach grammar that will have your students wanting more
Library Quest: Six Steps to Research Success Diane outlines a step-by-step method for researching at the library.
Recreational & Competitive Debate: How & Why Your Teens Should Try It Time spent learning to debate in high school will be valuable later in life.
An Easy Start to Language Arts Easy ways for parents to give their children a head start toward language mastery
Philosophy for Teens Helping your teens find the answers to the big questions of life