---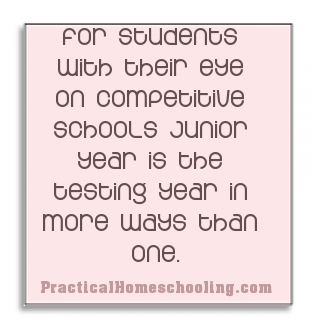 It is heartbreaking when panicking parents call me late in their child's junior year or early in their senior year of high school begging for help. The problem? Either the child has suddenly decided he or she wants to apply to a competitive school or the family has just realized that they are missing key subjects and/or necessary tests. This late in the game there is little I can do other than suggesting an extra year of high school or helping them lower their expectations for the type of college to which they will apply.
What Needs to Happen During the Junior Year
There is no way around the fact that the junior year is a long haul. For students with their eye on competitive schools, this is the testing year in more ways than one. Remember that many competitive colleges require at least three SAT Subject tests, and a few require five or six. If you know where you want to go to college, check this out as a freshman and plan accordingly. My students try to take only one SAT Subject test per test date (there are seven dates per year. Check out collegeboard.com), but take no more than two per test date.
We have addressed testing in previous columns, but have not discussed the timeline. The sophomore year will ideally hold 1 AP class/test and 1 SAT Subject test.
Here's what the junior year test schedule looked like for one of my students:
| | |
| --- | --- |
| Oct. 19 | PSAT |
| Dec. 2 | SAT |
| May 5 | SAT re-take |
| May 15 | AP Chemistry |
| May 17 | AP Econ - Macro |
| June 2 | Sat Subject tests: Chemistry & Math Level 2 |
The summer after the junior year should be spent putting college applications together.
What Should NOT be Happening the Junior Year
I have been helping students develop their leadership abilities and public speaking skills for over 25 years. I am a firm believer in the value of extracurricular or co-curricular activities, of work experience, and of public service. However, many homeschoolers put too much emphasis on these things (hoping for scholarships) to the detriment of cultivating their intellectual abilities.
Too often I have seen high school juniors so involved in traveling ministries, in demanding internships, and in challenging sports that they miss important coursework and/or college entrance tests or do not have time to prepare properly and therefore score well below their abilities.
We must remember that college is an academic exercise. If our children cannot perform in the classroom, they will not be successful at competitive colleges. SAT scores will usually determine the first cut in admissions offices. If your student scores within the range accepted by the college, the non-academic profile is considered. If they don't score well on the SAT, all the activities are for naught.
The answer? Try to maximize leadership opportunities as freshmen and sophomores. Use summers for leadership or traveling. If the only leadership/service opportunity is during the school year, you must make up course work over the summer (which happens only for very disciplined students). Better yet, push hard academically during the freshman through junior years and travel or pursue internships as a senior or super senior a year after your college applications are basically completed. This is not to say that you should ignore service and leadership activities, but hold them in a delicate balance with academics.
It is so easy in a homeschool situation to allow our children to spend inordinate amounts of time in the areas they excel and totally ignore the academic areas in which they struggle. To do so will cripple your children in many ways.
Stress Management
The schedule for this year is grueling, but a wise homeschool parent will help their student manage the stress. I bought my daughter a thick test prep book for each test that she wanted to take (there were six her junior year), but I also bought a hammock. When her eyes began to cross, I sent her outside with a good book to read, whether or not her assignments were finished. I would prepare tea for a needed afternoon break. I made sure she had time to exercise, time to study the Bible, and time to debrief on a daily basis. I helped her learn to more efficiently manage her leadership activities.
However, there are some things I do not allow during the junior year. I do not allow her to help me with the details of running our home (cooking, cleaning, laundry, caring for younger siblings, etc.) even though she dearly loves to do those things. She knows how to work and how to manage. This junior year is her year to test her abilities, to prepare herself for the college of her dreams. This year is my gift to her and to my grandchildren. She does pursue her leadership activities, but at a lower level than in years past. She has had to drop back to only two hours of music practice per day, which is not ideal, but is all her packed schedule will permit.
The junior year is arduous, but it is also magic. I watched both my children walk through the crucible and emerge on the other side as competent, confident adults. They came through the fire sure of their faith, sure of themselves, sure of their ability to make it in the world. And that, my friend, is why I homeschooled in the first place.
Each family needs to determine what they are willing to sacrifice to meet educational goals. My sister and I were willing to spend our junior years, but no more, jumping through admission hoops. We were willing to take three SAT Subject tests, 1-4 AP tests, and the SAT, but no more. If a school had unreasonable requirements (i.e. 5-6 SAT Subject tests), we rejected them. My junior year wasn't fun, but in addition to winning me a spot at my dream school, it taught me focus, time management, and the importance of delaying gratification. All of these things proved critical for me at Caltech and are certainly important in the real world. -Austin Webb