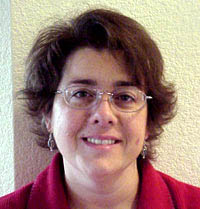 Shelly Mathiot
Former columnist for
Practical Homeschooling Magazine
.
Chris and Shelley have been married for 17 years and reside in Folsom, CA, with their four children. Before staying home to raise children, Shelley wrote for a weekly newspaper. She figured writing for newspapers was the most challenging and rewarding job she had ever had until she became a mommy. Now, with the Peter Principle in full effect, she says she is finally where she belongs; unable to be effective and to do the job right apart from the power of Christ! The Mathiots attend church at Grace Bible Church in Fair Oaks, CA. If you decide to come and visit, call ahead early for reservations!

---
Homeschooling Articles by Shelly Mathiot
Homeschooling with Hospitality What your children can learn from hosting friends, relatives, missionaries, or even a foreign student in your home... and how to do it.