Free Email Newsletter!
Sign up to receive our free email newsletter, and up to three special offers from homeschool providers every week.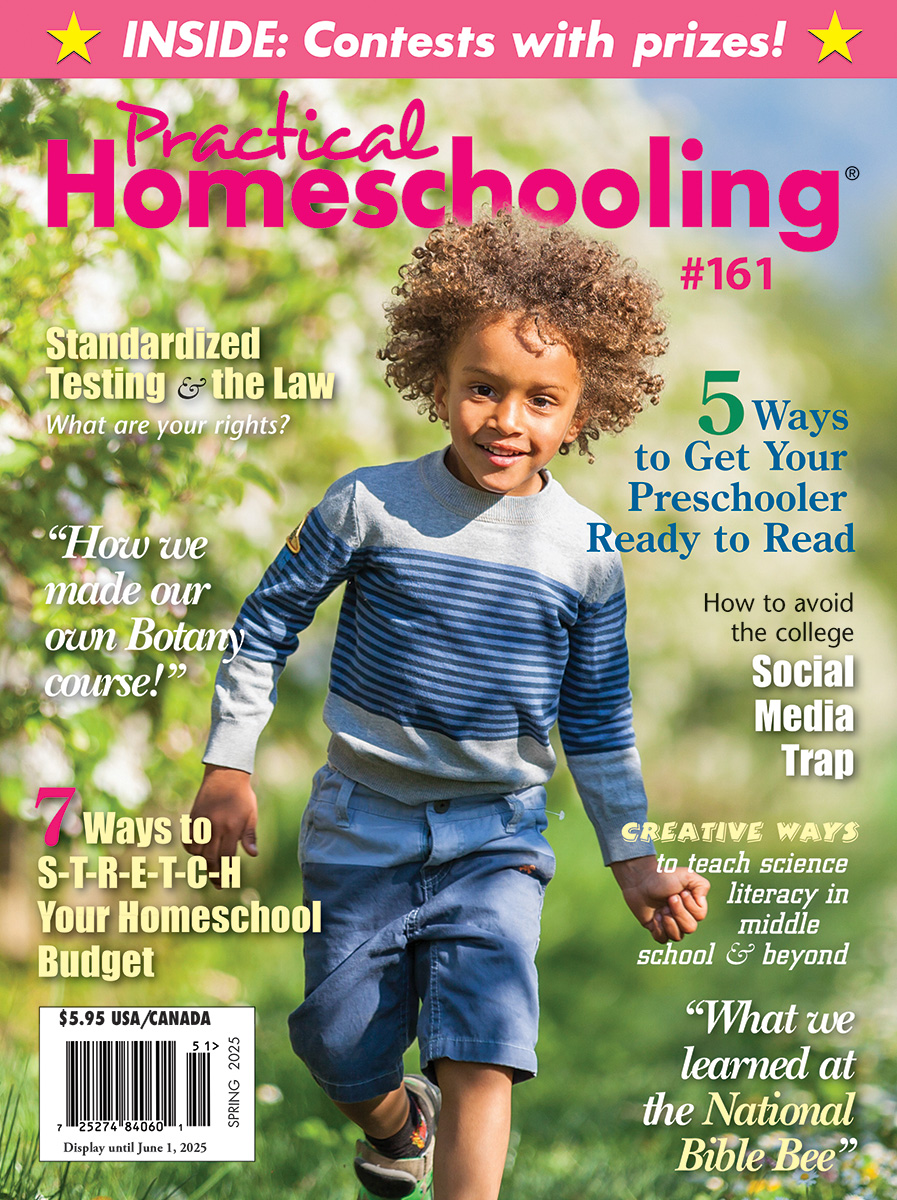 What's in our latest issue?
Find out what's new in Practical Homeschooling!

Subscribe Now!
Click here to start your subscription with this issue.

Digital Edition of Practical Homeschooling®
Click here to preview or subscribe. One low price, worldwide!

Free 2023 Bible Reading Plan from Practical Homeschooling! Read through the Bible in a year with this handy planner in printable .pdf format! With Proverbs readings every Saturday, Psalms every Sunday, and special readings on Easter, Thanksgiving and Christmas. Requires Adobe Acrobat Reader.

How to Get Started in Homeschooling
Mary Pride explains the essential ten steps.

The Top 12 Homeschool Methods Part 1 and Part 2
There are lots of ways to homeschool. Find out which one fits your homeschooling style.

Top 10 Types of Homeschool Curriculum
This infographic describes the most popular instructional methods homeschoolers use.

50 Great Quotes & Facts About the Power of Play
The value of recess and the benefits of play.

10 Steps to Make Your Children Outstanding Leaders
Leaders are made, not born. Here's how to make your child into one.

Why (and How) Cursive Handwriting Helps You Learn
New infographic explains the benefits.

The Top 10 Most Important Work Skills in 2020
This new infographic shows what the experts predict.

What You Need to Know about Standardized Testing
New infographic reveals some surprising facts.

Seven More Great Reasons to Homeschool
In case the first seven reasons weren't enough, here are seven more!

Top 10 Tips for Working at Home while Homeschooling
Ten tips to help you work from home successfully while also having an effective homeschool

5 Ways to Wow Your Preschooler with History
Preschoolers love stories, and what better stories are there than history?

What Your Preschooler Needs to Know
Basic skills you can teach your preschooler

How to Work AND Homeschool
New infographic explains!

Forum over 7,000 members!
Join over 7,000 people who have registered at our forum!

Fascinating Facts About Homeschool vs. Public School
With great visuals!

Autism and Homeschooling
This infographic is a quick, helpful primer on autism. More...

The History of Homeschooling
Where did homeschooling come from & what are homeschoolers doing? Fun infographic explains. More...

Discover Your Learning Style
What type of learner is your child? What type of learner are YOU? This handy infographic can make a difference in how you homeschool! More...

Homeschooling by the Numbers
New chart shows homeschooling "by the numbers."

20 Great Reasons You Homeschool
Clever cartoon shows all 20 reasons. It will encourage you, make you laugh!

College Admissions: What Really Matters?
What REALLY matters when it comes to college admissions? Check out this infographic to find out! More...

AP Exams for Homeschoolers
Everything you ever wanted to know about Advanced Placement exams in one handy infographic. Plus links to useful articles! More...

Tim Tebow, Homeschool Graduate
Since homeschool graduate Tim Tebow is in the news so much these days, we thought you might enjoy this story we wrote about him several years ago. More...

Are You HOMESCHOOL Mom Enough?
TIME's new cover asks "Are You Mom Enough?" So Practical Homeschooling asks - and answers - the question, "Are You HOMESCHOOL Mom Enough?"

It's Here!
The Way Home, 25th Anniversary Edition is here. Autograph available upon request!
Homeschoolers Win and Win and Win!
Homeschoolers win Geography Bee, Spelling Bee, Intel Foundation Young Scientist Award, National Vocabulary Championship... More
Attention, Librarians and Homeschoolers Who Use the Library!
We need your suggestions on how libraries can help homeschoolers and how homeschoolers can help libraries. More...
Homeschoolers and the ACT
Homeschoolers ace the ACT pre-college test... again. More...
Have news?
Have links to news stories or other items of interest? Just send us details through our online contact form!