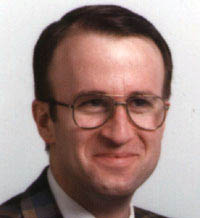 Edwin Myers
Former columnist for
Practical Homeschooling Magazine
.
Edwin C. Myers runs The Providence Project, which has designed homeschool materials used worldwide, including the popular CalcuLadder(r) math drills. Dr. Myers designed systems which flew on NASA's Voyager space probes. A well-rounded fellow, he's also a seminary graduate and composer. Dr. Myers' music has been heard on Uncle Charlie's Children's Bible Hour radio program.
Ed and Nellie are the grateful parents of twelve homeschooled children, and are well-versed in the frustrations of searching for suitable college education for their children.
Send your comments and questions about the Heartland College concept to Edwin Myers, c/o The Providence Project, 14566 NW 110th Street, Whitewater, KS 67154.

---
Homeschooling Articles by Edwin Myers
Heartland College: A Revolution in College Education The college we can start ourselves.