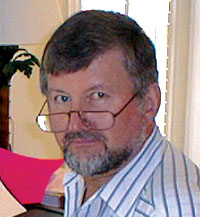 George Bigham
Former columnist for
Practical Homeschooling Magazine
.
George Bigham is a certified renaissance computer derelict who started out in high school (way back when television was only in black and white) making binary adding computers out of 17-volt relays reclaimed from slot machines confiscated by the local sheriff's office, and has gotten even geekier with every passing year. He and his lovely spouse (and business partner) Vicki Smith Bigham, provide a tremendous variety of consulting services to members of the education technology community, to software and book publishers, as well as hardware vendors and training companies. Bigham Technology Solutions, Inc. also manages industry events such as EdNET and provides FileMaker database development solutions to both education-related and other organizations.

---
Homeschooling Articles by George Bigham
How to Kill Ugly Email Viruses D-E-A-D What's that in my email? Oh, no! I really shouldn't have opened that attachment or passed on that chain letter...