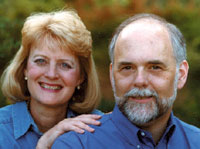 Clay and Sally Clarkson
Former columnists for
Practical Homeschooling Magazine
.
Clay and Sally Clarkson are homeschooling parents of four wholehearted children. Authors of Educating the WholeHearted Child, Seasons of a Mother's Heart, and Our 24 Family Ways, their heart is to encourage and equip Christian parents to build a biblical home and a godly heritage by nurturing, discipling and educating their children at home. Clay and Sally minister full time through Whole Heart Ministries, a non-profit evangelical ministry they founded in 1996, and WholeHearted Mothers Conferences that minister to 2,000 homeschooling mothers each year.

---
Homeschooling Articles by Clay and Sally Clarkson
Putting the Home in Homeschooling A new column introducing the "5 D's".
Trimming the Tree If this is Christmas, then where is Jesus? Some hints on how to trade tinsel for timeless treasures.
Love Books... Use Computers Computers vs. books.
Math as a Metaphor for Life Math is Life! Or at least there are a lot of similarities.
Sow What? How to sow the seeds of whole-mindedness and maturity in your children.
Sow What? 2 How to sow a whole heart in your children.
For You Who Have Need of Endurance When things stop working, who can you call?
Lost and Found: The Books of Those Who Have Gone Before Us How to find old and almost-forgotten classics on the Internet and get them in your hands!
Summer Better Than Other Don't kick yourself if you take a break while the pool is open.
The Meaning of Spiritual Freedom The real meaning.
A Question of Excellence How do you define "excellence?" Well, why are you really homeschooling?
A Neighborly Christmas A cheerful little article to leave you in a Christmasy mood.
A Life-Giving Mother Moment When your homeschool is over, what will you be the most proud of?
Loosening Up Your family life may be run by schedules, and that's great, but summer is the time to loosen up.
Back to Christian Homeschool The secular culture is trying to remake homeschooling in its own image. Time to get back to Christian homeschooling!
Keeping Peace at Home How can we have "the peace that passes understanding" in our homeschools.
There's More to Family "You're wasting your life spending so much time with your family." Oh, really?
Worldly Wisdom vs. Wordly Wisdom Teach your children knowledge, but don't neglect to teach them wisdom as well.
Putting on the Brakes You don't have to do everything at once, and you shouldn't try to.