---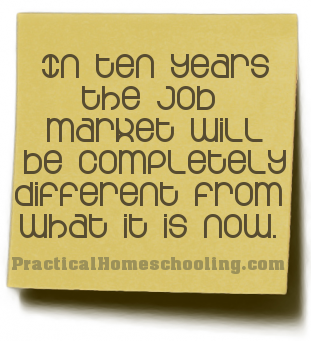 According to the U.S. Bureau of Labor Statistics, about 25 percent of all new jobs require a bachelor's or higher degree. The competition for these jobs is becoming more intense as the number of college graduates increases. In order to compete successfully, college students must plan their college program with their career goals in mind. Of course, career planning should begin much sooner, but it is essential that students make the most of their college years, otherwise they risk frustration and disillusionment when they enter the job market.
One part of the planning process should be to look at career fields where the most opportunity exists. The Bureau of Labor Statistics predicts a 14 percent increase in the number of jobs between 1996 and 2006. During that same period, the number of jobs requiring a bachelor's degree will grow by 25 percent. As we move into the next century, certain occupations will show great growth and expansion while others will stagnate and, in some cases, disappear. It is important, therefore, to be aware of the trends that are developing in the workplace.
Three trends are particularly important to note. First, the importance of continuing education. Technology is moving at an incredible pace, making training and skills quickly outdated or obsolete. The need for continuing education will grow and the benefit will be better jobs and higher salaries for many workers. Second, the relationship between years of education and earnings. The more education and/or training you have, the more money you will earn. That long enduring truism still applies, according to the Bureau of Labor Statistics data. The Winter 1996/97 Occupational Outlook Quarterly tells us that those with a bachelor's degree earn average annual salaries of $37,224, while those with only a high school diploma earn annual salaries of $20,248. Third, the increase in the number of technical jobs. By 2006, technicians will comprise 20 percent of the total workforce. Technicians can be defined as highly specialized workers who work with scientists, physicians, engineers, and a variety of professionals, as well as clients and customers.
Three fields will enjoy exceptionally strong growth in the coming years:
Health Care With our aging population, health care will continue to be a growing and dynamic industry for the foreseeable future. Highly-trained technicians will be needed to operate new high tech medical equipment. Home health care will also become a major industry.

Computers Our society can no longer function without computers. Training in basic computer skills is required in most career fields. Even an effective job search now requires computer and Internet skills. According to the Bureau of Labor Statistics employment for computer professionals will double by 2006.

Education The largest industry in 1996 was education and educational services. Employment in the professional specialty segment of this industry is projected to grow almost 20 percent by the year 2006. With continuous learning now becoming a necessity in career growth, the education industry will continue to grow dramatically in the foreseeable future.
There are many "top job" or "fastest growing jobs" lists. Based on government statistics and future workplace trends, I have chosen 25 occupations requiring a four-year degree that are either new and offer exceptional future potential or are numerically fast-growing careers that will offer a large number of job openings.
Accountant and auditor

Attorney

College and University faculty

Computer engineer

Computer programmer

Computer systems analyst

Database administrator

Electrical and Electronics engineer

Elementary teacher

Financial manager

Intranet development manager

Marketing, advertising, and public relations manager

Occupational therapist

Online research analyst

Physical therapist

Physician's assistant

Physician - especially primary care and general surgeon

Radiologic technologist

Residential care counselor

Respiratory therapist

Secondary school teacher

Securities and financial services sales personnel

Social worker

Special education teacher

Speech pathologist
This list is not intended to be the final word on the top 25 growing jobs, but seeks rather to provide some insight into trends in the workplace. Students who are pursuing a four-year degree need to begin researching the career opportunities and requirements that relate to their studies. For example, if you are majoring in education and plan to teach, it would be good to know that the fields of special education and elementary education are growing while jobs teaching high school social studies usually have many more applicants than jobs available. While it is important to follow your interests and aptitudes, keeping the realities of workplace opportunities in mind will improve your chances of financial success.
Resources
America's Top Jobs for College Graduates, Jist Works, Inc., 720 North Park Avenue, Indianapolis, IN 460202. (800) 648-5478. $16.95.

College Majors and Careers, Ferguson Publishing Co., 200 West Madison Street, Chicago, IL 60606. (800) 306-9942. $14.95.

The College Majors Handbook, Jist Works, Inc., 720 North Park Avenue, Indianapolis, IN 46202. (800) 648-5478. $24.95.

Liberal Arts Jobs, Peterson's, 202 Carnegie Center, Princeton, NJ 08542. (800) 462-4620. $14.95