---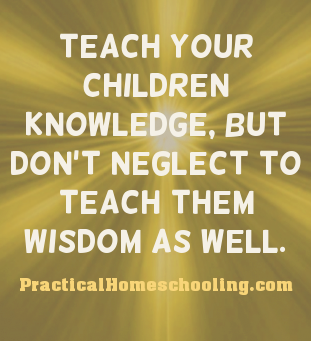 Our home is very verbal. In a family where it seems everyone, and that includes six year-old Joy, has a definite opinion, "table talk" quickly becomes "table tactics" as each developing young mind looks for an opening to make one's point. Graciousness is, of course, expected and enforced, but "lively discussion" is far too tame a term for some of our family dinner interactions.
One thing I insist on, though, is that opinions must be biblically defensible. When it's just one personal opinion against another, then the debate becomes "personal," and the tactics rapidly degenerate into salvos of passion and persuasiveness lobbed across the mashed potatoes. However, when the focus of the debate is on biblical truth, the discussion rapidly turns to other scriptures, and to trying to understand what God has to say about the issue. I don't mind it when the "salt" flies.
We had a good discussion recently about the release of the movie version of Harry Potter and the Sorcerer's Stone. I purposely framed the debate one night by assigning everyone of reading age to read what both non-Christians and Christians were saying, to do some web research, to see what God's word has to say, and to form a defensible position on the movie. I did not want any of us to be guilty of "knee-jerk Christian" responses, but rather to have reasoned and biblical positions - Is it wrong? If so, why? Is it harmful? If so, how?
A few nights later, when we finally engaged the issue, it was a thoroughly energizing hour of biblically-informed discussion. There was gracious debate on some nuances of the issue, but the focus of the discussion quickly moved to what Scripture had to say about witchcraft, what we are to do with the "evil deeds of darkness," what we should allow into our minds, and other related biblical texts. Regardless of what opinion one had going into the discussion, we all were changed by the Scriptures that we read and discussed at length.
Because as home schooling families we spend so much time on the more fact-centered subjects of education - mathematics, historical details, geography, spelling, science - we often neglect the idea-centered realities of life. Though they need knowledge of the basics and to develop skills for a productive life, our children need biblical wisdom much more. I have often said that a mature disciple of Jesus Christ with the will and skill to learn is much more useful to God than a well-educated but immature Christian. Yet in our efforts to show the world that our children, educated at home, can be as smart as theirs, we can inadvertently send our children into that world more ready to do man's work than God's work - more confident in their "knowledge" than in God's wisdom.
Solomon, even though gifted by God, struggled with that conflict. Out of it, though, and by God's inspiration, he gave us the right balance. He was instructing his son in the early chapters of Proverbs to help him know how to live a truly successful life: "Acquire wisdom! Acquire understanding! Do not forget nor turn away from the words of my mouth . . . The beginning of wisdom is: Acquire wisdom; and with all your acquiring, get understanding."
This is the challenge we have to give our own children. Your child cannot become a person of godly wisdom until he or she first determines to seek God's wisdom. But here's the catch: that is a drive and a desire that must be passed on to them by you. It is only the wisdom of God's truth that will guide your child to true understanding and maturity, and you are designed by God to set your child's heart on seeking that wisdom. The world will offer them its own "understanding" of this life, but it is only "personal opinion" unanchored in biblical truth that will drift and twist depending on whatever are the prevailing cultural currents and winds. They need to hear us say, "Acquire wisdom! Acquire understanding!"
Solomon certainly doesn't condemn knowledge about things of the world as a pursuit, nor should we. But knowledge must be guarded by godly wisdom and understanding, not the other way around: "The fear of the Lord is the beginning of knowledge; fools despise wisdom and instruction." Knowledge is an ornament on an already godly life: "By wisdom a house is build, and by understanding it is established; and by knowledge the rooms are filled with all precious and pleasant riches."
So, give your children a good education. It's your responsibility. But even more, give them what will make them truly successful in life - a heart that seeks God and the desire and drive to "acquire wisdom." It's your calling.