---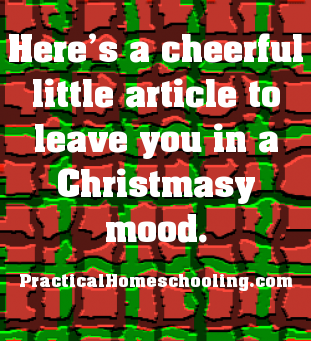 "Mom, look! Aren't they pretty?" Looking at the hand-colored card thrust into my hands, I smiled. My children had been working all day on invitations for our yearly Christmas open house and we were almost finished. Our family had always had an open house before Christmas for close friends and church family, but this year would be different. We had recently moved to Colorado, so we didn't yet have a church, not to mention close friends.
So, we decided as a family to open our new home to our new neighbors. Fellowship with friends would be nice, but this would be a chance for the children to serve people they didn't know, many of whom probably didn't know the Lord. We gathered up the finished invitations and all piled into the car. The kids had a blast putting them in mailboxes, waving at the neighbors, and caroling at the top of their lungs between stops.
In the days leading up to the open house, the sweet baking aromas of apple cakes, pecan sandies, vanilla cookies, and Hello Dollies filled the house. When the big day finally came, the children excitedly helped set the table with goodies, turn on the Christmas lights, and put on a CD of their favorite Christmas carols.
"Brrriiinngg!" Everyone snapped to attention as our first neighbor was welcomed amidst a scurry of children all hurrying to greet her. Before we knew it, fifty people filled our home with their noisy laughter and chatter.
At one point Nathan rushed up with big eyes and whispered, "Mom, look over there – it's the guy who stole the Christmas tree from the National Forest!" We had happened upon this sweet, friendly neighbor one evening bringing a small purloined tree down the trail. "Hush, sweetheart, and offer him some apple cider!" I watched with a smile as Nathan handed a steaming mug to the man and they struck up a conversation.
It was so lovely to see my children reaching out to others. As I looked around the room, I saw Joel cutting a piece of cake for a woman, Sarah taking someone's coat, and Joy happily leading a brigade of little ones down to her room to play.
It was a "mother moment." I loved seeing my children learning firsthand about reaching out, loving and serving others, and sharing the Christ we celebrate at Christmas. Even though there were no old friends and no warm Christmas fellowship, this was our best Christmas open house yet.
Later, when the house was empty and quiet again and we could relax with a hot cider, Joel blurted out, "Mom, I just loved tonight. It was so neat to make everyone happy!" Clay shared with everyone that he had learned this was the first open house anyone had given in this neighborhood in fifteen years. We all agreed we enjoyed giving this year rather than just receiving.
We prayed that night that perhaps the Savior would find His way from our home into others because of our Christmas hospitality. After all, that's what Christmas really is all about, bringing "good news of great joy . . . for all the people."
And it's time to start planning again!