---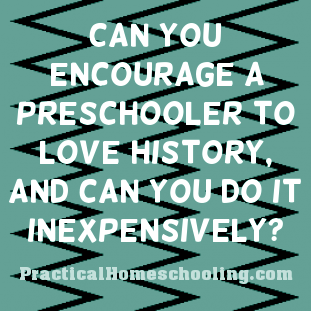 Can you encourage a preschooler to love history, and can you do it inexpensively? Yes, and your preschooler can learn history without a textbook or curriculum.
Most little kids want to know about things that happened to them and the people they care about. However, before preschoolers can comprehend history, they need to the be aware of vocabulary and concepts of time, such as past, present, future, yesterday, today, days, months, years, recently, long ago, real, and pretend. Your preschooler will gradually learn these difficult ideas more easily through conversation with parents, siblings, and friends.
Baby's Own History
Start with your child's own history. Small children love hearing stories about themselves. If you wish, help your child write a History of Me book. Include your preschooler's name, birthplace, birthday, and a simple story about babyhood. Illustrate it with your child's pictures at different ages and stages.
Bible History
Since history is His Story - the story of God's creation - everyone originally had the same ancestors: Adam and Eve. Many parents find that a short time for prayer and a Bible verse (perhaps after dinner) helps their children to learn to listen and learn respectfully. It also can help them to ask questions about the Bible that they might not have time to ask about at church. Your church probably has free materials that you can use for home Bible study with small children. If not, just do what our ancestors did with their children - read the Bible, and talk about what it means. Many tots surprise their parents with their level of understanding.
Family History
Next, begin talking about recent history and previous generations, such as what happened when Mom and Dad were little. Bring out any photo albums, videos, or audiotapes. Look at pictures together, and share stories about the history of siblings, parents, and then grandparents. Grandparents, great-aunts and great-uncles, and older friends will probably be flattered if you ask them to share their childhood memories with your children.
Draw a simple genealogical chart. As your child grows, you can create a history time line together. Record or make a movie of relatives talking about their childhood. Point out how things in the past were the same - perhaps Grandpa went to church, just like your family does now - or how things were different - Grandma didn't grow up with a computer, a cordless phone, or a CD player. Just a suggestion - it pays to avoid exaggeration. Most little kids will take you literally, and be disappointed later when they find out they've been "had." Perhaps Grandpa didn't actually walk ten miles to school every day in the snow without shoes!
Snow Daze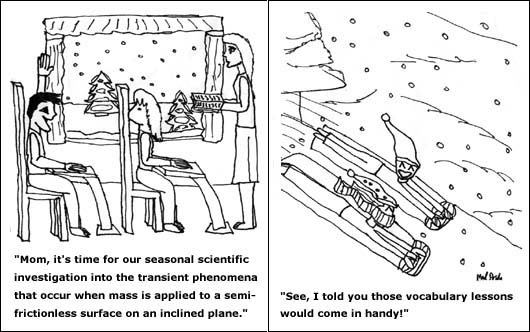 Next, have a chat about more distant ancestors. Most people are descendants of many cultures; you could pick a different country every month. Try out some unusual food or recipe from the past - perhaps a recipe handed down through generations. Just make sure it's something children can stomach!
For $1, you can order "My History is America's History," a colorful poster with ideas for discovering and preserving your family's history, with useful tips on recording family stories. Order from the Consumer Information Catalog, GSA Federal Citizen Information Center, 1-888-8-PUEBLO, www.pueblo.gsa.gov. You'll also find many more free or low-cost publications and resources from the Consumer Information Catalog.
Studying with Siblings
Encourage your preschooler to listen to interesting historical fiction and biographies as you share them with older siblings. Help your preschooler participate in any hands-on activities that older students prepare for history unit studies. (For more on history sources and unit studies, visit my web site.)
History Trips
Preschoolers love to see, hear, taste, and touch history to see how it relates to them! Short day trips or excursions can help kids experience times of the past. Visit a historical farm, restored historical home or village, or history reenactment. Find out if museums or exhibits offer homeschool discounts or better yet, free days for the public. Look for preschool-friendly exhibits that encourage kids to "touch" historical reproductions, as opposed to just looking at them behind a fence.
Holidays
A family member's birthday offers an opportunity to honor that person, as well as to learn about family history. For other holidays, use props, such as a nativity for Christmas, to show what the holiday really means. One family made a cardboard "tomb" to show the true meaning of Easter. The parents showed the children that although Christ died, He rose again. That's why the tomb was empty. St. Patrick used a prop - the three-leaf clover - to teach the Irish about the Trinity. Perhaps on St. Patrick's Day, you can find a clover and talk about the Trinity with your little one. If you wish, create a holiday scrapbook and include your shamrock and other mementos from holidays throughout the year. For more ideas, visit biblicalholidays.com.
Don't forget to make time for the most important way kids learn - play! Take turns with your preschooler, acting out stories from history that you have studied. For instance, you could use simple words, and create a history play (or use puppets) to illustrate the story of the first Thanksgiving. Older siblings may want to do this activity, too. Invite friends or relatives to your play, and show them how much your preschooler loves history!