---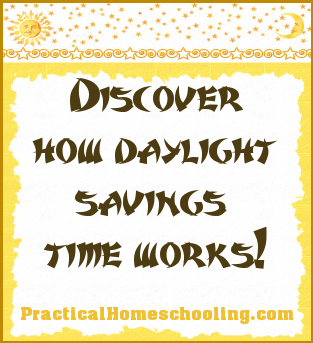 Q: How can daylight be saved by Daylight Saving Time?
A: Changing from standard time (sun time) to Daylight Saving Time (DST) does not change the amount of daylight. Instead, only the time on clocks is changed resulting in a shift of useable daylight. So, instead of daylight saving time, it would be more correct to call it daylight shifting time.
Daylight Saving Time in the United States is scheduled between the first Sunday in April and the last Sunday in October. Most people change their clocks before going to bed on Saturday, but the official time change is in the early morning on Sunday. In April, the time change is from 2 a.m. to 3 a.m. In October, clocks are set back one hour. The time is changed from 2 a.m. to 1 a.m.
Here are two ways to remember which way to set your clocks:
In the spring, the time springs forward one hour.
In the fall, the time falls back one hour.
On the first Sunday in April, when the change to DST is made, the day is 23 hours long instead of 24. This lost hour is gained on the last Sunday of October, when clocks are set back to standard time. This day is 25 hours long.
People invented daylight saving time so that they would have more usable hours of daylight in the evening. By moving the clock ahead, it gives an extra hour of sunlight in the afternoon. So if sunset is at 8:00 p.m. standard time it would be at 9 p.m. DST. Daylight Saving Time also saves on energy, because less electricity is needed for lighting in the morning and evening.
Great Britain adopted this plan during World War I (1914-1918) and the United States used the plan for the first time after World War I. But until 1966, individual states or cities had the option whether to use the plan or not. Now most of the United States is on DST between April and October.