---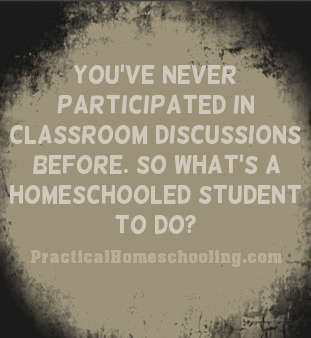 When a student comes to college for the first time, the prospect of college-level classes can be daunting. The student worries about how he or she will measure up in the class. What will the professor be like? How difficult will the class be? As a result, many students feel shy and unsure the first few days of class.
In addition to these feeling of nervousness, most people are afraid of speaking in public. Many people have difficulty speaking up even in a small group! Thus, I have found that when students are put into a classroom of 15 or more students, the idea of speaking aloud - either to answer a question or contribute to a discussion - is frightening.
Homeschooled students not only face this double whammy, but also have additional issues when it comes to college classes. Many homeschooled students are accustomed to smaller, more informal groups than the typical classroom situation, so the larger, more formal class setting may be a bit unsettling. This same student may also be the youngest student in the class. I know from experience that this alone can make the most talkative student tight-lipped in the college class setting. Add to all this the standard fears a new college students has, and the last thing a homeschooled student wants to do is speak up in class.
However, here is the problem: Most college professors want students to speak up in class. Many times it is part of the class grade. Yikes!
Whether it is during class discussion or asking/answering questions, speaking in class plays an integral part of most courses. The professor wants to hear what the student has to say; he wants to see if the students understand the material, and if not, what parts. If students do not speak up, a huge part of the learning process in class is lost.
How to Get "Participation" Points
I have noticed that most students begin to feel more comfortable after the second or third class meeting; however, homeschooled students take a bit longer to feel more comfortable talking aloud in this situation. I've had two students who were hesitant speak up in class. One slowly came out of her shell near the end of class, but still did not speak up as much as I think she could have - some of her insights would have contributed greatly to the class discussion. She did however, often come up after class and speak to me privately about some ideas or questions she had. This is often a good way to "participate" in class. Many professors will consider this class participation, even though class has ended. As long as the professor hears the student's voice during the semester, and can put the face with a name, the impact is made.
Another homeschooled student I had did not take quite as long to speak up, and when he did, he literally floored the other students. It began as questions to clarify a point I was trying to make, then became small discussions after class about his paper or something said in class, then he began to contribute regularly, either with questions or discussion. Like any learning process, he took it one step at a time to "learn" how to speak up in class.
So often, students come to college thinking that class will be all lecture, and while that is true of some classes, it is not the norm. Many classes will be 20-40 students in a seminar format: "Here is some information; let's ask questions and talk about it." Your homeschooled college student needs to know that speaking up in class will be wanted, if not expected, of him. Let him or her know to ask questions, contribute to class discussion, make a point, or bring up a new/different point of view. Either during class or after class is OK - whichever is more comfortable.
Start slowly. Ask some questions. Get involved. In the process, the student will take in more information, clarify confusing points, and start up discussions. The professor will learn the student's face and name, give the appropriate "class participation" points, and enjoy the student's contribution.
College is a learning experience - not only in the information and knowledge a student gains, but also the process of learning. Asking questions and joining discussions are ways of learning in as much as paper writing and test-taking Start slow but speak up! Make college your chance to be heard.