---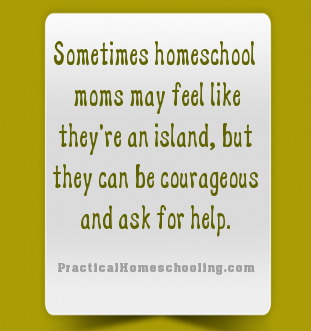 I cannot count the number of times I have answered my telephone to hear the voice of a homeschooling mother on the other end blurt out, "Did you ever have a child who . . . ?"
When I reply, "Of course!" a burst of laughter almost always follows, and I can hear the tension drain away as another homeschooling mom discovers that she is not the only one who has ever felt overwhelmed by the awesome task of educating her children.
Because of its very nature, homeschooling tends to isolate us. Although many of us belong to homeschool organizations where we have contact with other homeschoolers, in our classrooms we work alone. While we have access to a number of excellent publications that give some very helpful information about a variety of homeschooling related subjects, we rarely find articles that talk about the day-to-day difficulties we encounter as home teachers.
Few people will write an article saying, "Yes, I get pretty discouraged on a regular basis. Most days I want to pull out my hair and run screaming from the classroom!" Yet I think this kind of candor is often very helpful to a frustrated mom who is ready to call it quits because she is the "only one" who has not mastered all aspects of homeschooling.
In addition to the isolation factor, we also have the anxiety factor working against us. Nearly all homeschooling parents have some pretty lofty ideas about how we want our children educated. Not only do we want them to learn the basics, we want them to learn all the subtle nuances of every subject they encounter. But even that is not enough. We also want them to love every minute of their homeschool day and to be constantly enthusiastic. Somehow we are certain that this is the way other homeschools operate; at least the successful ones. We forget Edison's statement, "Genius is one percent inspiration and ninety-nine percent perspiration." And when we find Johnny staring out the window or drawing Batman symbols in the margins of his paper, we think we have failed. (Unfortunately, Edison failed to mention that, in the case of homeschooling, the one percent is your child's inspiration and the ninety-nine percent is your perspiration!)
Most of us have a difficult time accepting that we cannot have a "perfect" homeschool in which every hour of every day provides a meaningful learning experience for our children. We have a hard time dealing with the reality that every child has some subjects that he does not like, and there is nothing that we can do to make them appealing. We just have to let the child know that education is not optional and that it is not necessary to like everything. It is, however, necessary to do the work.
So, what do I want every homeschooling family to know? Simply this: Whatever you have gone through, or are going through, or will go through, other homeschoolers have already experienced. But you will never be able to benefit from that experience if you refuse to ask for help. Talk about your problems with other homeschoolers, and ask how they dealt with those problems in their homeschools.
Ultimately, of course, you are still the only one who can decide what will work best for your homeschool, but you will feel better just knowing that you are not alone.
Joyce Swann has home educated her ten children from first grade through master's degree programs. The Swann children typically receive high school diplomas at age eleven, bachelor's degrees at age fifteen, and master's degrees at age sixteen. All of the academic work has been completed at home through correspondence schools and external degree programs offered by major western universities.