---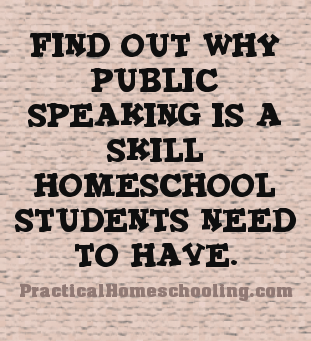 If anyone should become a good public speaker, it ought to be a homeschooler, who certainly has a lot to talk about - particularly if he or she ever wants to get involved in politics. Of course, standing before an audience can be a nerve-racking experience for some shy people. But homeschoolers tend not to be shy. Their interaction with their parents tends to give them confidence in their ability to communicate with adults and siblings with ease. That confidence can easily be transferred to an ability to speak before an audience, whether big or small.
It is important for homeschoolers to become good public speakers so that they can correct the erroneous ideas the public may have about homeschooling in general. While the media as a whole has become somewhat sympathetic to homeschooling, there are still many misconceptions being spread around by the education establishment which would like nothing better than to regulate homeschooling out of existence.
That is why it is so important for homeschoolers to become articulate defenders of the homeschool movement. After all, most of their neighbors still send their children to the public schools where they become the victims of educational malpractice, anti-Christian propaganda, moral relativism, pro-abortion indoctrination, and are often forced to take psychotropic drugs to alleviate the symptoms of such mysterious conditions as Attention Deficit Disorder (ADD) and Attention Deficit Hyperactive Disorder (ADHD). About half of all public school students have a reading problem because of the way they are being taught to read with Whole Language.
Indeed, it would be a good idea for homeschoolers to become well acquainted with what is actually going on in the public schools so that they can use that knowledge, not only to be able to explain with logic and common sense why they are not in the public schools, but also inform their relatives and neighbors of what is happening to their children in the government schools.
Always have the facts at hand, for many parents will simply not believe you, because what is going in the schools is often unbelievable.
An important part of public speaking is to be able to speak the truth, with a good knowledge of the sources of your information, whether it be from authoritative books, or newspaper clippings and reports about violence and academic failure in the schools.
Most knowledge and wisdom is derived from books. But the Internet has become an encyclopedic source of factual information. Whatever you may want to know, most likely you'll find it on the Internet. Therefore, there is no excuse for ignorance.
Good public speakers must have an important message to convey to their audience. And homeschoolers have many important messages to deliver, not only about their experiences as homeschooled individuals, but of the great benefits of homeschooling to the community. Homeschoolers with Christian upbringing turn out to be excellent citizens of their communities. They commit no crimes, are productive and creative in the workforce, and are often entrepreneurs starting their own businesses. Their education required no support from the taxpayers, thus saving the local town and state lots of money. Their contribution to society is a very positive one. And the community should know this.
Good public speakers usually have a lot on their minds and a need to get their message out to an audience. That's because they are engaged individuals, interested in the world around them and the problems plaguing society. Such individuals often entertain the idea of running for political office, not only in order to defend educational freedom, but also to defend and further the values of our constitutional government.
As for being able to stand before an audience and feel at ease, it takes practice to reach that degree of comfort when a roomful of people are looking at you, expecting to hear words of wisdom. You may want to use a written speech, but your eyes must be able to read the speech and alternately look at the audience without losing your place. So you may want to use your finger as the way to mark your place.
Remember to inject humor in your speech wherever possible. All sorts of books have been written for public speakers with quotable quotes and humorous stories to help lighten up the audience.
Above all, have something important and interesting to say, and say it in a way that will engage your audience and keep their attention to the very end. So don't speak too long. And hopefully you'll get a standing ovation at the end.
Some Resources for Budding Public Speakers