---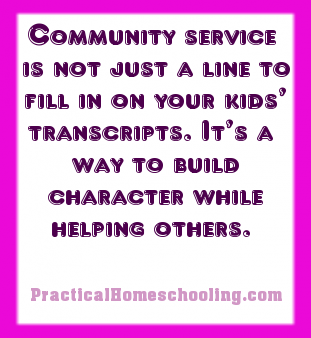 'Tis the season for wrapping gifts of all shapes and sizes. You know the old saying, "It is better to give than receive," and for many homeschoolers the best gifts they can give this holiday season aren't hidden beneath colorful paper and bows, but instead families can give the gift of themselves through volunteering.
"Children who volunteer have a clear picture of what's going on in the world," says Cheryl Cornelius, director of CityLINC, a volunteer network that places volunteers with urban ministry programs. "They've seen the need and they've done something about it. It helps them to realize, 'I can make a difference.'"
Family volunteering has been an interest to homeschooling advocates for years. Raymond and Dorothy Moore recommend an hour a day of home or community service. Also, many homeschooling families have discovered that true "socialization" comes from interaction with others of all ages, including those in need.
Yet, as with many good projects, the challenge with volunteering is the finding time and the outlet for service. Thankfully the holiday season lends itself to volunteering for many reasons:
Many homeschoolers take a Christmas break and have "extra" time to volunteer.

Numerous service organizations are seeking willing workers to help with holiday events.

And most importantly, homeschooling volunteers discover the true meaning of Christmas as they learn the hands-on, compassionate service.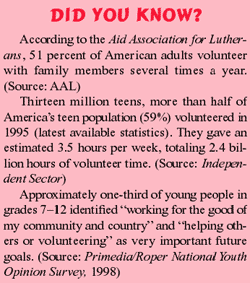 If this sounds like the type of gift your family would like to give, here's how to get started:
Fit the Activity to the Child
"Parents should expose their children to various volunteering opportunities then ask them, 'What would you like to do?'" says Cornelius. "Give them resources, then empower them to do it." If your daughter has a lot of energy, or your son enjoys cooking, suggest an activity to match.
Work as a Team
"Through volunteer work, families spend quality time together, help others, have fun, communicate and develop family self-esteem," says Lori Goudreau, manager of the Family Service Program. "Parents can reinforce family values, and kids can share their time and talents, and even acquire new skills."
"Also, kids are more likely to stick with an avenue of service if they volunteer beside a parent or grandparent," adds Jan Johnson, author of Growing Compassionate Kids (Upper Room Books). "Volunteering within the context of their family gives kids the security they need to reach out to others."
Families who volunteer together benefit at least as much as those they seek to help... as parents will confess.
"Our sons, Brandon (9), Austin (6), and Jacob (4) joined my husband and myself in ringing the bell for Salvation Army bucket at a local store," says Jenny Waltman, mother of three. "Volunteering in this way helped my kids to discover how generous people can be. It was a great lesson for my kids concerning the cheerful giving of money and time."

Be Prepared
When preparing for a volunteer activity it's important to know what to expect. Here are some questions to ask: 1) Where do we need to go? 2) When do we need to be there? 3) Who will we report to? 4) What are we expected to bring? And 5) Why is our role important? Knowing what to expect ahead of time will help children approach their tasks with confidence.
Give Feedback
Kids love to know when they've done a good job. After volunteering, talk to your child about the experience. Let her know how it makes you feel to see her acting in such a mature and giving nature. It will be just the thing that will make your child want to do it again.
Value the Lessons You Learn
I have discovered with my own kids that volunteering has helped them to establish their own identity. For example, my daughter, Leslie (10), baby-sits and does other tasks at our local crisis pregnancy center. In return, she has discovered that her caring attitude and helping heart is valuable to many young moms in need.
Car Barndt's two boys Tyler (7) and AJ (4) also recognize their ability to bring joy into the lives of others when they visit nursing homes to offer gifts and to sign carols. "Volunteering made my sons aware of the world around them," Barndt says. "And they saw that what they had to offer was appreciated."
"Beyond citizenship, kids can learn so many other life-lessons from charity," adds Kathy Saulitis, director of Kids Care, a national volunteer organization designed specifically for children. "They learn cooperation, tolerance, problem-solving, communication, self-awareness, confidence, respect for life and loyalty."
Think Beyond Christmas
"Every year on their birthdays, my daughters Lane (8) and Courtney (5) choose an organization to honor. They still have a party, and invite their friends, but they ask for gifts for the organization instead of themselves," says Clair Beaver, mother of two.
"Courtney's last birthday was for the Humane Society. She received dog food, dog brushes, collars, shampoo and dog treats. She loved delivering them and seeing the cats and dogs at the shelter.
"Lane's last birthday honored the Abbey Shelter, a violence-safe house for women and their children. One of Lane's friends gave money to go shopping for the Shelter. Lane had fun picking out toys and books for children her age that might be at the shelter."
But at the end of the day, the best part is the joy experienced by both the giver and the receiver. "My young daughter told me, 'It felt good to give,'" says Beaver. "And it especially felt good to know we were following Christ's footsteps in loving service."