---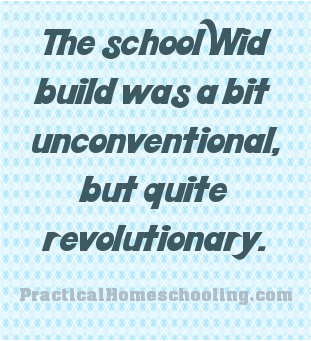 Harkness Road High School is "the school that Wid built."
If you morph Baseball's Kirby Puckett and the Army's Norman Schwarzkopf you've glimpsed Wid, my husband of 13 years. Consequently, I'll be the first to confess that, since his pedagogic experiment is located adjacent to our home, I've often questioned our choice. After all, having a cadre of adolescents invade one's privacy on a daily basis is no small thing!
But, I digress. The tale of this little brick schoolhouse is a potent rebuttal to pundits who hawk big bureaucracies in their quest to jump-start the anemic American system of education.
A Traditional Program With Modern Style
HRHS, a private, non-profit, co-ed day school located in Amherst, MA, was birthed in 1987 in what was formerly a retail poultry business situated on five acres. It educates students in grades seven through twelve, utilizing 2,400 square feet (four rooms) of class space, and enrolls its capacity of approximately 20 students each year. Tuition is $3,500 per year in order to allow the sons and daughters of the working-class folk (who rarely have a crack at private education) to attend. (Junior Ricardo Gutierrez worked off his tuition by doing maintenance detail for his school.)
Yes, it's a throwback to the one-room schoolhouses of old, where church and state mingled freely; but it incorporates a 90's attitude.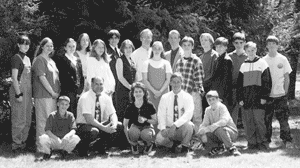 Harkness Road High School class of 1996-1997. Author Isabel Lyman is pictured in the front row corner.
Wid, who lacks a teaching certificate but has an engineering doctorate and attended law school, shuttles between Latin, calculus, and Charles Dickens on any given day. He is assisted by three teachers and the more capable upperclassmen, who can garner course credit for their tutoring endeavors. Wid's decentralized, yet task-oriented approach to imparting information to MTV-crazed teenagers is, in the opinion of this occasional dissident, effective.
The academic program is back-to-basics with trend-setting electives like Constitutional Law, Practical Etiquette, and Wars of the United States. The only government "intervention" consists of a perfunctory approval of the curriculum by the town's superintendent and regional school committee.
A vocational component, built into the school year, allows the students to sample the "real world" for five weeks in May and June, as they volunteer in the community-at-large as nursing home and teachers' aides, laborers, clerks, farm hands, and so on. For the 1996-97 school year, HRHS embarked on its most ambitious vocational adventure to date: faculty and students began to build two starter homes. When completed, the homes will be sold to low-income families who would otherwise have difficulty purchasing a home.
A Successful Educational Venture
So how have the Harkness Road students fared? For starters, 11 out of the 13 HRHS graduates have gone on to college, with one, Mike LaBombard, graduating from the CIA (Culinary Institute of America). Alumnus Craig Webster was named a National Merit Scholar in the third year of the school. Morgan Robinson, one of our 10th graders, scored a perfect 800 on the verbal portion of the PSAT. And recently a slate of the offspring of the town of Amherst's municipal employees enrolled.
Attending such a tiny school does have its drawbacks. Art instruction is scarce, competitive sports are limited to scrimmages with the Holyoke Street School, the computers are a bit outdated, there's scant exposure to guns ('n' Roses), and there are no immediate plans to distribute condoms.
But in general, a good, safe time is had by all who venture through the double doors of this schoolhouse.
Me? In retrospect, I am proud - darn proud - to be part of this modest educational revolution.