---
Last month, my two sons and I were standing in line at our local home improvement center with a shopping cart and one of those "rolling gurneys" filled with raw materials for our latest project: full and partial sheets of plywood of different thickness, a couple of cans of paint, some nuts and bolts, a piece of formica, a tube of silicon adhesive, a few nails, assorted hand tools, and sandpaper. The clerk, trying to be friendly, commented as he rang up our purchases, "It looks like you are going to be busy. What are you building, something for your kitchen?"
"No, we're building a telescope," I told him and watched as he almost dropped his price scanner in surprise. I still get a laugh thinking about the look on his face - but you have to admit, it's not your ordinary do-it-yourself family project!
Why did our family decide to build a telescope instead of buy one? To put it simply, because it was the one option that offered us the most "bang" for our educational "buck!" Over the years we have purchased, used, and subsequently discarded inexpensive department store telescopes that proved to be totally inadequate for serious study. However, good telescopes in the size range we needed for our high school astronomy studies cost several hundred dollars or more, and - like most homeschooling families - we need to take our budget into consideration when making educational purchases!
Several months ago, while browsing through messages on an online astronomy bulletin board, I had the great luck to find and eavesdrop on a thread where several ATMs (Amateur Telescope Makers - not Automatic Teller Machines) were discussing their telescope-making projects. A light bulb went on - maybe we could build our telescope instead! Mentally checking off all of the additional scientific principles we could cover if we built a telescope instead of buying one made the idea even more appealing. My husband gave us the "go-ahead" and I began to gather information and supplies.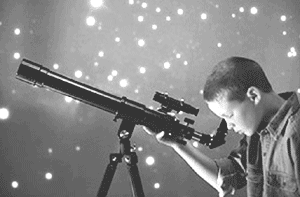 How Do You Learn to Build a Telescope?
The first step on the road to building your own telescope is to buy or borrow Richard Berry's excellent book Build Your Own Telescope: Complete Plans for Five Telescopes You Can Build with Simple Hand Tools (ISBN # 0-943396-42-5), widely considered the best book for beginners. Reading through the first three chapters will help you to choose the type of telescope that will best fit your family's needs, acquaint you with basic optical principles, and illustrate the two different ways an optical telescope is typically mounted for viewing the sky.
The next five chapters contain detailed materials lists, pictures, diagrams and actual plans for building five different telescopes - four Newtonian reflectors and one refractor. Since Newtonian reflectors are considered the easiest telescope for beginning telescope-makers to build, our family chose to construct this type. We didn't follow the plans in Mr. Berry's book exactly, but read the whole book thoroughly and chose the features of his telescopes that we especially liked, designing these features into our project.
The next step is to decide what you will be using for your telescope's "tube." Two of the smaller Newtonian telescopes in the Build Your Own Telescope book use square plywood tubes, one plan uses a Bakelite tube, and one uses spiral wound cardboard tubing. ATMs have also successfully used aluminum irrigation tubing, fiberglass pipe, or PVC pipe. We were lucky enough to find a source of "reject" fiberglass pipe in our local area and came home from the pipe yard with a piece 8.5 inches in diameter and nearly 7 feet long. (This pipe, as you can see in the picture on page 47, had a bell-shaped section at one end. Designing our telescope to take advantage of this extra width enabled us to use a larger primary mirror than would have otherwise been possible.)
If you live in a larger city, you will probably find most or all of these materials to be readily available, but families in rural areas or smaller cities may have to do a little creative shopping to find a tube for their project. Be certain to locate one before you begin to design, order, or construct any of the other components, because its diameter will determine the size of nearly everything else in your telescope!
Once you have obtained your tube, if you plan to use one, you can begin to order your optics. For a Newtonian reflector you will need a large parabolic mirror (the primary mirror) to gather available light and condense it into a cone and a smaller flat mirror (the secondary mirror) to bend that cone of light into a 45-degree angle while directing it into the eyepiece. (See diagram.)
You will also need to shop around for your eyepiece holder, at least one eyepiece, and whatever mounting materials you need to secure your secondary mirror. (There are several options for securing your secondary mirror, and all are discussed in more detail in chapter nine of Berry's book.)
Construction of the telescope varies according to the plan you have chosen, but nearly all of the telescopes can be put together with simple hand tools, basic carpentry skills, attention to details, and several days of steady work. As with any do-it-yourself project, plan to make extra trips to the hardware store and for the whole project to take longer than you expected! Once all of our materials arrived and we seriously began work, however, we were able to finish most of our telescope in about a week.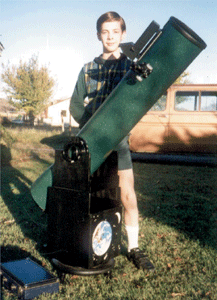 Where Can You Buy Telescope-Making Supplies?
Optics and Accessories: All of the optics, accessories, and many other specialty telescope-making materials can be mail-ordered from the companies listed on the left. Build Your Own Telescope can be ordered for $24.95 plus shipping and handling from the publisher, Willmann Bell, Inc., from Sky Publishing, or from Orion Telescope and Binocular. Edmund Scientific carries optics education kits, primary and secondary mirrors, eyepieces, and a large stock of lenses that you can use if you decide to build a refractor telescope or a do-it-yourself finder scope. (When ordering an Edmund Scientific catalog, be sure to ask for their full-size catalog. Their smaller educational resources catalog does not list all of their optical items.) Crazy Ed Optical carries tube trim and many other helpful ATM supplies.
The Other Stuff: Your local home-improvement center should carry almost everything else you need. We even discovered a few additional ready-made items there that greatly speeded up and simplified the construction of our telescope's alt/azimuth Dobsonian mounting.
For the side bearings, we used PVC "closet flanges," which sell for about three dollars each. Closet-flange side bearings work really well with the Teflon furniture-moving pads we found on another aisle!
If you do not have the tools, time, or patience to cut nice plywood circles for your rocker box bottom bearing, professionally pre-cut circles are often available for a modest price on the craft supply aisle. On that same aisle we also found some attractive pre-made, screw-in wooden legs which we used to raise the bottom of our scope's 'bearing board' off the ground.
How Did the Telescope Turn Out?
Thanks to Richard Berry's book and other helpful resources, we are the proud owners of a homemade eight-inch Newtonian reflector with a Dobsonian mount. This telescope is a serious instrument that will allow our family to enjoy many years of educational hobby astronomy in our own back yard. By making it ourselves we saved at least 50 percent of the cost of buying a ready-made telescope of similar design and size, learned much more than we would have by simply ordering one (e.g. basic principles of optical science and the properties and behavior of light, cooperation and teamwork, and basic woodworking) plus we had a lot of fun in the process! What more could you ask from one do-it-yourself project?
---
For more resources on this article's topic, click the link(s) below.
Science Resources - Curriculum
Science Resources - Software
---