---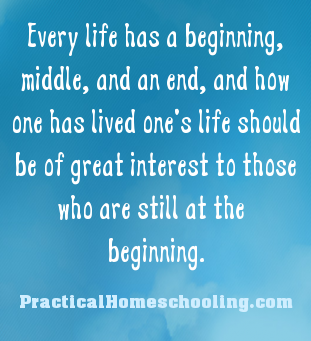 The reason why young people should read biographies, autobiographies, memoirs, and diaries is because they provide the most valuable lessons in life. People who write their autobiographies usually have an interesting story to tell about the trials and tribulations of their own lives. Every life has a beginning, middle, and an end, and how one has lived one's life should be of great interest to those who are still at the beginning.
It's instructive to know how others, both famous and not so famous, handled the crises in their lives, found their life mates, raised their families, and pursued their interesting careers, whether it be as a merchant, writer, artist, poet, politician, soldier, actor, attorney, inventor, scientist, engineer, physician, nurse, teacher, or any other career you can think of. Since you, the reader, will be choosing your own career or life calling, you will be enlightened by studying how others made their way on the stage of life. Every life serves a purpose, and discovering your own purpose can be aided by delving into the lives of others whose purposes have made our lives better or worse.
The Bible, of course, is our primary source of biographical stories. Who can forget the lives of Adam and Eve, Cain and Abel, Abraham, Joseph, Moses, Joshua, David, Solomon, Paul, and the life of God on earth, Jesus Christ? That God is involved in our lives is indisputable.
George Washington's life was clearly one directed by God's providence. He became the father of the United States of America and thus has affected all Americans and all those who will come after us. Every young American should read his biography. So many biographies of Washington have been written that it is worthwhile to read several of them written at different periods in our history. There are also great biographies of Thomas Jefferson, Benjamin Franklin, James Madison, Andrew Jackson, George Rogers Clark, John Winthrop, Alexander Hamilton, and many other illustrious Americans.
The life of Abraham Lincoln will inform the young reader of how this nation underwent its most crucial crisis of survival, engaging the North and South in a war that cost a half million American lives. Read the biographies of Generals Sherman, Ulysses S. Grant, Robert E. Lee, and Stonewall Jackson to learn what soldiering is all about. If you're attracted to a military career you should also read the lives of George S. Patton, Douglas MacArthur, Dwight D. Eisenhower, and others who fought in our wars.
Where To Find Them
Your local library has hundreds, if not thousands, of biographies on its shelves, with more available through interlibrary loan. For those truly hard-to-find books, make use of Abebooks or other online used book-sellers to find the biographies you would like to read. Many used books are also available for a low price on Amazon. Or visit the biography section of a Barnes & Noble bookstore to see what new biographies are being published. And don't forget audiobooks, such as those from storiesofgreatlives.com.
For the lives of ancient rulers and civilizations, parents should carefully check these out first, as the rich and famous have often been richly and famously depraved. That's why I have suggested reading the lives of heroes, preferably written with the sensibilities of children in mind, and without the desire to debunk or to smear the truly great.

For those interested in science, the biographies of Thomas A. Edison, the greatest inventor of all time, who gave us the electric light that lit up the world, the phonograph, the motion picture machine, and countless other inventions; Alexander Graham Bell, who gave us the telephone; and Marconi, who invented the wireless radio, will provide inspiration and encouragement to the young inventive mind.
For exciting adventures in exploration and discovery, no life can match Christopher Columbus's. Also read about Magellan, Vasca da Gama, James Cook, and other explorers who discovered whole new worlds.
In our own age of space exploration, the biographies and memoirs of those involved in that endeavor are worth reading.
If you are interested in art and music, read the biographies of Mozart, Beethoven, Mendelsohn, Elgar, Leonardo da Vinci, John Sargent, and others.
While many girls will enjoy reading what the boys are reading, the biographies of women provide wonderful stories of how women in the past were able to rise to eminence in their fields by hard work and devotion to their careers. That is especially true of such women as Jane Austen, George Eliot, Harriet Beecher Stowe, Taylor Caldwell, Amelia Earhart, Marie Curie, Helen Keller, Florence Nightingale, Queen Victoria, Martha Washington, Pearl S. Buck, and others.
What do we learn from these biographies? The priceless lessons of experience. Human beings, male and female, have been capable of extraordinary feats in all areas of endeavor. We live in a world built by their genius and inventiveness. The secrets of success are to be found in all of these remarkable lives. If you wish to excel in your own life, there is no better place to find inspiration than in the lives of those who have changed our world and changed our lives for the better.