---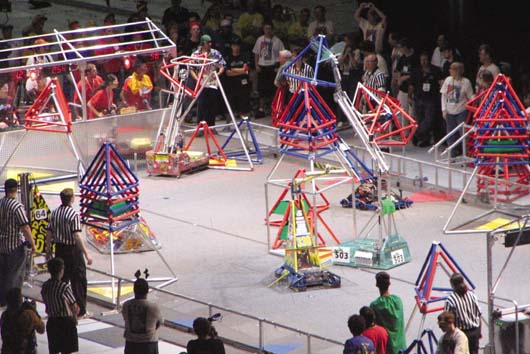 An old Chinese proverb says that even the longest journey begins with a single step. In September 2004, ten Southern California students (nine homeschooled and one in public school) took the first step in a journey that, at the time, was no more than a dream to finish well.
Eight months, three competitions, thousands of man-hours, and over 100 pounds of steel, wire, nuts, and bolts later, the tiny Hope Chapel Academy Robotics Team from Hermosa Beach, CA, completed their journey by winning the FIRST championship, one of the most prestigious scholastic robotics competition for high school students around the world.
The FIRST competition, created by the For Inspiration and Recognition of Science and Technology organization, helps young people discover the excitement and rewards of careers in science, engineering, and technology. It is the high school science and technology equivalent of the World Series or the Super Bowl. The Hope Chapel Academy team, which christened its entry "Beach 'Bot," was one of 991 teams from 49 states and seven countries that participated in this year's events.
Taking the Next Step
This year's ten-member Hope Chapel Academy team took its next step in January 2005 when FIRST unveiled its "Triple Play" game. Each year the FIRST organization creates a new, challenging, and never-before-played game. Each participating team has just six weeks to solve the same problem using the same supplied kit of parts and a standard set of rules.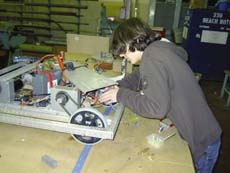 Derek Hendry and his dad cut wood for the robot's base.
In the 2005 game, each team was asked to design a robot that would place tetrahedron-shaped game pieces in or on one or more of nine larger Tetra goals to score points. In layman's terms, the robots were required to pick up pyramid-shaped game pieces and place them on a giant tic-tac-toe board. The teams scored points by claiming three "goals" in a row and then racing back to an "end or safe zone" before the 135-second match concluded. In addition, teams strategically navigated around their opponents while trying to keep them from scoring.
Preparing for Adventure
For the members of the Hope Chapel Academy Beach 'Bot team, the first few days after the introduction were spent in a virtual "think-tank." Students and mentors busied themselves by drawing up a wide variety of designs. At this stage of the journey, no concept was deemed too wild or unacceptable. The goal was to be as creative as possible while working within the framework and guidelines established for the game.
The Journey Begins
For most of the artistic-oriented students, the design phase was a fairly easy obstacle to navigate. The technical aspect proved more challenging when the team received a pair of boxes weighing 75 pounds and filled with hundreds of parts including gyros, sensors, circuit boards, batteries, wheels, and an air compressor. The rules stated that no robot could exceed 28 inches in width by 38 inches in length by 60 inches in height nor weigh more than 120 pounds (without the ten-pound battery). In addition, each kit came with twelve motors. No additional energy sources, motors, or compressors were allowed. It was like turning all of these young, future techno-gurus and their mentors loose with a new millennium Erector set. "It's playtime for the mentors and students that love mechanics," according to first-year participant Shane Palmerino.
For the next six weeks, 25,000 students from around the world - along with their parents, mentors, and advisors - designed, fabricated, constructed, and tested their ideas. Some ideas worked and others sent the young engineers scurrying back to the drawing board more times than they liked. Aspiring veterinarian Caitlin Steele remembers, "I had recently learned about trigonometry. I saw how it was used in real life when we had to determine the length of the robot's arm."
In addition to the technical demands placed upon the team, the Hope Chapel Academy team was forced to solicit corporate sponsors to help finance the many costs associated with the contest. Besides the initial $6,000 entry fee (which included the box of gadgets and gizmos), teams had to pay for their travel to regional competitions, and ultimately the finals, if their robot qualified. The Beach 'Bot team finished well in these matches, which meant that a trip to the International Championship games in Atlanta, GA, also had to be included in the budget. For the Beach 'Botters, cost played a major factor in their journey. (The team's 2004 budget was approximately $35,000.)
The young entrepreneurs sold t-shirts, hosted a spaghetti dinner, and contacted small local businesses and large multinational corporations in efforts to finance their dreams. Unlike some other teams, Hope Chapel Academy families didn't have the funds to subsidize the team, since many of them exist on one income with the mothers staying home to teach their children.
There's Joy in the Journey
This was the eighth year of competition for the Hope Chapel Academy team. Two of the students from the very first year had graduated from engineering school and returned this year to mentor their younger siblings. According to Rob Steele, a JPL software engineer and the team's leader, "We participated in our first competition strictly as an extracurricular activity for some of our technologically-oriented students. Our primary goal was to give them an opportunity to employ their creative abilities in a technical environment while integrating their biblical values into a secular environment."
The FIRST competition program was developed to give high school students an opportunity to experience a variety of life skills that they'll need soon enough. For Derek Hendry, the only high-school senior of the group, the opportunity to join the team was a dream come true. "I've always loved building and constructing all kinds of strange and unique vehicles, buildings, and communities," he says. "As a child, I loved to design and build things using Lego bricks. The FIRST Robotics Program allowed me to further develop and implement my God-given talents and mechanical skills and has served as the perfect transition from model and Lego construction to real-world application."
In addition to the thrill of the competition, the students learned team-building skills, elements of business and finance (as they sought sponsorships), elements of manufacturing, production, assembly and interpersonal communications. "The opportunity to work closely with professional engineers, experiencing firsthand what it is like to be an engineer, has helped to solidify my career plans," Hendry adds. This fall he began studying at a prestigious California engineering school.
As a Christian-based homeschool, the Beach 'Bot program also emphasizes the spiritual welfare of its members as well. All of the students have been raised in a home governed by Christian values and "the team continues an environment where biblical principles, prayer, and relationships are more important than the final outcome," parent and organizer Penny Ross stresses. In fact, the team's motto, "Putting Others FIRST," is not only a wordplay on the acronym of the contest, but is taken from Philippians 2:3-4. The team is as proud of the numerous trophies and honors it has won for service and sportsmanship as it is with the first place international award it recently won. Twice the team has been honored with the Regional Chairman's Award which recognized the team for excellence, service, values worth emulating, and impact within the local community. Student David Freitag shares this lesson he learned from mentor Matt Driggs: "The greatest test of courage is to bear defeat without losing heart and be able to be happy for the other team."
Striving Toward the Summit
As the local competitions grew closer, the hours of work needed to ready the robot grew longer. Many nights found students, advisors, and parents constructing, testing, reconstructing, and retesting the uncooperative machine. "This is one of the most critical and difficult times in the success of our project," laments Ric Roberts, a systems engineer for Raytheon (one of the team's sponsors), and father of Courtney, the 17-year-old Beach 'Bot team captain. Roberts admits to working on pure adrenaline for two weeks prior to the shipping deadline. "By the time we're finished, as much blood, sweat, and caffeine has gone into the making of our robot as there are nuts, bolts, circuits, and gears."
Dave Lavery, Program Executive for Solar System Exploration at NASA, another of the team's sponsors, quips: "If FIRST followed a 'truth in advertising' philosophy for the registration kits, they would contain six canisters labeled Stress, Anxiety, Confusion, Insomnia, Dietary Inadequacy, Unbalanced Priorities - and a really big seventh one labeled FUN!" On a more serious note, he continues, "The Beach 'Bots were the very first team that NASA sponsored in Southern California. Ever since then, they have continued to impress us with their performance, excitement, and values. This team is a great example of how education and inspiration can happen outside the classroom."
Six weeks and over 4,500 man-hours later, the Hope Chapel Academy Beach 'Bot was loaded onto a truck for transport to the University of California at Davis, site of the first West Coast competition. At the competition two other robots were paired with the Hope Chapel Academy robot. Forming an alliance, these three machines would soon face three other machines. The winners of each match are repeatedly paired with two different robots through a formula that only a scientific mind can comprehend.
By the end of the second day, the Hope Chapel Academy team was ecstatic. Although they didn't take the top prize in this regional, they placed third and were already busying themselves with notes and calculations in anticipation of the Southern California Regional Competition being held two weeks later. That time they won.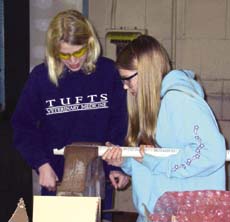 Caitlin Steele and Courtney Roberts prepare PVC pipe for the robot's arm.
For Elijah Mounts, a yellow- and blue-haired (the team colors) sophomore, winning was awesome, but just getting here was a challenge in itself. For five years, his father has been battling a series of debilitating ailments. Says Elijah's mother, Andrea, "Hope Chapel and its homeschool and robotics programs have been a real blessing to us. With the challenges we've been through, our children would never have had the same opportunity in a traditional school setting."
Back home in Hermosa Beach, Elijah and the other team members continued to design modifications to their Beach 'Bot in anticipation of the stiffer competition which they would face in Atlanta. The group put in long hours brainstorming and strategizing while the robot was being transported across the country.
During this time the team moved into spiritual overdrive. "At this point, there is nothing else we can do humanly," says Roberts. "Now we rely on prayer." Even before the team opened its first box, it strengthened itself for the journey through prayer. "We committed our ways to the Lord from day one," says Roberts, "and we've let Him direct our steps. Regardless of the outcome, our students know that we are already winners through Christ."
On Top of the World
On April 21, 2005, 348 high school robotics teams including a total of 8,500 students readied themselves at the starting gate in Atlanta for the 2005 FIRST Robotics Competition Championships. By the time the gears ground to a halt two days later, Hope Chapel Academy's Beach 'Bot had out Tic-ed, out Tac-ed, and out Toe-ed the competition. Paired with two teams from Michigan ("The HOT Team" from Huron Valley Schools in Milford and "Frog Force" from Novi High School in Novi), they had won the championship by outplaying all of the other teams.
The little school from Hermosa Beach, California, had become the first homeschool program in history to win the FIRST competition and ultimately complete the last leg of their journey - a journey that had started eight months earlier with a single step.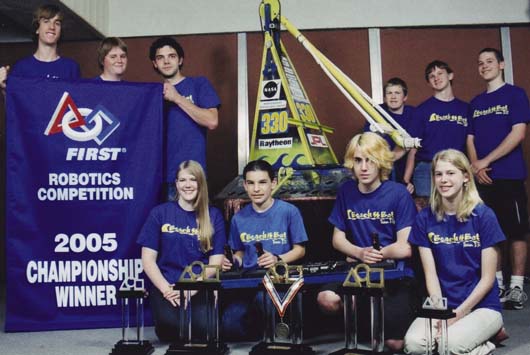 Front row, left to right: Courtney Roberts, Shane Palmerino, Elijah Mounts, Caitlin Steele. Back row: David Freitag, Ethan Wilson, Derek Hendry, "Beach 'Bot 8.0," Curtis Rose, Eric Husmann, and Andy Ross.