---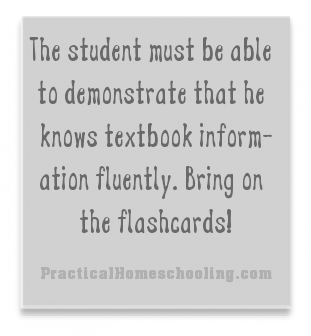 If a student is unfamiliar with the specialized vocabulary of any discipline, he is at a distinct disadvantage when it comes to understanding and communicating with others of the discipline. He is like an immigrant from another country, unable to understand what (to him) is a foreign language.
When learning any new language, it helps to start with the key terms. This principle also applies to learning the jargon for each new field of study.
First, ask your student to pick the top 100 most frequently used terms in his textbook or course handouts. This alone is a significant step up in learning the vocabulary of a discipline.
Second, create a flashcard system with one card per term. The student writes the name of the term on one side of the flashcard and its definition on the back side of the card. The student can then look at the term and give its definition, or look at the definition and label it correctly with its precise term.
Third, encourage your students to carry the flashcards with them so that they can do mini practice sessions throughout the day. While traveling to other events, waiting for an appointment or sitting quietly waiting for some errand to be completed, the student can usually manage to get several short practice periods per day on the specific cards.
Using Time to Measure Progress
While flashcards may be useful, they become even more helpful when you start working to improve your speed. There is a real difference between being able to provide a definition or label a concept quickly and doing the same task haltingly and slowly.
After the student has gone through his texts and notes, has selected the top 100 terms, and has created the deck of flashcards, he must be able to demonstrate that he knows this information fluently.
How can you determine if a student truly has this material at his fingertips? One commonly used standard for flashcards is for the student to be able to say the information as quickly as he or she normally speaks. When students can remember definitions for terms as quickly as they normally speak, it is a pretty safe bet that they will not forget them.
We can even be more precise in setting our standard. We know that human conversation occurs at approximately 200 words per minute. The student could take the set of cards, count the words in each definition, and create sets of cards that have a total of about 200 words for a number of cards. Then the student could practice that set of definitions until he can complete the subset in one minute. Once the first set has been learned to fluent levels, the next set can be constructed and learned.
A simple kitchen timer set to a one-minute measurement allows the student to practice independently, to see the changes in the number of cards he can do as he practices, and to know that he has a measurable standard that he is striving to reach. He can demonstrate his fluent learning to others in just one minute when he has reached the standard.
This system has several advantages. Tasks to be learned can be easily broken down into manageable sized pieces of curriculum. Students can see immediately how much learning there is to be done, where they are currently along the continuum, how much they have mastered and how much remains to be done. Different levels of performance can also be instituted. When the student is looking at the definition of a term and providing its label, he can provide answers much more quickly than he can when he has to look at the term and provide its definition.
When labeling definitions, students will more likely be limited by the speed at which they can flip the cards than by their ability to provide the correct term. This may place an artificial ceiling effect on their performance, not because they cannot identify the concept by its term, but because they cannot flip the cards faster than about 50 cards per minute.
This becomes more of a problem when the student is learning abbreviations.
Learning Abbreviations
Each area of study has abbreviations which stand for words. When studying geography, for example, you find that states of the USA and provinces of Canada have two-character abbreviations of their full names. Since people speak the entire state or province name over the phone, but the two-digit abbreviation is required in order to address a purchase or envelope, part of every student's education should include learning these postal abbreviations.
Placing the abbreviation on one side of a card and the complete name on the other side provides a quick and easy way to learn these abbreviations.
Practicing With a List
With a small amount of practice, the student may soon reach the point at which he cannot flip the cards sufficiently quickly to get a score of 50 or more terms per minute. An alternative is to simply list the abbreviations in two columns in a list. The first column lists the state or province; the second column provides the two-character abbreviation. The student can choose to provide the name, having seen the abbreviation, or to provide the abbreviation, having seen the name. The list eliminates the need for cards, but restricts the student to a specific order in which the names and abbreviations appear in the list.
A combination of the two systems is probably the easiest way to solve the problem each method presents.
Abbreviations to Learn
As I mentioned earlier, abbreviations are used for state names (e.g. AK = Alaska, AL = Alabama, AR = Arkansas, AZ = Arizona, CA = California, ON = Ontario, DC = District of Columbia).
Abbreviations are also commonly used on street maps. Ct = court, BL or Blvd = boulevard, St = Street, Pkwy = Parkway, Hwy = Highway, Ln= Lane, etc.
They could include different kinds of measures. H = height, W = width, L = length, cm = centimeter, in = inch, ft = foot, yd = yard, m = meter, mm = millimeter, F = Fahrenheit, C = Celsius, Fth = fathom, fur = furlong, a = acre, h = hectare, km = kilometers, an = anno, AD = Anno Domini, BC = Before Christ, ca = circa, alt = altitude, etc.
The lists of geographic abbreviations could even include landforms. MTN = mountain, BUTE = butte, BDY = boundary, BCH = beach, CHNM = marine channel, CNFL = confluence, CRKT = tidal creek, CRTR = crater, HDLD = headland, HLL = hill, INLT = inlet, ISL = island, ISTH = isthmus, etc.
Finding More Geographic Abbreviations
To obtain a list of literally thousands of geographic abbreviations, a student simply has to google "geographic abbreviations," select the ones relevant to his course of study, create a deck of flashcards, and commit the terms and/or definitions to memory.