---
How will we enjoy the summer? Let me count the ways... Toss the lesson plans! Shut the books! No more spelling lists, sentences to diagram, or math problems to solve.
College professors take occasional sabbaticals to renew themselves. This homeschool mom takes the summer.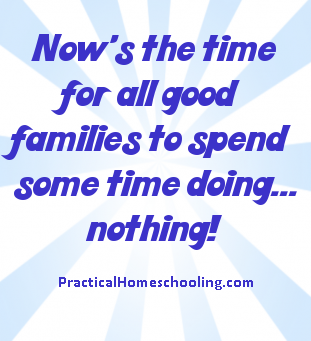 Now's the time for all good families to spend some time doing... nothing! We can cook hot dogs on the grill and make s'mores without studying how exactly what is in that hot dog and why the marshmallow melts. Let's face it: no one really wants to know what's in a hot dog. Ketchup and mustard cover it. Sometimes we don't have to think about action/reaction and can simply flip the burgers, eat them outside, and drip pickle juice on the picnic bench.
Summer is also a great time to rebuild family relationships. Great truths about life are shared as we work together canning tomatoes, shucking corn, and weeding the garden. Of course those lessons are interspersed with commentary on bugs, mosquitoes, dirt, and just how bad the compost smells. The real world isn't a sterile supermarket, kids!
When I watch kids in the backyard in the summer, I can spot which ones are homeschooled and which ones watch lots of television or play lots of video games. The TV-addicted and games-addicted kids don't know how to play or engage in activities. They flit from the cabin, to the swing, to the eagle's nest, to the slide, around the garden and back again-all within 20 minutes and then tell me, "I'm bored."
I tell them, "Boredom comes from within."
The child who can play by himself without adult intervention for 30 minutes to an hour is doing more than we realize. He's learning by doing.
More importantly, he's learning by doing it himself and building his self-confidence. Kids who can sit and seemingly do nothing but watch grass grow may be building whole worlds in their imaginations and are learning to develop an interior life.
When the kids don't have daily lesson plans, their "Lego" creations reach the roof. Our backyard becomes a Middle Ages war zone, complete with a keep to defend, soldiers to muster, and arms to gather. Those aren't really tomato plants, staked to keep them upright. They are a hidden minefield, just waiting to trap the enemy!
Yes, this is learning. The kids are taking the lessons learned in the school year and putting them in a new, creative context. Isn't that what we want them to do the rest of their lives?
Gardening is more fun when the kids get to pick out some weird seeds to plant. Every year, we plant a cherry tomato plant, but the fruit all gets picked and eaten well before it reaches the kitchen.
Learning takes place in the context of living. We still fill days with things like the library summer reading program and 4H projects for the fair. Suddenly, there is time for the unexpected life lesson.
Last year, a farmer told me he had a spare field of corn, and I was welcome to as much as I wanted. So of course, I picked a carload... enough to fill every seat and cranny of our station wagon. The kids and I spent the next day shucking, cutting, and freezing it. That afternoon, a friend picked my son up for a program and asked him, "What have you done all day?"
Answer: "Nothing but shuck corn, shuck corn, and then shuck corn."
It was work after the first hour. But the whole winter, we enjoyed the fruits-or the grains in this case-of that day of labor.
By the time the dog days of August hit Indiana, we're all ready to spend more time in the air conditioning. Once more, a little at a time, we'll open those schoolbook, with refreshed hearts and renewed relationships.
Summer sensations are my sabbatical. As I watch my children working in the garden or playing in the backyard, I remember how just a few short years ago I was holding their hands as they toddled tentative first steps. In only a few more years, they will be gone. The garden will still be there, and I'll still can my tomatoes and shuck my corn, remembering the memories we make today.
These are the good times-the best of times. Cherish them always.