---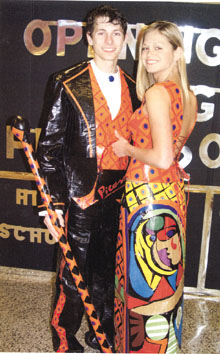 2005 First Place Winners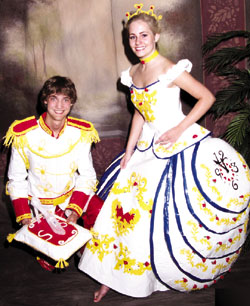 2004 First Place Winners
Have you ever had trouble finding the perfect outfit for a party or dance? Ever wanted to find the 1001st use for duct tape? The Duck Brand Duct Tape Scholarship Competition may be for you.
The premise is simple. You and your date must each create a complete prom outfit out of duct tape. You can make duct tape handbags, hats, ties, hair clips, shoes, and much more. The creative opportunities are endless and this competition is a great way to try your hand at clothing design.
Why bother? Aside from the joy you'd receive from creating a beautiful outfit, you also can win scholarships up to $3,000 for yourself and your prom partner. It may not put you through college, but it will definitely help. As an added bonus, the homeschool association that hosts your prom will receive up to $3,000 as well.
To compete, all you need to do is submit, by March 5, 2007:
One color photograph (professional or amateur) of the couple together in prom attire.

Each individual's full name, address, telephone number, e-mail address (if applicable) and age/grade level, and the name of the closest major city to the individual's hometown.

A Release Form signed by each individual and, if any entrant is a minor (under 18 years of age), that individual's parent or guardian.

The name, address, and telephone number of the high school (in this case, the homeschool association) which is hosting the prom, and the date the prom was held.
| | |
| --- | --- |
| 2006 Second Place Winners | 2003 First Place Winners |
You can submit your materials online at www.duckbrand.com/Promotions/stuck-at-prom.aspx or submit them by mail to:
Stuck at Prom Contest
Henkel CA, Inc.
32150 Just Imagine Dr.
Avon, OH 44011-1355