---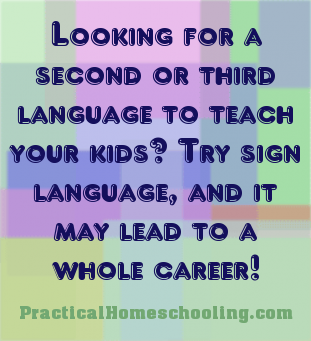 There has always been considerable discussion and thought regarding the pros and cons of higher or specialized learning for the homeschool graduate. The variety of motives for continuing education and the opportunities ranging from college to apprenticeship or correspondence school can be daunting. In addition, many parents are concerned for their child's spiritual, emotional, and financial well being.
I would like to share my unique post-homeschool experience and introduce you to Sign Language Interpreting, a very agreeable career and/or ministry for those within the homeschool community.
I was interested in Sign Language as a young girl after reading about Helen Keller. My mother, seeing my interest, ordered a book and video set called Sign Language for Everyone. When I was sixteen, and soon to be graduating from high school, I started volunteering at my state's School for the Deaf, which was an hour from my home.
After a short time, I realized that my skills had quickly increased dramatically and I considered becoming an Interpreter. I asked around and was directed to the state's only community college with an interpreting program, that was nearby.
Although my parents and I previously decided I would not attend college, we all immediately felt at peace with the opportunity. This peace was partly due to the fact that the head and sole full-time teacher of the program was a homeschooling father! I immediately enrolled and was able to put my college credit toward my high-school diploma. I continued to live at home and spent two days out of my week taking early morning classes, volunteering at the Deaf school, and taking Sign Language class - all in time to get home and eat dinner.
The second year of my program I accepted a job working as a dorm parent at the Deaf school to improve my signing skills. I lived with a Christian woman from my church during the week and went home for my three-day weekend.
I graduated from my program at the end of two years in May of 2001 with an AAS degree in Interpreting, and one year of experience working with Deaf children. I was very pleased to find the job market wide open and the opportunities very attractive. I was quickly recruited at National Technology Institute for the Deaf (NTID)/ Rochester Institute of Technology (RIT) as one of more than 100 Interpreters. RIT has offered me a wonderful environment to continue growing as a new Interpreter, and my supervisor is also a homeschooling father!
Interpreting for college classes is a wonderful learning opportunity. Plus, one of RIT's benefits is a full tuition waiver, so I'm also taking classes to possibly earn a Bachelor's degree.
The process of becoming a respected member of the interpreting community is very accessible to homeschool graduates. An individual has the option of choosing between two common avenues or a combination of the two. The first is mentoring. This would take place as an agreement between a student and an Interpreter. The Interpreter would take the student to various assignments and teach the student one on one. This would be on an individual basis and its success would totally depend on the people involved. The second is an Interpreter training program. These are often in community colleges and designed as a two-year degree, but there are undergraduate, graduate, and certificate programs as well. These programs also normally include American Sign Language classes and mentoring.
Despite your decision, upon completion it is important to have an understanding of the Code of Ethics for Interpreters, and to be prepared for national certification or state certification. The route you choose will determine the length of the process, the financial commitment, and what you put in a frame, but in the end your success is determined by your skill and commitment.
Interpreting is a highly attractive pursuit for those who desire to be homeschooling parents as the field is small in nature and flexible. A large amount of those who interpret do so on a freelance basis in which they have their own business, determine their own hours, rates, and working conditions. Also, as technology improves it is becoming more and more probable that interpreters will be able to interpret from home with the latest in communication technology. The huge amount of flexibility in interpreting also would allow homeschooling fathers who interpret to be able to make time in their work schedule to assist in the homeschooling process.
If the idea of freelancing doesn't appeal to you there are other opportunities. These include full or part-time staff positions or long- or short-term contracts.
Working as an Interpreter is an incredible learning experience everyday. Not only do you learn so much about language but you also learn from the situations that you are interpreting for. The market for Interpreters is vast and widely diverse. Common areas of need are in business meetings, public schools, colleges and universities, hospitals, doctor's offices, court rooms, attorney's office visits, real estate, weddings, theatre, church services, seminars, press conferences, concerts, etc. Not all Interpreters will be able or willing to work in all of the above environments, but if you have an interest in any of the above areas you can become a highly sought after Interpreter in that field, learn new things, and love it!
There is a tremendous need for Interpreters in the church. Deaf people are the largest unreached people group in America and the third largest in the world. Interpreting provides access to the Deaf for regular church services, revivals, Billy Graham crusades, and a host of other events that are normally unavailable to them. The biggest barrier to the Deaf is of course communication and as Interpreters we tear that barrier down allowing the gospel to be "heard."
As an Interpreter you are experiencing the situation without being "in" it and there are many lessons to be learned from observing situations, the people involved, and the outcome, all within your role of facilitating communication. For example, I have had the privilege of working in several educational settings. Having that exposure has only increased my thankfulness for being homeschooled my whole life and increased my desire to be a homeschool parent. My role allows me to easily survey the classroom and I have seen enough impatient eight-year-olds and insipid brainwashed college students to know that I want better for my own children.
Many homeschooling parents and graduates are already in this profession. We are the living proof of how well the workplace culture of interpreting and the culture of homeschooling harmonize. Interpreting provides an opportunity to continue learning, to minister, to have a profitable and flexible work schedule, to work from home, to get a free college education, and to work in a variety of locations. I strongly encourage you to read the following literature and consider interpreting as a possible field for your son or daughter.
Resources:
So You Want to Be an Interpreter by Humphreys and Alcorn
Sign Language Interpreting: Exploring its Art and Science by Stewart, Schein, and Cartwright;
Sign Language for Everyone by Kathy Rice
www.rid.org
www.nad.org
www.ntid.edu
www.signenhancers.com
www.wou.edu
www.utk.edu
www.maryvillecollege.edu
www.northeastern.edu