---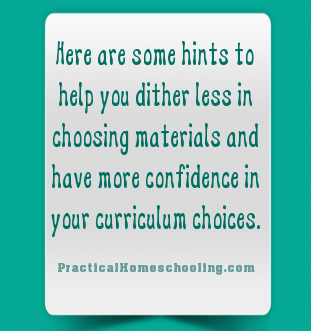 It seems to me that all answers to this question can be boiled down to three problem areas. Discover which applies to you and you will have your answer:
Yes, Make a Change if the Philosophies Don't Match
In this situation, the educational philosophy of the publisher does not agree with the educational philosophy of the users. Everybody has an educational philosophy, regardless of whether they know it or not. You have definite ideas about how grammar, math, and history should be taught. Publishers do, too. This is why many veteran homeschoolers talk and write about educational philosophies. They have learned that once you discover your own educational philosophy, you will be better prepared to discern appropriate curriculum. This, in turn, saves money, time, and grief.
Unfortunately, new homeschoolers often don't know what their educational philosophy is, so they buy items based on other people's recommendations. But before homeschoolers buy any curriculum, they should spend time figuring out what their own philosophy is, then figuring out the philosophy of the curriculum they want to buy, to see if it's a match. With curriculum catalogs, used-curriculum sales, and homeschooling conventions, it is very easy get caught-up in the excitement of buying new curriculum. Next thing we know, however, several months have passed and we're struggling with a popular, but mismatched, product.
If you find yourself in this situation, write down everything you like and dislike about your current curriculum. Include every detail, no matter now trivial. Your list might look like this:
Liked: workbook format; comb binding; audio CD; price.

Disliked: inadequate explanations in teacher's manual; small type size; lack of color; child cannot work independently.
You've just made a great tool to help you find your next curriculum.
Similarly, make a list describing your "dream" or "ideal" curriculum. In other words, if you had the time to develop it, what would your perfect curriculum be? If you've used lots of different curricula for the same subject, this should be easy. After going through lots of math curricula without success, one day I made a list for my "ideal" math program:
workbook format
ungraded
large typeset
instructions on page
one concept at a time
25 or fewer problems per lesson
Not long later I found a product that matched everything on my list! And we love it! I did the same with spelling, but I ended up developing my own program rather than buy something.
If you decide to change, the next question is, when? Should you change now, or find a way to make it work until the end of the year? Depending on the time remaining in the year, it's generally preferable to finish what you have. Changing curriculum mid-year poses its own set of problems that are better avoided if possible. Can you find a supplement to help you? Can you omit certain parts of the curriculum while retaining others? Marva Collins says, "Anything works if the teacher works." (If you haven't read her book, Marva Collins' Way, go now, find it, and read it. Although not writing specifically to homeschoolers, Marva is inspirational for any parent or teacher!)
No, It's a Discipline Issue, Not a Curriculum Issue
This can be split into:
The mother's lack of discipline over her children.

The mother's lack of self-discipline.
I'm sure many of us struggle with discipline issues from time to time. They become a problem when they consistently interfere with our homeschooling objectives. Like any other worthwhile endeavor, homeschooling requires discipline.
No, It's a Marital / Relationship Issue, Not a Curriculum Issue
Conflicts between husband and wife, especially in regards to homeschooling, will have an impact on the children. Here's an example:
There are several well-known homeschooling bulletin boards on the Internet that I used to participate in. On one of the boards, a homeschooling mom was having difficulty with her son. She asked if new curriculum would help the situation, because after homeschooling 4-5 years, he was several years behind in several subjects. He didn't listen to her, he worked slowly, and he did a poor job. Her husband wanted to put the boy in school; she was unwilling to even consider it, because she "knew" homeschooling was best. Can you see the pattern? Her son wasn't listening to her; she wasn't listening to her husband. And that's what I told her: she couldn't expect her son to do something she was unwilling to do. Even though this mom thought homeschooling was the right thing, she didn't see the larger issue of setting a good example. (I did not address putting the boy in school, because that was not the issue.) This type of situation happens fairly often. I struggle with it too, because it's tough to see the forest through the trees! The question should always be: what's the larger example we set for our children, really? We may talk about submission and authority, but if we aren't living them, our kids won't either.
It's true that sometimes we need to change curriculum, but other times we don't. When there is a problem, if we really want change, we have to be honest about why the problem is there. Otherwise, we will spin our wheels with little to show for it.