---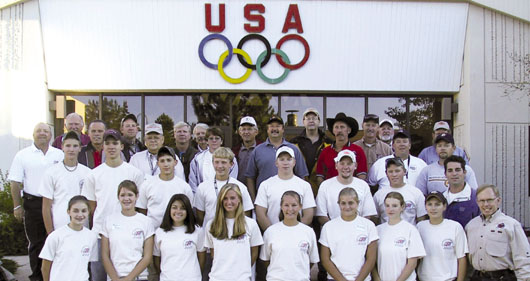 More than 47 million U.S. households contain at least one gun. Some firearms are kept for home protection. Others for hunting. A few go to work each day with law enforcement professionals. Many are simply collectibles or cherished family heirlooms that rarely see the light of day.
But more and more Americans - especially youngsters - are finding that guns are also a portal to the joys of active sport and recreation.
Kids say there's plenty to like about competitive shooting with either rifles or shotguns - competition, social interaction, even the raucous noise and thump that comes from pulling the trigger.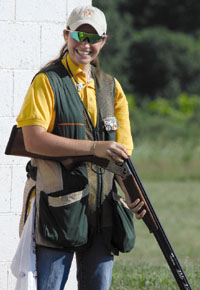 Caitlin Connor reloading with a grin
Parents, however, understand that the fun is escorting a much deeper range of benefits. Like the best of sports, shooting also teaches teamwork, responsibility, discipline and leadership. Athletes learn how to win with grace and lose with maturity. Conversely, unlike stick-and-ball sports, shooters needn't be big or strong, tall or fast. Shooting hones coordination, technique, and concentration. Some parents credit the sport with helping their kids become better students, and better at controlling their emotions. And since gals can compete on equal footing, straight-up head to head with guys, shooting often becomes family recreation to be enjoyed for a lifetime.
Most importantly, shooting sports are among the safest of all sports. Accident and injury rates fall far below those of football, soccer, basketball, gymnastics, hockey, cheerleading, even tennis and golf.
In shooting, youngsters quickly come to understand and respect the power of guns. They learn how firearms work and how to handle them safely. They learn how to be attentive and careful. Kids learn how to behave around the guns so common in American homes today.
In a national survey, 94 percent of shooter moms and dads said the sport is a positive influence in their child's development, 98 percent said shooting is just as important as other sports, 94 percent said they would support shooting as a school-based athletic program, and 100 percent said that with proper instruction and mentoring, shooting is a safe and fun sport for their kids.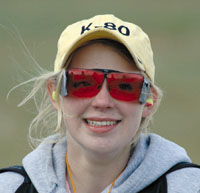 Kate B.
A stellar example of all this is a relatively new national youth shooting league called the Scholastic Clay Target Program (SCTP). The league was formed to allow elementary through high-school age youths to compete as a team in the shotgun sports of trap, skeet and sporting clays. In just its sixth year, SCTP is already involving 9,000 enthusiastic participants across 41 states, earning the program a nickname as "the Little League of shooting sports."
Trap is the oldest shotgun sport in America. The sport derives its name from the device, called a trap, which throws clay targets into the air. Participants shoot at targets thrown from a trap house located in front of the shooter. The trap rotates in a random sequence, presenting the shooter with a variety of going away shots, angling to the right, angling to the left, and flying straight away. A round of trap consists of 25 targets per shooter. Trap is usually shot in squads of five shooters, and a trap field has five positions, or stations. Five clay targets, sometimes referred to as "birds," are thrown for each shooter at each position, with one shot being fired at each bird. After firing five rounds in rotation, each shooter moves to the next station.
Skeet uses the same type of clay targets as trap. Two traps are required in skeet - one in a "high house" at the left of the field and the other in a "low house" at the right. Both traps throw targets at fixed angles. High-house targets start at about 10 feet above the ground, moving to the shooter's right. Low-house targets move in the opposite direction starting from about three feet off the ground. Skeet is usually shot in squads of three to five shooters. A skeet field has eight shooting positions, or stations, seven of which are arranged in a semi-circle around the field. Station eight is located in the center, almost directly between the trap houses, offering very challenging passing targets. Some stations offer single targets, others doubles. A round of skeet consists of 25 targets.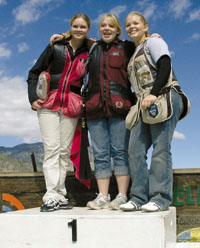 Homeschooler Kate B. shares the podium with friends after winning first place.
Sporting clays is designed to simulate hunting. On a sporting clays course, shooters are presented with a wide variety of targets that mimic the flight of game birds, such as flushing, crossing, incoming, and angling-away shots. Courses are laid out in natural surroundings and typically include five or more shooting stations. Targets may be thrown as singles or pairs. To further challenge shooters, target size may vary from the standard trap/skeet clay bird to the smaller "midi" and "mini" targets, or flat disc-shaped "battue" targets. There are also "rabbit" targets, heavier clay disks that are thrown on edge to roll and skitter unpredictably across the ground. A round of sporting clays usually consists of 50 or 100 targets, with several targets normally thrown at each station.
"SCTP is experiencing phenomenal growth nationwide, thanks in large part to dedicated volunteer coaches and state directors," said Zach Snow of the National Shooting Sports Foundation, the program's founder and national sponsor. "Last year alone, the program saw a greater than 50 percent increase in total participation, not to mention an 84 percent increase in female competitors."
Tennessee is so particularly impressed with the program that trapshooting is now a varsity sport in some public and private schools.
However, one of the beauties of SCTP is that participation doesn't rely on school enrollment. Sportsmen's clubs, 4-H or Boy Scouts chapters, church groups, and other organizations may form and field an SCTP team. Everyone comes together as equals to compete.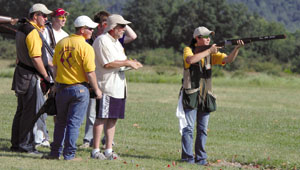 Homeschooler Caitlin Connor prepares to fire while under the judges' watchful eye.
The attraction of this everyone-welcome sports format does have one drawback. The sheer number of Tennessee youngsters now involved in SCTP and chomping to shoot for a state title has actually outstripped the capacity of even the state's largest shooting ranges. So, last spring, a series of smaller regional qualifiers helped winnow the roster of a thousand-plus kids into a more manageable number for the Tennessee championship shoot, held in June in Nashville.
Arizona and Georgia are following a similar path, with exponential growth in these and other SCTP hotspots.
Across the country, the number of SCTP trap shooters alone has topped 7,000. National championships are held each August in conjunction with the Grand American World Trapshooting Championships, at Sparta, Ill.
SCTP skeet and sporting clays boast roughly 1,700 and 1,600 shooters, respectively, with lots youngsters participating in both. The annual national championship event moves around the country. The most recent was in July in Rochester, N.Y.
In each of the three shotgun disciplines, national champion shooters collect a $1,000 scholarship award in the form of a U.S. savings bond. Second-place shooters receive $250, third takes $100. To the victors also go the spoils of trophies and belt buckles, but everyone, regardless of finish, departs with a pocketful of hatpins (a much-sought trade item among SCTP youths), plenty of congratulatory handshakes and pats on the back, and a bunch of new friends.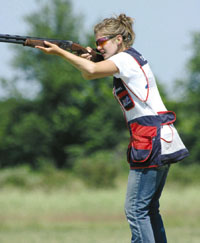 Homeschooler Rachel Heiden aims for the bullseye
A growing number of colleges and universities are looking to SCTP to fill their shooting squads. With an aggressive scholarship program and lots of SCTP alumni on its roster, little Lindenwood University of St. Charles, Mo., has become a national powerhouse in shotgun sports, alongside much larger University of Missouri, Texas A&M, and others. At this year's collegiate shooting championships in San Antonio, former SCTP stars sparkled for several schools.
And there's more.
Of the many different shooting programs in the U.S., SCTP is unique in its connection to the Olympics.
To help standout shooters find a world stage, the National Shooting Sports Foundation and USA Shooting host an annual SCTP Junior Olympic Development Camp at the U.S. Olympic Training Center in Colorado Springs. Participants are selected on the basis of scores and interest in the shooting sports as well as scholastic achievement, individual character, maturity, availability and aptitude for benefitting from the experience.
While there's little doubt that SCTP will someday produce a shooter to represent our country in a future Olympiad, the program has already produced winners of national and world championships. Vincent Hancock of Georgia, who won his first world international championship in skeet at age 16, said SCTP helped him grow into his sport. The biggest help, he says, was being able to meet and shoot with countless other youngsters sharing similar interests.
One young SCTP shooter even won a gold medal before a national television audience at the ESPN Great Outdoor Games. Travis Mears was a Texas high-school kid when he won the gold medal at the 2004 ESPN Great Outdoor Games, coming out on top against some of the world's best veteran shotgun shooters.
There are three SCTP competitive divisions: rookie (grades 5 and under), junior (grades 6-8), and senior (grades 9-12). The junior and senior divisions are subdivided into novice and experienced categories. Grouping shooters of similar experience allows fairer competition.
Local, state, and national SCTP events are organized by a network of nearly 500 volunteers. Competitions are held in conjunction with local clubs and ranges, state shooting organizations, and the national governing bodies for trap, skeet, and sporting clays. Standardized rules for each sport apply.
How to Get Involved in SCTP
For news, details and information on how to get involved in the Scholastic Clay Target Program, visit www.nssf.org/sctp, or contact Zach Snow, who coordinates the program for the National Shooting Sports Foundation: telephone 203-426-1320 or e-mail zsnow@nssf.org. You're also welcome to contact the SCTP volunteer director in your state. A listing of directors and contact info is available at the Web site.

Just want to try shooting on your own? A great source for a world of information on shooting, including state-by-state listings of local shooting ranges, is www.huntandshoot.org.

All this behind-the-scenes structure is necessary to help SCTP deliver its two primary components.
"It's all about safety and fun," said Snow.
"Safety is incorporated into every facet of every SCTP activity. And the learning environment at team practices and competitive shoots is designed to be fun for everybody," he said.
Always safe, always fun, SCTP helps kids discover the thrill of contributing to a team. Commitment to teammates leads to responsibility and discipline. Ultimately, young shooters develop proficiency in a sport that can be shared and enjoyed with family and friends for a lifetime.
What Homeschoolers are Saying about Shooting Sports
Caitlin Connor, 15, Winn Parish, LA:
"Sometimes I wish I played sports in a school, but I like shooting a whole lot better. I've made loads of friends. I think I have more friends in the shooting sports than I would've in school."
Rachel Connor (Caitlan's mom):
"We travel all over the United States for my husband's work, so she's used to making friends quickly. But with the shooting sports, they're all doing something that she loves. So she's made many friends - too many to count.
"We also learned through the SCTP that there are opportunities for college assistance in shooting. She has been approached by four different colleges in the past year. So she's really excited about that. Otherwise, it would be out of our pocket and she would have to work hard as well.
"A major benefit of her homeschooling and shooting is she has the opportunity to go to more competitions. She's been to major competitions throughout the United States as well as in England."
Katie B., 15, midwest:
"It's really been great because we have a sport that we can compete in. We don't have to enroll in the local high school. We have a sport that you can do anywhere and it's a lot of fun.
"It's really been helpful to meet a bunch of kids that enjoy the same thing I do, and I've had a lot of fun. It also benefits you being homeschooled because you can travel all over and compete, which is very helpful."
Nancy B. (Katie's mom):
"It's a very efficient and effective way to learn. We had a busy household and my husband traveled and it gave us an opportunity for our young kids to see their dad when he was home...
We had a younger son who was very sick for four years and it gave us a lot of flexibility. My two older boys - one graduated last year, second graduating this year - both are doing college level work for their last year.
"Our sons have had friends for seven years that they shot with on their team. And they've been very close friends all these years. Even though our oldest son is away at college this year, he's still very close friends with two of the young men who were on the team with him. They're still encouraging each other, and that's something they'll continue to do for a lifetime.
"We were not in an organized sport because of the small community we're in. It was an individual skill they could develop: personal discipline, a lot of fun, responsibility, taking care of the gun, being safe, thinking about others and the fun of competing and learning to push yourself to be your best.
"Knowing that they are part of a team and that their individual part and their skill that they develop is essential to being part of something that is bigger than themselves - contributing, learning to encourage others and congratulate others when others have been better or less proficient than what they did that day."