---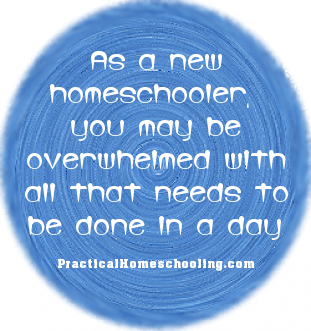 As a new homeschooler, you may be overwhelmed with all that needs to be done in a day. If you don't stay on top of the housework, it does not take long for your home to look like a bomb exploded! Here are a few ideas for those who struggle with keeping the house clean.
It is important to realize that developing new habits takes time. Do not try to implement all of these ideas at once. Pick the one that seems most do-able, and commit to mastering it. Mastery means that you do it automatically, without thinking, and that not doing it seems off or wrong somehow.
#1 Conquer Junk Mail
Do not allow unopened or junk mail to sit in a pile, ever. Every day, as soon as you bring it into your home, sort it. Place any junk mail, catalogs, flyers, etc. into a pile. Open all letters and bills, and place the envelopes into the junk mail pile. Place bills into a file for future reference. Throw the junk mail pile away. Since most companies now have their catalogs online, resist the urge to keep print catalogs.
This also applies to email. If you don't post your email address online, and uncheck the "sign me up to receive all your news" boxes when you purchase online, hopefully your spam load will be light. If it becomes overwhelming, consider a "permissions-based" spam filtering service, such as Spam Arrest (www.spamarrest.com). These require senders to click on a link and type in a series of numbers or letters from a graphic before their mail is authorized to appear in your inbox. You can always look over the mail that's still in the spam filter, to see if you'd like to personally authorize it, and you can unauthorize or even block individuals or entire domain names. You can try SpamArrest for free for 30 days; after that, you can continue with a variety of plans, from monthly to two years. See Mary Pride's article about Spam Arrest for more details.
#2 Squeegee the Shower
Squeegeeing the shower after each use has important benefits:
Your shower will always look clean

You won't need to spend money on shower-related cleaning products

You won't have to use those cleaning products, thereby avoiding exposure to their hazards
Visit your favorite hardware store and buy a good quality brass squeegee, the kind with replaceable rubber blades. Start with a clean shower, so clean it with the harsh chemicals before beginning the squeegee habit. Replace the rubber blades every six months or so.
#3 Do Laundry Every Day
Depending on the size of your family, you may want to consider doing laundry every day, or every other day. One of the hardest parts of doing laundry seems to be folding it and putting it away after it is clean. Small piles of clean laundry to fold and put away are more manageable than large ones. If you have older children, get them to help. It will be finished in no time.
#4 Keep the House Picked Up
Establish a set time each day to go around the house and pick everything up. Ideally, this will be just before you expect your husband home from work. Three ideas:
Take a laundry basket from room to room, placing items into it that you put away as you go throughout the house.

Play "20 Pick Up" with the kids. Each child must pick up and put away 20 items.

Be willing to let one room stay messy, such as the laundry room if you have one. Dirty laundry can be thrown onto the floor and the door closed.
#5 Shop for Groceries Online
Shopping online for groceries takes less than half the time as compared to driving to the store. If you have young children and don't rely on coupons, this is an ideal way to shop. Type your items into the search box of your favorite grocery chain, add them to your "basket," select a delivery time, and pay with a credit or debit card. The first time or two will take longer because of the learning curve, but after that it will be a breeze. The small fee you may pay for delivery is well worth the time saved.
#6 Simplify Paying Bills
If you are responsible for paying the bills, consider implementing the following time and money saving methods:
Many utility companies offer "auto-debit" or "auto-charge." These free you from paying the bill and making sure it gets paid on time. The "auto-debit" automatically deducts the amount of the bill from your checking account. The "auto-charge" automatically charges the amount of the bill to your credit card. If you have frequent flyer miles or earn rewards in any way, this is one more way to earn those things, plus you don't need to worry if there is enough money in the checking account to cover it. Either way, some companies will continue to send paper bills in the mail; some will send bills via email. In both instances the bill will arrive in plenty of time for you to examine it and notify the company of any discrepancies.

Utilize your bank's online "bill pay" feature. Most banks offer this free; if yours does not, shop around for one that does. From your web browser, schedule a payee, date, and amount to pay the bill. You can pay a one-time bill, or set up recurring bills to be paid at intervals you choose, such as monthly payments to a music teacher.
Both of these methods save time because you don't have to hassle with writing paper checks. They save money because you won't use postage or envelopes to get bills delivered.
#7 Remember Your Aim
Homeschooling is a huge commitment, which is why simplifying the rest of our lives is such a good idea. We have exciting, idealistic dreams for our families and children. Don't let those get drowned out with busywork, and remember that a certain amount of mess is necessary when creative kids are around all day long!
I'd like to close with some lines from a poem, "Song for a Fifth Child," by Ruth Hulburt Hamilton, which originally appeared in the October 1958 Ladies Home Journal:
Oh, cleaning and scrubbing will wait till tomorrow
But children grow up, as I've learned to my sorrow.
So quiet down cobwebs, dust go to sleep.
I'm rocking my baby, and babies don't keep.