---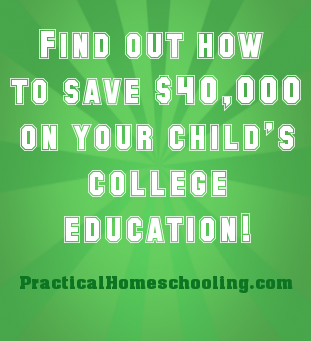 A few weeks ago an acquaintance asked my husband how much it was going to cost us for our ten children to earn their bachelor's and master's degrees. After some quick mental calculations, John responded that the total cost would be about $100,000 -- in other words, $10,000 per child, or less than $2,000 per year of college education. Our friend's eyes grew wide as he exclaimed, "Why, that's not bad at all!" After seventeen years as a homeschooling family, we are inclined to agree. In fact, we are now convinced that adult home education may well be the best bargain around.
Although there has been a steady increase in the cost of home study programs during the ten years in which our family has been involved with university extension degrees, earning a degree through home study continues to cost substantially less than attendance on campus. We recently checked with four of the best universities which offer degrees through independent study and discovered that at each the cost of earning a degree at home is a fraction of that for attendance on campus.
The University of Oklahoma at Norman offers a four-year liberal arts degree at a cost of $8,225 for nonresidents and $4,145 for residents. The same four-year degree on campus costs $23,108 for residents (we were unable to determine the cost for nonresidents). These figures reflect an 82 percent savings if one opts for the home study program.
Indiana State University's four-year degree program is priced at $54,836 for nonresidents and $31,988 for residents who attend on campus. The cost of the four-year degree through home study, however, is a mere fraction of that -- $8,520 plus books. In this case, using the extension program allows nonresidents to save approximately 84 percent and residents to realize a savings of about 73 percent.
Attendance on the Brigham Young University campus runs $32,520 for a four-year degree for non-LDS [Latter Day Saints, otherwise known as Mormon] students and $28,280 for LDS while the four-year degree through the external degree program costs only $6,865. Enrolling through BYU's external degree program results in a savings of about 79 percent for non LDS students and 76 percent for LDS church members.
For those interested in graduate degrees, California State University at Dominguez Hills offers a master's degree in the liberal arts for $3,600 through external degree. The master's program on campus costs between $6,000 and $7,500. Enrolling in Cal State's external degree program results in a savings of from 40 to 52 percent.
The number of universities which offer external degree programs is growing. Today there is a variety of degree programs and options available to suit the needs and interests of many students. For an updated list of the colleges and universities which offer external degree programs, check with your local library for one of the publications by Peterson's Guides. The trip could save you thousands of dollars.
Peterson's Guides
The Independent Study Catalog lists all National University Continuing Education Association institutions and the independent study courses available from each. Cost is $16.95 plus $4.75 UPS shipping. Available from Peterson's Guides, P.O. Box 2123, Princeton, NJ 08543-2123. Tel: (609) 243-9111. Fax: (609) 243-9150.
University Extension Program Addresses
Brigham Young University Degrees by Independent Study 268 Harmon Continuing Educ. Bldg. Provo, UT 84602 (801) 378-4351 Fax: (801) 378-3949
California State University, Dominguez Hills Humanities External Degree 1000 E. Victoria St. Carson, CA 90747 (310) 516-3743 Fax: (310) 516-4399
Indiana University General Studies Program Owen Hall Bloomington, IN 47405 800-457-4434 Fax: (812) 845-8680
University of Oklahoma Independent Study Department 1700 Asp Ave. Norman, OK 73037 (405) 325-1921 Fax: (405) 325-7698