---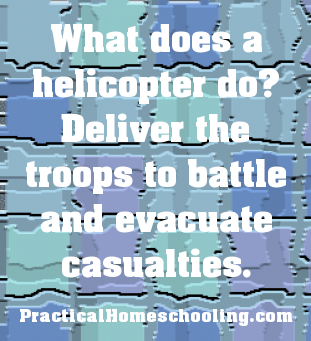 When does homeschooling end? For most of us these days, the reflexive answer is, "When the youngest child graduates from high school."
That's true, if we're thinking of homeschooling in the narrow, academic sense.
But do you plan to ever see your child after high-school graduation?
Will he or she be coming home for summers, Thanksgiving, Christmas, and spring break?
Do you expect your children to navigate the entire college academic maze and social scene with zero input from you?
How about the search for jobs, from a summer job to the first "real" full-time job? Do you have any thoughts or suggestions?
How about marriage? Will they effortlessly find spouses who are faithful, loyal, compatible, and who are committed to raising your grandchildren as well as you raised your children? How about spouses who are zealous for and knowledgeable about your religion?
Invasion of the Helicopter Parents
Some parents couldn't care less. These "satellite parents" are remote and uninvolved, fully occupied with their own lives. I think most homeschoolers agree this is not the way to go.
On the other hand, many parents are taking a serious interest in their children's pre-college, college, and post-college lives. Dubbed "helicopter parents" by the media, these parents hover nearby (only a phone call away!).
School officials at all levels, K - 12 and college, are unhappy about the "helicoptering" phenomenon. This makes sense when parents are rude and intrusive, or when they rabidly seek to protect their children from all negative consequences when they (the children) behave badly. (There's a special term for these folks: "Black Hawk" parents, named after the famous attack helicopter.) But simply being connected and concerned is often enough to earn the "helicopter" label.
I'd like to point out something that recently struck me.
Basically, most "helicopter parents" are middle-class folks who are trying to do for their kids what upper-class folks have always done for their kids.
Upper-Class Helicoptering: A Long, Proud Tradition
Before little Percy or Evelyn toddled off to Harvard or Radcliffe, Mumsy and Papa had already spent a lifetime working the social network on their behalf. Dancing lessons... with the "right" kids. Membership at the country club... so they could meet the "right" people. The Debutante Ball. Keeping in touch with the alumni network at the old alma mater. Giving generously to the university to which the parents planned to send their kids. Expensive prep-school educations. And it didn't stop there! The social network hummed ever more fiercely during those college years, as Papa "talked up" his kid with his friends in business or government. Summer jobs were arranged. Paths were greased.
Did you know that to this day, Harvard students often plan to marry someone special they meet at Harvard? That's because upper-upper-class families have always taken marriage very seriously. After all, you can't have a dynasty without legitimate, well-brought-up heirs. As much effort went into making sure their children ended up with the "right" spouses as went into getting them into the "right" schools and the "right" jobs.
Why This Matters
You might be thinking, "Who cares how a bunch of rich snobs raise their kids?"
The reason I brought all this up is that today's middle-class homeschooling (and other) parents are in the same boat as yesterday's Harvard parents.
They knew that the right college and right job could mean the difference between remaining a member of their (upper-upper) class or not.
We know that the right college and right job can mean the difference between remaining a member of the middle class or becoming outsourced or laid off.
They were terribly concerned that their children marry people of the right social class. Only a few such people were available, so the competition would be keen.
We are terribly concerned that our children marry people of the right moral (and often, spiritual) class. Today, finding a spouse who understands and believes in marital fidelity is hard. With the "dumbing down" of Christianity (and just about every traditional religion) such that the average churchgoer's religion is at least half pop culture, parents have serious concerns that their child may end up getting married to a seemingly religious spouse, then dumped. Homeschool parents also worry about whether their child's spouse understands the educational issues and will want to homeschool. On top of this, today's young men are increasingly allergic to marriage. All these factors mean only a few potential mates even measure up, so the competition will be keen.
One reason the "old money" upper class remains the old money upper class is that the parents have always paid attention to these details. When upper-class parents start ignoring their children, the next generation becomes useless playboys with trophy wives, and heaven only knows how the grandchildren, if any, will turn out. However, thanks to all their money, they at least won't be broke.
Middle-class parents have no such golden parachutes to hand on to their children. Lacking trust funds, all we can do is provide the best education possible and try to keep those family bonds strong so our young adults will have the support they need to stay on the straight and narrow. We're not trying to hijack our kids' lives; we're simply standing guard as they move out into the battle zone.
What does a helicopter do? Deliver the troops to battle and evacuate casualties. So if there is no culture war, nobody needs a helicopter. But if kids today are facing a tougher future than we ever did, what's wrong with a little backup?