---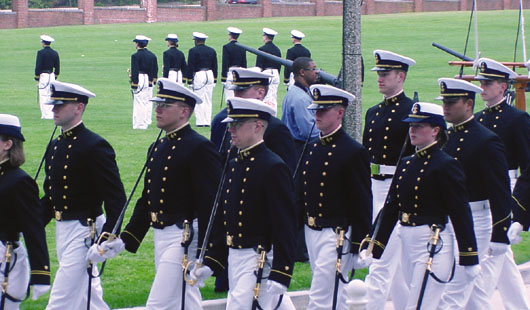 Coast Guard Academy graduation march.
Almost nine years ago, I knew little to nothing about how to apply to a military academy, or even what a military academy was. I had seen something about this in the first, self-published edition of Cafi Cohen's book And What About College?, but had skipped blithely past that part, figuring it had nothing to do with me.
Around this time, our second-oldest son, Joseph, was thinking about what to do with his life. After years of helping in our family business, he already was good enough at graphics arts to get a $20-an-hour job in that field, if he wished.
But he and we agreed that "life behind a desk" did not have the adventure and sense of mission this young man craved.
I honestly don't know what first brought up the idea of the Coast Guard. But the more we looked into it, the more both parents and son were impressed. Here was a service whose main job was helping people. Coast Guard officers went places and did things. And it didn't hurt that all four years of the Academy would be tuition-free (except for a $3,000 one-time charge for a computer)... if Joseph could get in.
Grades
The first hurdle was grades. Less than 1 out of 4 applicants are accepted to the Academy today, and it was about 1 in 7 at the time Joseph applied. Luckily, this part would be no problem. Joseph excelled at his homeschool work, and had taken enough distance-learning courses (and eventually, done well enough on standardized tests) to become a National Merit Finalist. We hoped his way-over-the-top performance in this area would make up for any perceived shortcomings in other areas.
While it certainly isn't necessary to be an award-winning scholar to get into one of the service academies (Coast Guard, Navy at Annapolis, Army at West Point, Air Force, or Merchant Marine), very strong grades in science and math and excellent writing skills are a must.
Sports and Physical Fitness
This is the area in which we struggled most. Joseph's only team sport had been a summer swim league. Although he was a Black Belt in Tae Kwon Do, and an accomplished juggler, these are not the sports academies love to see. Football, basketball, baseball, and even soccer are more of what they're looking for. Academy admissions officers believe such sports teach team spirit while developing physical fitness.
As well as an intensive physical exam which examines eyesight, hearing, and general health issues, all academies require a pre-academy physical fitness test. Typically, a prospective cadet must do a certain amount of running, sit-ups, pull-ups, and other exercises in a set time span. Joseph had to really work on this area before entering the academy, and also during his time there, as the standards rise each year. You can see his progress by just comparing the picture on the previous page with the one in the opposite column.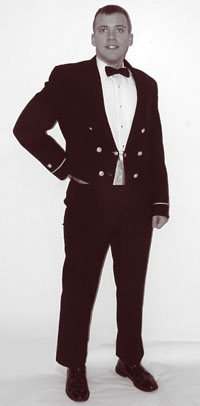 Joseph four years after graduation, in dress uniform.
Happily, my husband, Bill, and I had already completed the "Body for Life" challenge, and now owned basic weightlifting and exercise equipment. We helped Joseph devise a workout routine, alternating weightlifting with running at our local high-school track. To increase his long jump (a part of the fitness test), we also bought "Jump Soles," a type of shoe add-on that basketball players use to build their jumping muscles.
Leadership, Service, & Character
While our younger children are all members of Civil Air Patrol, we hadn't found out about it when Joseph was young. Eagle Scouts are also highly desired by academies - but we hadn't been involved in Scouting. Due to the long hours Joseph was helping in our business, he also didn't have the time to get involved in community projects.
However, the fact he was willing to "pitch in" to help his family, plus some excellent character references from adults who knew him well, made an impression. Joseph got accepted to the U.S. Coast Guard Academy! He graduated four years later, with honors, and a degree in mechanical engineering.
You might think that put him right back where he started: behind a desk. But Coast Guard policy is that all new officers serve at sea. So far he's been to Costa Rica, Ecuador, Guatemala, Panama, Singapore, Malaysia, Thailand, Indonesia, Brunei, the Philippines, and sunny California!
Sponsors
The Army, Navy, and Air Force academies all require the prospective cadet to obtain sponsorship from their congressman or senator. The commandant of the academy also can sponsor some students directly, and waive a requirement or two, but don't count on this. You do not need a sponsor to apply to the Coast Guard Academy - another plus for the Coast Guard!
Pre-Academy Camps
Joseph never attended the Academy's summer camp. However, he did take the initiative to visit it on his own and meet with admissions officials. Good idea!
Once They're In
You'll see less of your future officer than others do of their college students. Expect a "boot camp" summer of no contact except via postal mail (if that). You'll be asked to join the Parents' Association and attend special events at the Academy. And on Graduation Day, your child will become an officer.