---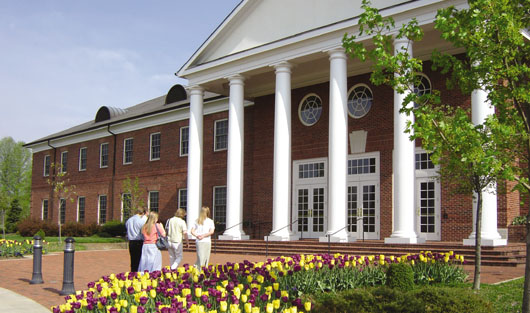 Patrick Henry College. All photos for this article were taken by Levi Hendrickson.
Eight years ago, lawyer Michael Farris, the man who was to become Patrick Henry College's founder and first president wrote, "Patrick Henry College has a different vision-so different that it has attracted what seems to be more media attention than any other start-up college in recent history. The idea of home-schooled students going to college to prepare for political leadership in an atmosphere that encourages private virtue is so different that many journalists seem utterly fascinated."
Seven years ago when Patrick Henry College (PHC) opened its doors, its first freshmen and transfer juniors lived with host families because the college did not yet have dorms. "I don't know how they're going to make it," said David W. Breneman, dean of the University of Virginia's education school, quoted in an October, 2000, Washington Post article. "The situation facing a potential start-up is very severe."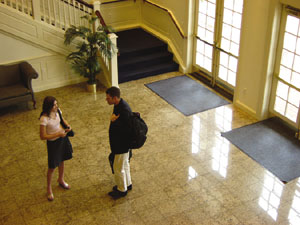 On April 18th of this year, Dr. Michael Farris, now PHC's Chancellor, read this same article to a chapel full of more than three hundred beaming students. At that quote, chuckles spread across the room. Other faces grew solemn and thankful.
Just the night before, Dr. Farris and Dr. Graham Walker, the college president, had announced PHC's accreditation by the Transnational Association of Christian Colleges and Schools (TRACS). This important step marked the end of an arduous, four-year process. Previous graduates have found places in the law schools and graduate schools of their choice, including Harvard University, but now applying for post-graduate education will become just that much easier.
With the achievement of this important goal, it is a good time to sit back and take stock of affairs at Patrick Henry. Much has changed in the last several years, both for good and for bad, yet most of the important factors have remained constant. The tiny student body still unites around the college's mission to "prepare Christian men and women who will lead our nation and shape our culture with timeless biblical values and fidelity to the spirit of the American founding."
Few Christian colleges would openly disagree with this goal. So what renders the experience at PHC so unique that hundreds of dedicated Christian students have been willing to gamble a significant chunk of their education?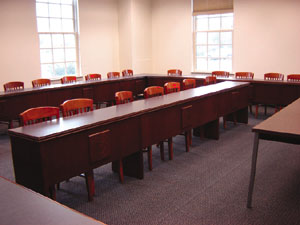 Dozens of reporters have tried to pin down the elusive element. One cynical article from last year in the Washington Post called PHC a group of "people who believe they can directly translate the tenets of their faith into political action."
Perhaps politics is a fraction of it-but only a fraction. While several years ago students often divided along the lines of government majors versus classical liberal arts, now students can choose from journalism, history, literature, and classical liberal arts as well. Even under the government major, they have a choice of five separate tracks: American politics and policy, international relations, strategic intelligence, political theory, and government in general.
Matt Lukowiak, Class of 2009, says "We share a common vision, and everyone is very driven and talented in their own way to achieve it." Classmate Nathan Martin adds: "At every college some people are there just for the diploma. At PHC, you find a lot more people here for an education. We may debate about what that means, but even the debate is a sign that people are thinking."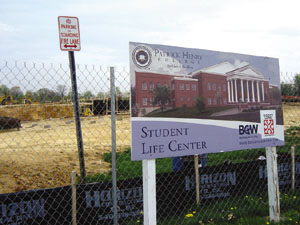 PHC also emphasizes the importance of unifying all elements of life, including the rational faculty. Every semester, classes stop for a day as a member of the faculty presents a scholarly lecture on the unification of faith and reason. Students and faculty then spend the rest of the day debating key points, often quoting Augustine or Aquinas. At the end of their senior years, all students write their own faith and reason essay, tailored to their majors, to summarize what they have learned in their time at PHC.
Students and faculty at PHC do their best to combine their academic achievements with a spirit of humility in Christ. This combination of effort and grace has already carried PHC farther than most expected. God willing, it will take "the college for homeschoolers" further than anyone imagines in the years to come.
Patrick Henry College Highlights
September 30, 2000 Patrick Henry College (PHC), a classical Christian liberal arts college dedicated to training men and women who will lead our nation and shape our culture with timeless biblical values and fidelity to the spirit of the American founding, officially opens for classes. The first building, Founders Hall, is completed at this time. Ninety-two students enroll. Major newspapers run stories about this new college, and the high caliber of its first class, many of whom were accepted to big-name universities but chose instead to attend PHC.

January, 2001 Four dorms open for occupancy: Mount Vernon, Monticello, Montpelier, and Oak Hill. In all, they can accommodate 224 students. Town Hall, a large assembly space on the lower level of Mount Vernon dorm, is set aside for daily chapels and musical and dramatic performances.

January 2003 Red Hill dormitory is completed. It can house up to 88 men.

April 9, 2003 TRACS (Transnational Association of Christian Colleges and Schools) votes to unanimously grant candidacy status to Patrick Henry College in its bid for formal accreditation by a federal accrediting organization.

May 2003 The first wave of PHC interns is given positions in the Bush White House. Over next three years, proportionally more PHC students land White House, Congressional, and Capitol Hill internships than those from colleges several times PHC's size.

Fall 2003 PHC launches its distance-learning program, enrolling 94 students. This low-cost program allows students to take a large number of PHC courses wherever they live. In addition, on-campus students now number 290.

Fall 2004 Counting the 142 distance-learning students, PHC now has 422 students enrolled and is operating close to capacity. Sports facilities now include an exercise room, a softball field, baseball court, and tennis court, in addition to a patio, a gazebo, and "Lake Bob." A soccer field will be added in 2005.

December 6, 2004 PHC's legal debate team wins first of back-to-back moot court victories against Oxford University's Balliol College, one of the 39 colleges that make up Oxford University. This win receives international attention, setting in motion the College's reputation as an incubator of national-caliber orators and debaters.

March 26, 2005 The moot court team from Patrick Henry College wins its second straight tournament against Balliol College of Oxford University.

May 2005 For the first of two consecutive years PHC is named one of the top ten conservative schools in the country by the Young America's Foundation. The Foundation applauds PHC for its rigorous academics, biblical worldview, classical liberal arts core curriculum, and apprenticeship methodologies designed to produce graduates who are uniquely qualified to serve God and mankind.

January 26, 2005 PHC's moot court team wins the first of what will become back-to-back national moot court championships.

January 24, 2006 PHC's moot court team wins its second consecutive national moot court championship by sweeping the ACMA (American Collegiate Moot Court Association's National Moot Court Tournament) with first, second and third place wins - a feat unprecedented in ACMA history.

April 3, 2006 The College's Board of Trustees, by unanimous vote, names Dr. Graham Walker to become the second President of Patrick Henry College, replacing Michael P. Farris, J.D., who founded the College in 2000. Dr. Farris now takes up the position of Chancellor.

May 10, 2006 The PHC Board of Trustees names prolific author, cultural commentator, and longtime educator, Dr. Gene Edward Veith, the new Academic Dean. (Dr. Veith later becomes the College Provost.)

January 24, 2007 PHC qualifies more moot court teams and captures more trophies than any other team in national (ACMA) moot court championships for the fifth straight year, as well as winning every top individual speaker and "brief-writing" award.

April 17, 2007 The Accreditation Commission of the Transnational Association of Christian Colleges and Schools (TRACS) awards Patrick Henry College formal accreditation status at its April 17 commission meeting at Founder's Inn and Conference Center in Virginia Beach, VA.