---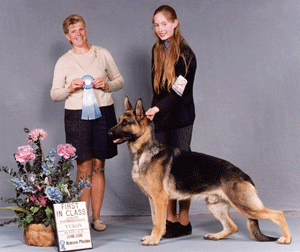 Krauss Photos, Coldstream, BC, Canada, www3.telus.net/kraussphotos/
After two days of travel and an incredible amount of preparation, it all came down to a few minutes in front of a judge. I ran my German Shepherd Dog around the show ring... anticipation filling every thought. A moment later the judge pointed right at me and said, "First!" This particular show in Canada was one of the highlights of my year. I was awarded the big blue rosette ribbon and even some Canadian money. Best of all, I knew my hard work and determination had paid off.
Would you like a chance to become closer with your pets, have fun, and receive awards just as I have? I'm sure you have watched dog shows, horse shows, etc. on TV or at a county fair. Well, just think, with a little determination and a mind ready for learning, that could be you!
There are many different programs. The key is finding which one is right for you. Obviously where you live is one of the most important factors that come into play. City, farm, or in between, your location will dictate, for the most part, what animals you have to choose from. The next step is determining which of your choice animals is your favorite, or if you are really eager, learning how to show more than one.
I absolutely adore dogs, so I started by researching many different breeds of dogs. This is really a good tip, no matter what animal you decide to show. Research, research, research the animal's temperament, height, strength, and other such qualities. This is a very important factor towards success in the show ring. For most animal shows the animal has to have a pedigree as a purebred. Make sure the animal you buy complies. You must also make sure that you do not spay or neuter your new pet.
I found my match in German Shepherd dogs. I discovered they are shown in a completely different manner than any other breed of dog. This both fascinated and challenged me. I am pretty tall, so the German Shepherds complemented my height nicely, and in every other way fit my personality. For dogs being shown in America you want to make sure they are registered with the American Kennel Club (AKC). This will allow them to be shown in other areas around the world with just a little extra accompanying paperwork. AKC has a very informative web site, www.akc.org.
When looking for any type of animal, try to get at least a few good references about the breeder. Site visits to the breeder's home are also a good tool, allowing you to see at least the mother and sometimes the father of the animal you want to purchase. My biggest suggestion here - make sure this is a reputable breeder that cares about animals.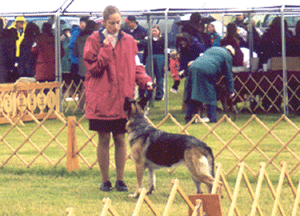 Sporting a pose
Once you have gotten your new animal, training from an early age is important. Remember not to overdue the training when the animal is young. Just as a baby has a short attention span, so is the case for your young animal. Make training fun for both of you. There are a myriad of training books available. Sometimes the breeders can recommend books that have helped them. In addition to books about your particular breed of animal, look into purchasing books tailored to youths who want to show the breed. Getting in touch with local clubs specific to your breed of animal can be an invaluable resource. These clubs usually have training classes, which provide knowledge for the handler as well as socialization for your pet.
I cannot think of one thing more important than socializing your animals. For your pet to truly be comfortable in the show ring, it must be able to get beyond paying attention to other animals. More importantly, an unsocialized animal has a likely chance of biting another animal, or worse, a child. The best way to prepare your animal is to take it to friends' houses and around the neighborhood, introducing it to every person, young and old, that you can find. 4-H clubs are also excellent opportunities to socialize and present your animal to a group.
Another thing to remember is that age-old adage: "Practice makes perfect." I know everyone has heard that a few thousand times in their life, but try to practice with your animal a few times a week to keep your skills sharp.
Whether your family has been involved with showing animals or not, you can still be very competitive at shows. Learn as much as you can from breeders and other handlers and attend classes. You will make friends with the same interests as well as learning through doing.
When I was beginning to show my dogs I sometimes got discouraged. Animals take an enormous amount of care, love, patience, and determination. Just keep in mind your goal and most importantly have fun and enjoy being with your animal. One thing you will learn right away about showing animals is how the judges look for a winning team. You and your animal should be working together, and having fun. Smile, and mean it!
As the handler it is your responsibility to make sure your animal looks perfect. This means not only training your pet, but also training yourself.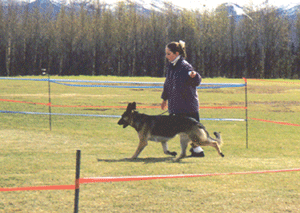 Strutting its stuff
No matter what animal you are showing you should look professional. For dog showing I usually wear a comfortable suit. Dress codes may vary, but try to look nice. Always exude a winning energy! Your pet will sense if you are nervous or happy. Pets will pattern their moods after yours, so love what you are doing!
In every dog show that I have competed in I have learned something new. Whether I won or lost, or was somewhere in between, I found a way to improve myself and to enjoy the time I was able to spend with my dogs. To polish your performance have a friend or family member film you in the show ring. Watch the tape later and see where your strengths are and what areas you might need to improve upon. You can also go to shows and just watch. Look closely for the winners and note what set them apart from the rest.
I show my dogs in two different categories. The first is in their breed class, which judges the dog itself. This includes how the dog moves, its conformation, coloring, and grooming. These classes are grouped by gender, then by age, and lastly by ability. The other category, Junior Showmanship, is broken out into age groups of the handlers, then novice for the beginners or open for the pros who have won the novice class before. Here is where you are judged on your ability to show your dog.
Besides showing there are other fun activities you can do with dogs and other non-purebred animals. Agility is one of the main opportunities. This particular activity is where dogs are trained to maneuver around various obstacle courses. I have done herding instinct tests with my dogs. This is where your dog is put into a pen with sheep or ducks and a licensed examiner will score how well your dog can use its natural instinct to herd. Temperament testing is another exciting activity where your dog is put in a variety of different situations. The reaction or lack thereof is scored according to the standard and helps to determine if your dog has an acceptable temperament. Obedience is another option. This category offers many awards as well as perfecting the dog's ability to listen and react better in the show ring.
4-H has a wonderful animal science program called "Skills for Life" where youth in grades 3-12 learn about animals, developing life-long skills. This can be partnered with county and state fairs to show and present your animal. Check out the 4-H web site for more information, www.4-H.org. You could even start your own club if one is not in existence. It is an extraordinary plus to have 4-H on college applications.
No matter what animal you choose to show you will gain an inestimable amount of knowledge. You will learn how not only to present your animal to others, but how to present yourself. This will aid you in school, college, the job market, and beyond. And of course there is another plus... ribbons, medals, trophies, and the greatest prize of all the sense of accomplishment that comes from mastery.