---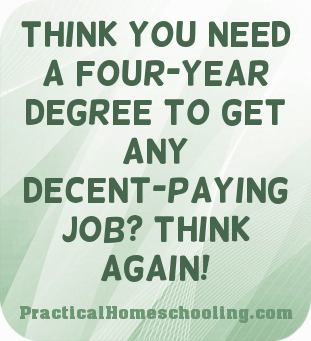 There is life without college! According to the Bureau of Labor Statistics, in the new millennium approximately 75 percent of the jobs in the workplace will not require a bachelor's degree. In fact, one of the fastest-growing segments of the workplace will be high-wage, high-skill technical jobs that require from one to three years of training or education. According to Workforce 2020, published by the Hudson Institute,
In the early 21st century...a larger share of fast growing occupations also will require education beyond high school, but not necessarily a four-year college degree.
It is not my intent to discourage students from pursuing the career of their choice, whether it involves college or not, but it is important for students to know that they don't have to settle for second-rate, low-paying jobs if they do not get a bachelor's degree. It is clear that it is a new day in the workplace and opportunities abound for students who seek out programs that offer them the training and skills necessary to succeed.
Many jobs in the health care and the computer fields require less than a four-year education. Listed below are 25 jobs that have high skill requirements and good earning potential.
Aircraft mechanic
Automotive service technician
Computer repairman
Construction manager
Data processing equipment repairman
Dental assistant
Dental hygienist
Desktop publishing specialist
Electronics repairman, commercial and industrial equipment
Hairdresser/hair stylist
Human services worker
Licensed practical nurse
Medical record technician
Occupational therapy assistant
Paralegal
Physical and corrective therapy assistant and aide
Physician's assistant
Private detective and investigator
Real estate sales agent
Registered nurse
Secretary-legal
Security consultant and technician
Surgical technologist
Truck driver
Welder
This list is a compilation taken from several "top job" lists including the occupational information published by the Bureau of Labor Statistics. It accurately reflects a growing need in several industries including the health care, computer, and technical fields.
The training necessary for many of these jobs can be obtained through on-the-job training, certificate programs, apprenticeship programs, or an associate degree. In order to advance, however, continual training is usually necessary. For example, someone with basic business training and word processing skills could be hired right out of high school as a secretary. In order to improve their salary level and achieve greater success however, additional training is necessary. The Certified Professional Secretary rating is increasingly recognized in business and industry as a consideration to promotion as a senior level secretary. Specializing in certain fields such as medicine or law can also enhance a secretarial career.
Computers now play an important role in the workplace. Training for all occupations should include some development of computer skill, which is one of the top ten skills in demand by employers. Computers are used in almost every field, including the computers automotive service technicians use to diagnose performance on cars, those used by travel agents to help customers plan and book their vacation itineraries, the computers secretaries use to organize and communicate information, and the computer-related technology that allows radiologic technicians to properly image and analyze the human body.
In this series of articles I have shared some thoughts with you on career planning and exploration. All workers want a personally satisfying and rewarding career. This goal is not always attained. Good decisions can only be made through good information. Students need good information about themselves, good information about occupational opportunities, and good information about training and educational programs. Knowing where they are, where they want to be, and how they will get there will put them on a solid career track. By knowing themselves and how their skills and interests realistically relate to the world of work, students can find a career that will serve them well.