---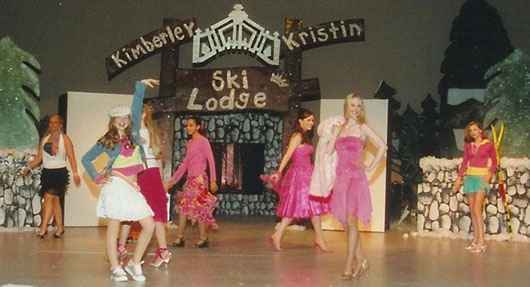 Photos © LIPS photo of Anchorage
Have you ever dreamed of walking the catwalk, seeing your picture in a catalog, or even watching yourself on a TV commercial?
I think it's safe to say that many people would like to become a model, but feel that they are not thin enough, pretty enough, or tall enough.
Well, that's where you would be wrong. Today's modeling industry is looking for a diverse range of people to sign as models. You don't have to be size 0 to model; there is work for models of any size, even plus size modeling. As far as height goes, you do have to be tall for most runway work, unless it is petite runway, but that doesn't exclude you from modeling in catalogs or even acting for that matter. Modeling really is something the whole family could try, as there is need for models of all ages for as wide a variety of projects as you could imagine.
Modeling can provide you with numerous skills, grace, poise, and confidence, as well as being a way to earn money. Besides skills and money, modeling can also be a good springboard towards other opportunities and competitions. Such opportunities include, acting in commercials, films, TV shows, plays, even radio. Modeling can also help prepare you for pageants and even give you increased confidence in presenting yourself, which will be invaluable throughout your entire life, whether during a college interview or on the job.
What Are My Chances?
Size may not matter, but good grooming does! Models need excellent skin, shiny hair, and white teeth, so be sure to eat lots of fruit and veggies and brush and floss often. Also, I would suggest not getting tattoos or excessive piercings (pierced ears are okay).
Where you are located can also be something to take into consideration as a model. Living in Alaska I don't have as many opportunities as I would if I lived in Los Angeles, New York City, or some other major city. On the plus side, if you don't live in a major area for models, you are likely to have less highly trained competition.
While I don't have as many opportunities in Alaska, I make the most of the opportunities I do have. Ric Davidge, President/Producer/Director, of North Star Productions is working to bring more acting and modeling opportunities to Alaska and I hope to be involved with this in the future.
How Can I Become a Model?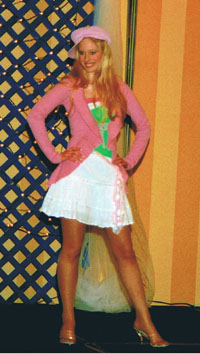 Kristin modeling at a competition, winning both the model and photogenic awards
The first step to becoming a model is research. You should research various areas of modeling, such as print, runway, or film, and figure out what areas you are interested in, so you know what you want to concentrate on.
Next I would suggest looking up the modeling agencies in your area. Check with the Better Business Bureau to make sure that they are reputable.
Once you have found an agency that has good standing with the BBB, contact them and schedule a consultation; in most cases this is free. Be sure to dress professionally, and age appropriate; this goes for hair and make up, too. You want to present your very best self to the agent.
The modeling agency will then decide if you are a type of model they are looking for. If you are, they can have you sign with their agency and then when they get a request for a model that fits your qualifications they'll give you a call and see if you are interested in the job.
Scams to Avoid
What about modeling conventions? Some of my friends have tried modeling conventions at great expense and without a lot of success, so if you choose to go to a modeling convention, make sure it is a reputable one and not just a money-making effort for the benefit of convention staff.
You also should be wary of those offers you get in the mail enticing you to the mall to "audition" for a modeling career. It usually turns out the real point is to sell you an overpriced package of photos. Quality agencies don't rely on random postcards to rented lists when they're looking for new talent. Again, take the time to research and don't jump at any organization that is anxious to enlist you sight unseen!
Working with a Modeling or Talent Agency
Modeling agencies will keep a commission from the amount you are paid for the job since they helped you land the job and they may ask you to sign a contract.
It is important to let the agent know your interests, as well as your beliefs. You may not feel comfortable modeling a swimsuit, etc. Let them know up front so that they can make a note on your file.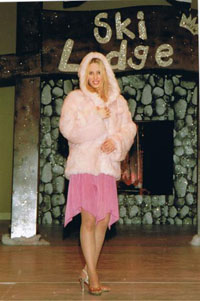 Kristin competing in a modeling competition, wearing a fur coat
Many modeling agencies offer classes to help you gain the skills you will need to get modeling jobs. Paying for such classes is usually considered an investment into your career, so make sure modeling is something you really want to do before you spend a lot of money.
In most modeling classes you would learn the many types of modeling - runway, print, etc. - as well as proper walking, posture, sitting... in short, how to present yourself well in any circumstance. Some classes focus on acting and its many facets. There are also classes for dance and singing if that is something you already excel at or are just interested in trying out.
I have taken some classes through Laura's Model and Talent Agency and North Star Productions where I learned a lot about modeling, acting, singing, and dance. I found the classes to be very beneficial in boosting my confidence in my abilities in a multitude of different areas.
Some modeling agencies offer "charm classes" that really cover everything you could possibly think of. This includes dining and telephone etiquette, public speaking, clothing choices, hair, make-up, and more.
As you learn more about the modeling industry and as you get more experience as a model, you too may be able to teach classes. I have been fortunate enough to teach a Charm School class for Laura's Model and Talent Agency and have really enjoyed working with girls on proper model behavior. Teaching is a very rewarding experience: you always learn new things. You can improve speaking skills, and most importantly pass on your knowledge to others. In most cases you will be paid for teaching, so modeling can actually help you save up money for college.
A good course I would highly recommend for all girls, regardless of whether or not they want to model, is The Christian Charm Course by Emily Hunter. It comes with both a teacher's book and a student's book. This book will help girls discover the importance of a "well-groomed" appearance, diet, and exercise, as well as some helpful fashion techniques. The course is very in-depth and relates everything to a Christian worldview. It makes an especially fun mother-daughter course.
What Is Modeling Like?
Each modeling assignment is different. Whether you are assigned a job by your modeling agency or are just going to an audition, the important thing to remember is to be yourself - the happy and confident part of yourself, anyway! Project confidence even if you are trying something new.
I would suggest bringing a parent or friend along to any assignment or audition you go to. While most modeling assignments are quite safe, it is always important to have someone with you, especially if you are a minor.
I have been fortunate to appear in some local television commercials, which have been quite a lot of fun. When I was assigned to act for one of the TV commercials I was given some lines to memorize and then was paired with another model. The director took several takes and then we were done.
I have really enjoyed modeling competitions that let me practice my runway modeling. I would suggest that aspiring models seek out these competitions to practice their skills. Who knows - maybe you'll win! I have won both model and photogenic awards at such competitions and found that I learned a lot in the process.
Photo and Resume
Another important key to modeling is getting some headshot photos taken, and if possible full body shots taken by a great photographer. Many times your modeling agency will find you a photographer. Once you have your photos you can put together an 8x10 headshot of yourself, with the backside of the photo featuring your resume.
If you are just starting out don't worry that you don't have a lot of modeling experience to list. Just think back to other past experiences: dance, singing, and acting (plays, church, etc.). You can also list education, unique skills, sports you play, and so on. It is also important to list your name, date of birth, eye and hair color, size, shoe size, height, and most importantly, your contact information.
This photo/resume will be a great asset to getting you more jobs as a model. When you go to an audition, most of the time you will be expected to have one. It is also nice to bring them to jobs you already have, so that they will have something to remember you by and perhaps make them think of using you again for another job.
Photos are also important because most agencies have websites to feature the photos of their models. They often refer prospective clients to the website. For an example, see lauramodeling.com
Final Thoughts
Being a model can be a lot of fun, but remember that not everyone will become a supermodel and make millions of dollars. Be realistic going into modeling and work hard to achieve your goals. You may not become a supermodel, but you very well could gain new skills, increased confidence, make some money for college, and of course build a fantastic resume of fun jobs. The most vital thing to remember, whether you decide to model or not, is to always be true to yourself and your belief in God. Don't ever do anything that violates those beliefs and you'll find that modeling will be both a positive and rewarding experience.