---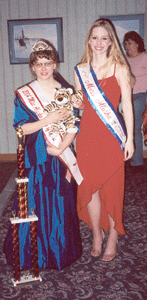 Emily and Kirstin at Emily's pageant where she wn the title Miss Alaska Queen of Queens
Everyone stood silent, eyes expectantly watching for who would be named Miss Alaska Queen of Queens. As the coronation music continued to play, the emcee called out, "... and the new Miss Alaska Queen of Queens is Emily Andariese!" Emily stepped forward in awe receiving the largest trophy at the pageant, which was almost as tall as she was, along with a beautiful crown and banner!
At that moment I was extremely elated, knowing that Emily had received an amazing reward for all of the hard work we had been doing for a year. Not only did Emily win the title of Miss Alaska Queen of Queens, but she also won the Best Overall Application Award, the Community Service Award, the Speech Award, Special Event Modeling Awards, and the Prettiest Eyes Award. I helped Emily, a 27-year-old mentally challenged adult, in preparing her paperwork such as her application and community service form. We also worked hard on a speech about Alaska, all the while we had a wonderful time shopping for her patriotic modeling outfit and her western wear outfit. All year we had worked on answering interview questions, smiling, and walking with confidence. We truly had worked very hard together for this moment, and to have her receive that title and other awards was absolutely breathtaking.
You may be wondering why I was so happy about someone else receiving an award. Truly, seeing another's eyes light up with joy, and knowing that they have found a greater sense of accomplishment and confidence in themselves is the greatest reward anyone can find. I have been thrilled to win awards myself, but I think I appreciate helping others to attain their absolute potential, and realize their worth, as the best form of "winning" possible in life!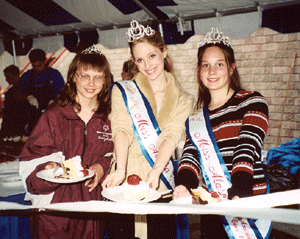 Emily, Kristin, and Tasha serving the American Flag cake at the Mayor's inauguration
Mentoring others is an amazing way for you to grow, and help others to grow at the same time. As homeschoolers, I am sure many of you already participate in some forms of mentoring. I hope to show you the vast amount of mentoring possibilities and opportunities available. In my case, I have competed in pageants for quite some time, and was very knowledgeable in this area. I took my knowledge, expertise, and time, and helped Emily to compete. First she received a city title, Ms. Anchorage All American Girl, and from there went on to the State level. I also helped another girl, Tasha Montague, become Miss Alaska Pre-teen. Since I was Miss Alaska Teen, Emily, Tasha, and I made several appearances and helped out at many community events throughout the year of 2003. Throughout that year the three of us were able to be hostesses and cake servers together for the Mayor's Inauguration, and the Governor's Picnic. We all had a wonderful time raising money for Special Olympics while running the 2003 Special Olympics Law Enforcement Torch Run. Tasha and I even ran our own "Miss Alaska" booth at the Elmendorf Air Force Base Air Show with 175,000 people attending. Emily, Tasha, and I were also in the Veteran's Anchorage 4th of July Parade, Bear Paw Parade, and sang patriotic songs in the Alaska State Fair Parade, winning second place in the Royalty Division! I was able to help Tasha and Emily meet many state and national celebrities, such as speaker and evangelist Franklin Graham, Lieutenant Governor Loren & Mrs. Leman, Governor Frank Murkowski, and Anchorage Mayor Mark Begich, to name a few! Every event was a magnificent experience where I was able to mentor others and help them to achieve new skills, like better communication skills in the way of public speaking, community service, poise and more confidence.
An important aspect of mentoring is remembering that the goal is to have fun, to learn, and most importantly to grow. While winning is always fun, the time you spend helping others succeed will be the most memorable.
Mentoring does not have to be through a pageant; there are many opportunities to mentor in whatever area of life you particularly shine in. You might want to mentor a neighbor, friend, or sibling, in some area that you possess knowledge in. You could mentor through 4-H, www.4-h.org; there are many wonderful mentoring opportunities through this organization in a variety of different subjects. Dogs, cats, citizenship, community service, horses, rabbits, gardening, plant science, art & photography, and so many more. If you want you could even start up a mentoring club, a club where people can join to both give and receive knowledge in different areas.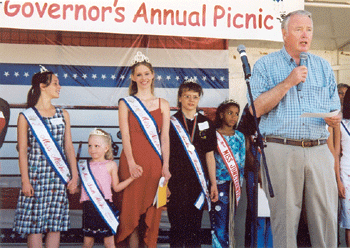 Tasha, Kristin, and Emily at the Governor's Picnic being introduced by Governor Frank Murkowski
Another way in which you might mentor is by teaching someone else how to play a musical instrument that you play. I have helped teach others through vocal instruction and found such teaching to have actually made me a much better singer.
Yet another mentoring option comes through sports. If you excel in a particular sport or just want to help someone understand the basics, passing on knowledge is a wonderful gift to give someone. It is a gift that will stay with someone forever, and hopefully be passed down to even more people!
As homeschoolers, we often have the gift of extremely involved parents who help us to excel in many different things, especially academic pursuits. If there is a particular subject in school that you really stand out in, try to help someone else and mentor him or her in that subject. That subject could be anything - art, math, language arts, social studies, reading, you name it. And remember, you can always mentor others in more than one subject.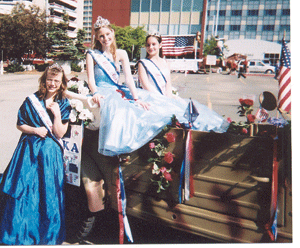 Emily, Kristin, and Tasha at the Veterans' Anchorage 4th of July Parade
In addition to all of these opportunities, mentoring can be accomplished through community service work. I have helped mentor my brother in Special Olympics figure skating, coaching him to a statewide gold medal. I have also helped coach Emily in Special Olympics figure skating, and Special Olympics Global Messengers' Speech program. Special Olympics,
www.specialolympics.org
, is but one of the many organizations where you can help lift up others and assist them in finding confidence within themselves.
Another opportunity is mentoring others through community service through your church. You could teach a Sunday School class, help out at Vacation Bible School, or any other church program where your knowledge would be of benefit to others. This is a wonderful way to share both the gifts and talents God gave you as well as your relationship with God to others.
Just remember that in whatever way you choose to mentor, whether through a 4-H Club, musical instruction, sports mentorship, school subject mentoring/tutoring, community service organizations, church, et al., that helping others to win will be the most fantastic accomplishment you have ever experienced. It is important to reach for your goals in life, while at the same time helping others achieve their goals. Take every day as a learning experience and be willing to both gain and give knowledge.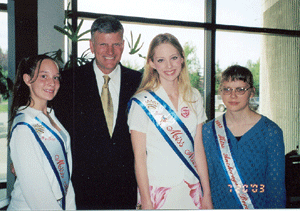 Tasha, Kristin, and Emily with speaker and evangelist Franklin Graham
Mentoring will give you the opportunity to teach others and in return learn from them. Making an impact in someone's life is a true accomplishment to be proud of, just as worthy as any other award you might have won. Helping others to win and succeed, and most importantly to realize their worth and potential is not only an accomplishment it is a blessing. Mentoring will be a blessing in your life and the lives of others that will hopefully be continually passed on.
I would like to especially encourage each of you to mentor those with disabilities. It will mean the world to them for you to help them realize their abilities.
Everyone has special gifts and talents. Even more importantly, God gave us those gifts and talents to make a difference. Take your gifts and talents and find a way to become a mentor to someone. You will enrich that person's life, and in the process greatly enrich your life as well!