---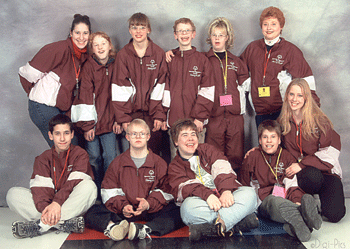 Team Anchorage Figure Skating (Kristin and Erik are the last two on the right)
I held my breath amongst the cheers, praying my brother would remember all that I had taught him, everything we had worked for. He proceeded across the ice as if it were more natural than walking, easily completing each element of his program; you could see the joy written on his face. My brother is a Special Olympics Alaska Figure Skating athlete. That day he not only proved to himself that he was capable of greatness, he proved it to everyone in our state, our country, and the world. After he left the ice and I gave him a hug we waited eagerly for the results to be posted on the wall. Finally the results came in... first place, Erik Hamerski. "You're getting a gold medal!" I told him, trying hard not to burst with excitement.
Even though I have won numerous community service awards, when my little brother stepped up on the podium to receive his gold medal, I think right then and there I was happier than he was. We had both been working hard for months, training early, drill after drill, hour after hour. Using my figure skating skills I am learning what it takes to be a certified Special Olympics Figure Skating coach, helping my brother and many other athletes to do their best. It just goes to show everyone is a winner if they have the winning spirit in their hearts!
Many of you, no doubt, have heard of Special Olympics; however, you might not know exactly what it is and what ideals it promotes. Special Olympics, Inc. is an international organization that gives people of all ages with mental disabilities the chance to compete in many different sports at their own level. Athletes can begin training at any age, but they must be eight years of age to compete in official competitions.
In 2001 the Special Olympic World Winter Games came to my home state of Alaska. I got to see first hand the grandeur and the ability of worldwide Special Olympics athletes. These athletes, though determined to do their best, sought first and foremost, good sportsmanship. They realized that winning is fun, but short lived; the truest prize, friendship can truly last a lifetime.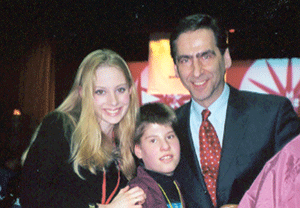 Opening Ceremonies 2003 with Alaska's Lieutenant Governor Loren Leman
I was a volunteer at the World Games, an experience I will never forget! Working at the athletes' village, Olympic Town, I taught athletes how to make various arts and crafts projects. A few days later I worked at the Figure Skating Venue, where I cheered up athletes nervous about competition. Last, but not least, I worked at the Snowboarding Venue in charge of manning the scoreboard. Through everything I truly gained knowledge and friendships that will always be with me.
There are many different ways to get involved with Special Olympics in your city and even your state. Special Olympics offers sports to participate in throughout the year. The sports of the Winter Games begin training in December and the competitions are usually in February and March. Winter sports include figure skating, floor hockey, snowshoeing, skiing, speed skating, snowboarding, and many more. Directly after the Winter Games are concluded the Summer Games begin their training in full swing. Sports such as swimming, gymnastics, track and field, basketball, and numerous others round out the sports played in the summer. In the fall bowling has become a tradition.
All of these sports offer volunteer opportunities; the key is finding where you can help the most. For those of you who are sports minded, you could help coach a sport you know well, or even compete with the athletes in the unified competitions. "Unified Sports" are where Special Olympics pairs people with and without disabilities on the same team. Floor hockey and basketball are wonderful examples of this partnership. The possibilities are endless, and the rewards life enriching.
The Special Olympics Unified Sports are very beneficial for homeschoolers. Since we don't have a school sports team, this gives us a way to compete, build confidence, stay fit, encourage others, win awards, and most importantly find the true prize of good sportsmanship and team spirit through friendship. To find out more about the programs in your geographical area go to www.specialolympics.org
Special Olympics even has a new school program that homeschoolers can participate in, called the "Partners Club." Our 4-H club is collaborating with Special Olympics to build a Unified Sports team of students to compete with other school teams.
As the President of our homeschool Partners Club I have a wide variety of duties and responsibilities. Being part of a club offers great opportunities to encourage civic knowledge and involvement amongst youth. Our club participates together on sports teams, but more importantly we partner to help challenged students enjoy other activities out in the community as well, such as going to the movies or church socials.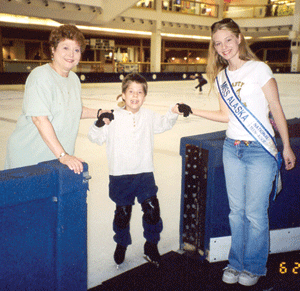 Kristin and Anne helping Erik
Even if you don't play sports you can get involved in so many different ways. I know many homeschoolers excel at foreign languages; you could become a translator for Special Olympics and go to the next World Games! With so many exciting possibilities I want to encourage homeschoolers to volunteer. Even if you're not a language whiz you might be great with technology. There are many needs in this field; you could be in charge of making sure all the results are tallied correctly, implementing new web sites, etc. For those who love public speaking there is an amazing option called "Special Olympics Global Messengers." This program allows volunteers to buddy with athlete(s) in helping to write speeches, working on delivery, diction, and stage presence. The message they deliver is one of friendship and teamwork, both very important. I am a Special Olympics Global Messengers speech coach and I have enjoyed it immensely.
A wonderful way for the whole family to show support is to become a Spectator Team. Go and cheer on your city, state, or country team at a competition. You can make elaborate banners and/or hand held signs as part of your art class.
Learning about the sports involved in Special Olympics covers Physical Education and studying about the countries that participate in Special Olympics offers a wonderful real life geography experience. Again, the sky is the limit. I encourage everyone to think hard about his or her strengths and find a way to use them in helping others. You will find that in using your gifts to assist others that you have discovered a true reward.
Being involved in this international organization also gives homeschoolers the chance to attend other conferences and workshops on a grand scale such as student government. These types of conferences and workshops are usually just for students of public schools; however, Special Olympics opens the door to a world of learning possibilities.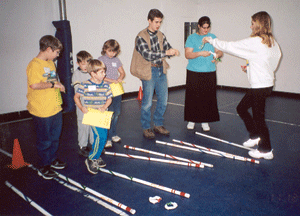 Making paper hockey pucks
The 2003 Special Olympics World Summer Games just concluded in Ireland. The Special Olympics is run much the same way as the Olympic Games. The Summer Games and Winter Games are held every four years, one in succession of the other, two years apart.
Just remember winning isn't always walking away with the tangible prize, true winning goes much deeper. If you can help someone find the greatness in themselves then truly you have found the keys to success, the greatest award of all.
Want to be a volunteer and win awards too? Here's how!
The President's Student Service Award rewards youth for their volunteer efforts in their community. There is a gold award for 100 hours of volunteer work and a silver award (ages 5-14 only) for 50 hours of volunteer work. These hours must be completed within a 12-month period. Award nominations must be from an organization. This can be a 4-H Club or Special Olympics etc.
The Presidential Sports Award is awarded for 50+ hours of physical activity. Ages six up to adult are eligible for this award. There are also family awards; this is a great way of including everyone. This award is also perfect for those students that participate in the unified Special Olympics sport. They can receive an award for their volunteer work and for their physical activity in a wide variety of sports.
These awards, as well as being a volunteer for Special Olympics, will greatly add to college applications, showing you are a very well rounded individual.