---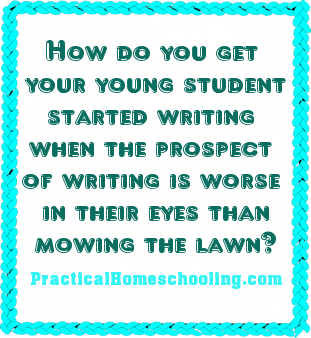 It's not uncommon to hear kids say that they would rather clean the basement or mow the lawn than write. But don't blame the kids! Adults also hate to do things that we haven't been trained to do, especially if we know that when we are done we will have our nose rubbed in all our mistakes.
Suppose that you didn't know anything about fixing the car and your husband asked you to repair the transmission on the pickup. What if he said that there were 109 pieces, they have to go in the right order, and the whole thing is very greasy, but that you mustn't get dirty? You too would say, "I'd rather clean the basement.'
It shouldn't surprise you if your children feel this way if you haven't shown them how to put ideas together. If the only training they have had in writing is grammar drill and spelling work, they don't know how to put together their thoughts so that others can understand them.
It might help you understand many children's frustrations if you were to look at teaching your children to do something that they need to know in the same way that most teachers teach writing. Suppose you were to decide to teach your child to ride a bicycle and were to use the same methodology that many writing programs suggest. Using the process normally used to teach writing to teach a child to ride a bike might go this way.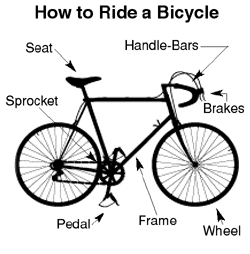 You would take about 300 sheets of copy paper to the library and duplicate a picture of a bicycle on each one. Sitting your child down at the kitchen table, you would explain that you were going to teach bike riding. Your directions would sound something like this: "Sit down. I'm going to teach you to ride a bike. On these pictures of a bike on each of these 200 pages I want you to draw one line under the right pedal. When you get good at that I want you to draw two lines under the left pedal. When I'm sure you can identify the pedals, I want you to circle the handlebars and then the fenders and then the wheels. When you're good at identifying the parts of the bike, I want you to learn to spell every part. You'll learn to spell wheel, spoke, tire, rim, axle, chain, frame, gears, hand grips and every other part on it. After you can spell all the parts, I'm going to teach you to diagram the bike. You'll draw lines from each part to its name which you'll write at the end of the line. You'll learn what each part does. When you know all that, you'll be able to jump on the bike and ride like the wind."
You recognize that such a teaching process would have to fail. But, that's exactly how many people suggest that you teach writing. That is why so many kids say that they would rather do almost anything than write. They don't know how. Just as a child should be put on a bike and helped to learn to balance and be given a push with lots of encouragement, kids need to be shown how to put words together. There will be plenty of time for them to learn the intricacies of the rules of grammar.
One of the major problems with giving young children grammar training is that the concept of grammar is an abstraction. Grammar can't be seen, felt, tasted or heard. It's a mental construction. Young people can't use abstractions until they are about 12 to 15 years old. Until that time abstractions are just rules and don't apply to their everyday lives.
By the time kids first learn to talk they have already learned many of the rules of our language. If they hadn't learned that sentences start with subjects which are followed by verbs and out there somewhere there is an object, we'd hear sentences like this, "A peanut butter sandwich make you me." The fact that we don't hear sentences like that, and that kids only talk in "Yoda speak" to be funny, means that they have learned the rules of the language.
Your young child may not know the names for the parts of speech, but at his or her age that isn't necessary. Later, if you want your child to know what a predicate nominative is, there will be plenty of time for that training. And it will be important when your child is ready to write in a foreign language. But until the child is able to use abstractions, what is needed is for someone to take that child by the hand and say, "If you have information you want to give to someone else in writing, this is the first thing you do, and this is how you do it. This is the second thing you do and this is how you do that. This is what you do next and this is how you do that, and so on."
If the the steps you use to train your children in writing are logical and sequential, they'll have confidence in their ability to use language to convey information. There'll be no reason for them to be afraid to write.
There is only one problem with teaching writing this way. You may have to clean the basement yourself!