---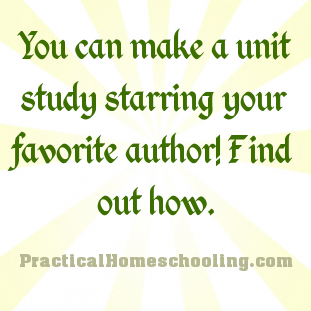 "My children have fallen in love with reading!" These are some of my most favorite words to hear. Reading is vital to home educating our children. It is a goal of mine to instill a love of books in my boys.
Many of you share this goal. Picking an author for a unit study is one way to create interest in different types of literature and expand our children's interest in reading. Creating your own author unit is a wonderful experience that will increase a love of reading.
Pick Your Author
If you choose to create your own author unit, the first step is to pick your author. You can choose from many wonderful writers such as Robert McCloskey, E.B. White, and George MacDonald. Another place to start: Caldecott or Newbery Award winners. Look for an author from your hometown or state. You can pick an author that is one of your child's favorites or someone to create interest in new types of literature. Pick an author and explore the magic!
After you pick your author, gather books by that author. Try and use your local library as much as possible. Also look for a biography about that author. If you are unable to find a biography, check an encyclopedia or reference book at your library. I have used The Young Reader's Companion by Gorton Carruth. It gives short descriptions of a large variety of children's literature and authors. Many current authors have websites with information about their books and some include color sheets or activities that correspond with their books.
Include your child in planning what to read and meaningful activities with your literature. Some ideas to get started are simply, when and where the author was born and if the author is still living or when he died. Ask lots of questions. How many books did the author write? Are the books in the same style, such as mystery, adventure, fiction, or historical fiction? Where did the author go to school and how did he begin writing? What was life like where and when he lived? How was it different than your life? If you are unable to find this information about the author on your own, ask your librarian.
This background for your author could give you some valuable information about the books you will read. For example, knowing about Charles Dickens's early life gives a good background and understanding for his great books. Some authors may also inspire your child to become interested in writing in the future. Imagine your young reader deciding to one day be a writer! The joy!
Expand Your Unit
Use the books you choose to read and expand reading to other creative areas. If your books are historical fiction, you can explore the customs, clothing, food, art, and religion of the time period represented in the book. Draw pictures of the clothing worn in that time period. Act out a scene from the book. Explore a character in the book and write a journal entry pretending to be that character. Ever wish you could change the ending of a story? Include creative writing by writing a new ending for a book you have read.
For Young Children
If you have young ones, you can also use young children's stories, such as Dr. Seuss's books. Read a large variety of the books written by the author. Use the books to explore arts, crafts, and other academic areas. Use ideas from the book to write similar stories or additional pages. Make new illustrations for the book. Use clay to sculpt the creatures or characters in the book. Create a book cover with a new cover illustration, a biography of the author for the back cover, and a biography about the illustrator, your child. You can use illustrations in the book to create math story problems for your child. During your author unit, you could have story problems using Dr. Seuss's Snitches, Horton the elephant, or any of his wonderful characters.
For Older Students
If you have older kids, there are a variety of ways to have fun with books. You could paint a scene from the book. Compare and contrast books by the same author. Use the books to pick out spelling words for a weekly test. Have your child pick his favorite character, write a biography of that character, and compare it to his own life. After reading a book, brainstorm for ideas that you can do as a family that were represented in the book. For example you could go on a picnic, go to the zoo, or take a hike in the woods. Finding ways to make links with the book through writing, math, crafts, art, or activities will increase your child's connection with books. That in turn will increase his desire to read.
After you have explored the author's real life and have read his books, encourage your child to read even more books by that author on his own. Hopefully, you have picked an author that will cause your child to become more excited about reading.
Include multiple author units in your school year. Have an all-day celebration of an author's birthday or work with one author for a couple of weeks.
Oh, the choices! Choose well and lose yourself in great literature!