---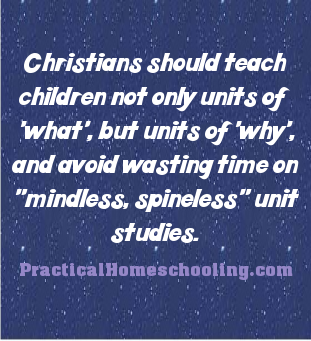 I am often asked, "How do you think up such creative units?"
I must admit, units, though not exactly genetic to me, were bred into my very fabric by my theme oriented mother. I grew up in a home where everything "matched." If we had crepes for dinner we dined to "The Last Time I Saw Paris." A bowl of chili was eaten to the strains of "The Yellow Rose of Texas" with bandanna napkins and a centerpiece complete with miniature Texas flags and cacti. Matching was not limited to the culinary realm. It extended to color coordinated Christmas decorations, theme birthday parties and even matching "sister dresses" for special occasions for my sisters and myself.
As I absorbed the "make-it-match mentality" in my own home, I often became frustrated when my theme did not work out to the nth degree. There was the fireman birthday party complete with fire truck cake, fireman party hats, and a ride on a fire truck, yet I could not find cheap fire trucks for favors. I could not be satisfied with just "any" toy car. After all, four-year-olds would notice, wouldn't they? Or the Winnie the Pooh party where "Pin the Tail on Eeyore the Donkey" fit nicely, but woe be to my poor husband who suggested the game of dropping clothes pins in a milk bottle. "Where in any of the Pooh stories was there ever a mention of milk bottles or clothes pins?" I retorted.
Small wonder when I began teaching, my mind thought in units. But just as having a panic attack over fire truck favors verged on the ridiculous, so some units can verge on the ridiculous. Some units seem to be connived instead of flowing together naturally. Here are three red flags to beware of in units.
Beware of Units that Miss the Big Picture
If a unit revolves around American history, The Witch of Blackbird Pond is a natural book to read. If the unit launches off into pond life, for the sake of adding science to the unit, then the entire point of the book has been lost as well as the point of the unit. The Witch of Blackbird Pond is about Puritan history, tolerance and intolerance, obedience and disobedience, love and hate, not about pond life. For a unit to be well constructed, each activity should contribute to the big picture rather than strain at minutia or incidentals. All activities should build on the same general theme, rounding out the unit. Units should be as carefully woven as fabric is woven. It makes no sense to be weaving with yarn and then to insert a piece of barbed wire.
Beware of Units that Integrate Every Subject in Every Unit
Sometimes integrating every subject in every unit simply does not fit. A unit on air pressure should not "force" art into the unit just to check art off the list of subjects covered. While an art activity such as "paint or draw air" is a definite waste of time, another art activity to paint with a straw is not a waste of time. As the child sucks paint into the straw, places his finger over the end of the straw, and then releases his finger and slings paint on the paper, he is using the principle of air pressure he has just learned. This art activity reinforces the main theme of the unit.
Let's face it. Some units are heavy on science or history while other units are heavy on art or music. Many moms are frustrated, when they cannot have 30 minutes of each subject balanced perfectly in each unit. This attitude causes the natural flow of a unit to be lost.
Beware of Units that Have No Higher Purpose
Christians should teach children not only units of WHAT but also units of WHY. All knowledge should further our understanding of God as well as equip us to operate in the world. Units on simple machines, inventions, and the Industrial Revolution, should emphasize the common character traits of the inventors such as resourcefulness and persistence. Children should focus on the character traits of those they study. While studying grains and bread, parents should point children to "the bread of life" which is in the Word of God and to the bread of communion which represents the body of Christ. As we study units on stars and planets, the goal for our children should be to crack open a door of wonderment revealing an incredible God of orderliness, creativity, and design.
Pointing to a higher purpose need not be contrived. Beyond all facts, figures and activities is the Creator of the universe whom we want our children to know personally. The more Christian parents study His Word, the more we will see it evidenced in everything from gardening to Beethoven, and the more we will pass this wonder on to our children.