---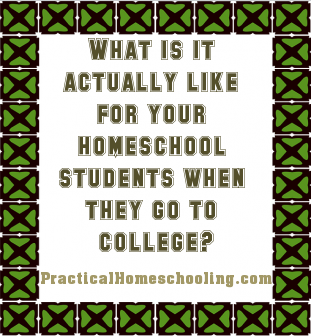 Hopefully my columns to date have given you some ideas for choosing and applying to college. A logical next step is to fill you in on what it's actually like when you get there. To that end, I have interviewed a few of my pals from around the country -currently at places like MIT, Harvard, the University of Chicago, and the California Institute of Technology (my own institution)-to give you an idea of what the collegiate "marketplace of ideas" is really like.
Academics and the Rest of Life
I've spent some of the previous columns detailing the academic and career benefits of attending a top college, so I won't repeat much. Suffice to say that there are lots of opportunities at these institutions, including first-rate instruction and unparalleled opportunities for internships, summer jobs, and research. In many cases, simply attending a particular institution gives instant credibility when it comes to applying for jobs or academic programs. Deserved or not, reputation is a powerful thing.
Almost as important is what one can gain from other students. Much of what I have learned at college so far, I learned from my peers. Every one of them are very academically talented and many of them arrived as freshmen already with near-expert knowledge of particular fields. Watching bright minds in action is an educational experience in itself.
However, there are many social benefits as well. A friend of mine at Caltech once remarked, "What makes this school so great is that absolutely everyone, down to the slacker who wastes most of his life in computer games, has a sparkle of life, a sense of humor, and a story to tell." College is one of the few times in life that exceptional students will be surrounded by peers who understand them and can challenge them intellectually.
Faith, Freedom, and Politics
Christians, though definitely a minority on most campuses, are far from scarce and in some cases appear to be on the rise, especially at science and engineering universities, according to my MIT contact. There is some hostility towards people of faith in modern higher education, but it is definitely not the rule. A friend from the University of Chicago, whom I will call Mary, recounted an experience from her freshman year: "I was in a philosophy class, working with a several other students. One of them started saying ridiculous, hurtful things about Christianity. It did not last long, however. Several other students, none of whom were religious, took him to task and shut him down."
I can't speak for all campuses, but I've found the Christian community at Caltech to be far ahead of just about all other Christian groups of the same age range in terms of spiritual maturity. In fact, one young woman I know attends meetings of the Caltech Christian Fellowship instead of the equivalent group at her nearby Christian college. She said, "I tend to spend a lot of time with this group. They are more serious about their faith than people back at my school."
Christians and conservatives are no silent minority. At Harvard, one of the more notoriously liberal Ivies, the political left does not hold any monopoly on activism. My friend at Harvard, whom I will call Heather, said "It's definitely a marketplace... The three most verbal, active campus groups seem to be the gay/lesbian association, the living wage/pro-immigration crowd, and the campus pro-life fellowship. I haven't seen any trace of a pro-abortion group... The campus Democrats are definitely more numerous than the Republicans, but the Republicans are more energetic."
Problems that Probably Won't Be
Though it is important to keep the dangers of college in mind, don't spend time worrying about things that aren't general threats. Frankly, one of the most inaccurate and misleading stereotypes I've ever heard is that of the bullying, atheist professor ridiculing and corrupting good little Christian students in his class. Does it happen? Sure. But it is very, very rare. According to Mary, "The idea that academia is out to get Christians is a lie."
The vast majority of professors are fair and professional enough to not let their personal opinions, whatever those may be, bleed inappropriately into the classroom. The closest thing I got to a complaint was from Mary, who mentioned that one of her biology professors tended to be a bit sarcastic towards creationists. "But," she said, "he was kind of that way toward everyone, and always in a good humored way. Additionally, I was quite open about disagreeing with him in class and in some of my papers, and my grade didn't suffer for it."
There are real loonies out there, but I think you'll find that they tend to isolate themselves into fairly predictable areas, and are therefore easy to avoid. Generally, the wackiness occurs in less quantitative, academically lightweight disciplines like education, ethnic/gender studies, religious studies, and the like. Math, computer science, engineering, the hard sciences, and business tend to be apolitical or at least quite moderate. Government/political science, history, and literature vary a lot by school as to the degree of political correctness, so that has to be checked on a case-by-case basis. Basically, if you do your research and ask around about specific instructors before taking their classes, I doubt you'll have much trouble.
Christian parents, in my experience, tend to work overtime worrying about the amount of peer pressure their kids will be under in college. I can't speak for all cases, but seldom have I observed students to be pressured to do something against their beliefs. Mary observed that "If people know what your convictions are, like not drinking or practicing abstinence until marriage, they won't try to talk you into doing something contrary and will generally respect you for what you are."
Sending a student to college with their guard up about this kind of situation is kind of like building a tornado shelter in earthquake-prone California. Sure, it might be useful once in a great while, but you're taking a risk if focusing on imagined perils causes you to ignore real ones.
Matters of Real Concern
External circumstances can certainly influence behavior, but what I have found is that external pressures can only accomplish so much, for good or ill. People stand or fall based on what is within. The main danger to the Christian college student is losing their deliberateness and getting sloppy and inattentive when it comes to their relationships with Christ and with fellow Christians.
A student's first priority should be to spend time in prayer and scripture, and their next should be to plug into a solid Christian community on or near campus.
In my experience, this needs to happen quickly, or it won't happen at all. Research for this can start before departing for school.
Not just any Christian group will be suitable for the purpose. It needs to be a group that knows the student and that can keep him or her accountable. It needs to contain people more mature in the faith who have the time and inclination to act as mentors. For this reason, a local church can often be preferable to on-campus groups, which can sometimes be just glorified youth groups with questionable maturity. A friend of mine, who now works as a physicist, said "If I had college to do over again, I would have invested more time in my local church than in the campus Christian group."
Some parents make the mistake of thinking that sending their children to a safe college environment will protect them. What they don't realize is that there is no such thing as a safe place. Don't think that an institution with the label "Christian" on it is safe from those who would try to undermine a student's faith. Even without external prompting, what's inside will manifest eventually. I know of homeschoolers that went off to Christian colleges at which the "wrong crowd" was pretty hard to find... but they found it anyway. If a Christian college provides the education you need, by all means go to it. But never think of it as spiritual daycare for young adults.
Trouble won't usually come looking for your child, but it is always there if they are looking for it. Like an opportunistic infection, it generally only gets those who are weak and floundering to begin with. By ourselves we are not strong enough, but our Father is there to support and strengthen if we will only stay close to Him. Your prayers and continual communication (family cell phone plans can help a lot) with your student can help keep then centered and ensure that any adversity that comes along will only make them tougher.
Parents have to come to grips with the fact that they no longer have the ability to control the behavior of their offspring when they reach young adulthood. If they are not strong enough to resist the temptation and antagonism of a secular college, they probably won't be safe in a Christian college, either. Neither will they be safe in a job down the street from your home. It's time to fly, or to fall. If you've done your job, all that's left to do is pray for them.
Stuff To Put Up With
Perhaps more pervasive than things that might lead student astray are things that disrupt peace of mind. Drunkenness, obscenity, vulgarity, and the like are facts of life in higher education and a student will have to learn to ignore it and get on with life. However, most students are fairly reasonable, and "something that really, really outrages you, will probably outrage most of them also" according to Mary.
Choice of living quarters and roommates can be very important. On campuses where there is any freedom of choice in housing, dorms generally get definite personalities, which can work either with or against the student. For instance, there is often at least one "party dorm" on each campus, where noise and other downsides of college life concentrate. Do your housing homework ahead of time-it can save you a lot of headaches.
Just as important are roommate issues. Most of the college horror stories I've heard are about "roommate incidents." If you have any choice in the matter of roommates, pick carefully and don't make the mistake of thinking that a good friend will necessarily make a good roommate. It was once remarked that "Two people can be good friends, or roommates, but usually not both at the same time." If you are more introverted, as I am, you might benefit greatly from a private room, if one is available.
Parting Thoughts
Hopefully you now have a better idea that life at college is really like. There are problems, but I think you'll find that, if your student is mature (spiritually, intellectually, and emotionally) and remains centered, the experience will be overwhelmingly rewarding.
For me, the issue is much bigger than my personal benefit and experience. I chose a top-tier institution because the academy is probably the most important marketplace of ideas on earth. It is the place where movers and shakers are made. It is important that the Christian faith and life be on display with all the other philosophies of our age, so that others may see the truth in it.