---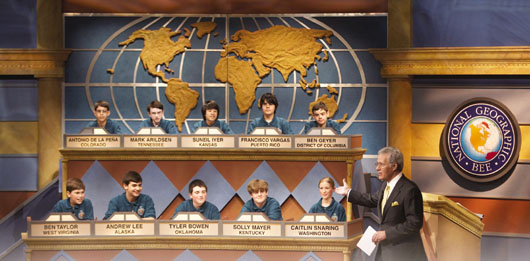 2007 is definitely the year of the homeschooler. Homeschoolers walked away with top honors in four major academic competitions: The National Geographic Bee, the Scripps National Spelling Bee, the Intel International Science & Engineering Fair, and the first GSN National Vocabulary Championship.
Want to find out more about the remarkable young people who tackled and conquered these competitions? Would you like to know exactly how they prepared? Then keep reading!
Practical Homeschooling managed to get in touch with all four of the winners' families, who graciously shared their stories and "insider" study secrets.
Female Geo Bee Star
On May 23, 14-year-old homeschooler Caitlin Snaring became the first girl in 17 years to win the National Geography Bee, triumphing over a field of nearly 5 million students. Amazingly, she didn't miss a single question in the two days of the national competition.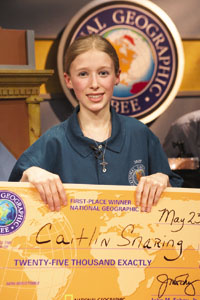 Caitlin Snaring holds the first prize in the National Geographic Bee, a $25,000 scholarship check
When we spoke with her, Caitlin's mother, Traci Snaring, told us how Caitlin got interested in the Geography Bee. In 2006, when Caitlin was between sixth and seventh grade, Traci saw the advertisement for the competition and asked Caitlin if she wanted to try the Geography Bee. Traci put together a geography club at their homeschool center so they would have enough members to run a school geography contest. Caitlin won, and went on to take the written test in hopes of qualifying for the state round. As one of the top 100 kids from Washington, she then competed in that statewide competition, which she won.
Caitlin didn't win the national competition in 2006. However, seeing the national competition made her more determined to win, so she studied even harder. She made her own maps with her own color-coding system and keys. She used these map to test whether she knew all the country names.
Caitlin also typed up notes. For example, if she read an almanac of geographic terms, she'd type up her own notes to help her memorize. She filled up 10 notebooks with notes and maps! She spent maybe six hours a day studying geography, plus time on weekends. She carried her books everywhere, even in the car.
Life isn't all geography for Caitlin, though. The Snarings attend a local homeschool center that offers musical theatre. Mom says Caitlin has always been involved in that. The couple of times she took a break from studying geography were to participate in the school play.
Caitlin has said she'd like to become an international diplomat. She mentioned that on the Today Show, and received a phone call from the State Department, from a woman who works with Condoleeza Rice, a recruiter for the diplomatic service. She offered to mail an autograph, and recommended that Caitlin attend Georgetown University.
Future contests? There is an AAA Travel Challenge. She might look into that and see if she wants to do it. And, of course, Caitlin will be representing the USA while competing in the National Geographic's World Championship this August in San Diego.
As Caitlin told ABC News, she credits homeschooling for allowing her to pursue her geographic interests to the full.
Spelling Bee Champion
On May 31, a jubilant 13-year-old homeschooler, Evan O'Dorney, was the fourth homeschooler (since 1997) to take home the coveted Scripps National Spelling Bee trophy. It comes with $35,000 cash, a $5,000 college scholarship, a $2,500 savings bond, and assorted goodies.
Evan O'Dorney holding the Scripps National Spelling Bee trophy
The National Spelling Bee is open to students who have not reached their 16th birthday on or before the date of the national finals and who have not passed beyond the eighth grade at the time of their school finals. About 10 million students compete each year in local bees, hoping to make it to the televised National Bee.
Evan's mom, Jennifer, graciously took time from her busy day to share her take on Evan's success-and what he did to make it to the top .
PHS: When did Evan start homeschooling?
JENNIFER: We started our official homeschool when Evan was 3. In kindergarten, we became part of Venture School's homestudy program, and that's what we've been doing ever since.
PHS: What exactly is Venture School?
JENNIFER: Venture School is part of the public school district. It's a school for independent learning and homestudy. [In California, there are four legal ways to homeschool, and this is the fourth.] We have used some of their textbooks that they provide. I know we did Saxon Math for a couple of years. For his Latin studies, we used Latina Christiania, and we've done two of the Henle books.
PHS: How did Evan get started with spelling?
JENNIFER: We started with the Bee in fourth grade. He got into the national Bee in the sixth grade. After that, we came home and started going through the dictionary. It took a little over a year to go through the entire dictionary. We looked at the words and chose words that were unfamiliar. He'd write them down in a notebook, along with all their information. Then we went back and he color-coded words. Brown was animals, green was plants, red was food and drink, yellow for words likely to be asked on the bee. We also used Nat's Notes from the Spelling Sisters at Hexco (www.hexco.com). I was his only helper... we didn't have a lot of extra tutors or anything.
In fourth grade, Evan came in ninth in the county. In fifth grade, he came in third and went to the state Bee. In sixth grade, he made 17th place at Nationals. In seventh grade, he was 14th at Nationals. And of course, this year he won!
PHS: Has anything changed since Evan won?
JENNIFER: Winning the Bee has changed things. We just came into this little bookstore and somebody wanted his autograph. People do recognize him. But Evan hasn't changed. He's just downstairs reading a math book. For the future, Evan wants to do something with math. Possibly teaching or researching.
PHS: Did homeschool contribute to Evan's success?
JENNIFER: Learning at home gave us time. Homeschooling affords you the time to do the things you want to do.
PHS: What gave you the idea to try and compete?
JENNIFER: Evan remembers that he was good at spelling and I thought it would be a fun thing to do. But I remember knowing a young man who had gone to the Nationals. He knew Evan and said, "Evan could win." That kind of put the idea in my head.
For more information visit www.spellingbee.com.
Super Scientist
On May 18, 16-year-old homeschooler Philip Streich won a $50,000 scholarship as one of the "best of the best" in this year's Intel International Science & Engineering Fair (the Intel ISEF), garnering one of the three Intel Foundation Young Scientist awards. He was the first homeschooler ever to win this top award, though some have earned awards at lower levels. In all, Philip earned 12 awards-the most of any finalist. All by himself, Philip won more awards than some countries, including Russia, India, and China.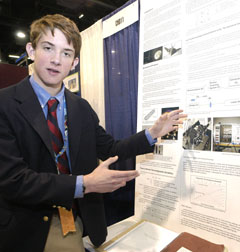 Philip Streich, winner of the Intel ISEF, explains his findings
Philip did this with his amazing work demonstrating that carbon nanotubes are thermodynamically stable. To prove his point, he invented and built his own lab equipment, which measures scattered photons better than the equipment sold to labs!
Philip also won the National Physics Bowl last year (Division 1) and this year (Division 2). At the time we were preparing this article, he had just came back from U.S. Physics Camp, a 12-day training camp for the U.S. Physics Team.
We had the opportunity to talk with both Philip Streich and his mom, Amanda Streich, who has been homeschooling him since the seventh grade.
PHS: What curriculum have you used?
AMANDA: In Philip's case, he is learning through teaching himself. He also takes courses as a special student at the University of Wisconsin-Platteville, which is about 3 miles from our farm. We are very fortunate that it has an excellent engineering and science program and great professors.
He took math courses through Stanford's EPGY program and writing courses through Johns Hopkins' CTY program. During the seventh and eighth grade years I focused more on the idea of how to study and how to learn.
When he first started homeschooling I just saw the light in his eyes light up because he could finally go through the classes at a much higher speed.
PHS: How did you find your mentor?
PHILIP: I took chemistry last year with another professor at U-WI and started doing research with him on a soilless potting mix. I met Dr. Hamilton around the chemistry department, and heard about all this research he was doing with a polymer he'd developed to clean surfaces. I started working on the polymer last spring. On my own, I then looked through journal articles, textbooks, and the Internet, and came across a different technique called "static light scattering." I figured out this was the correct approach. From then on, I carried out the rest of the project on my own. I designed and built the instrument, made and ran all of the samples, and collected and analyzed the data.
All this, and he's only a high-school sophomore! For more info about the ISEF, visit www.intel.com/education/isef/.
Vocabulary Whiz
On March 5, part-time homeschooler Robert Marsland swept the field to win the first-ever GSN National Vocabulary Championship. This garnered him $40,000 towards his college education. (A one-hour special featuring highlights of the competition was aired later in the year, on April 15.)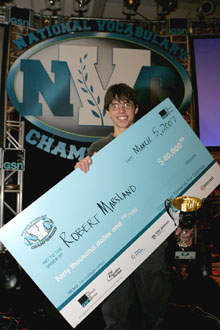 Robert Marsland accepts his $40,000 check
Although the competition site lists Robert's school as "St. Ambrose Academy," this is only part of the story. Robert was homeschooled through the eighth grade, and continued taking Scholars Online courses in Greek, Latin, and Literature after that.
Robert told us, "I actually didn't do any studying specifically for this competition (other than working harder on memorizing words for my Greek class). I relied mostly on my Latin and Greek knowledge, added to the other vocabulary words I have picked up through reading literature. I have taken ancient Greek from Dr. Bruce McMenomy of Scholars Online for five years now, and I have studied Latin while I was homeschooled in middle school, then at my high school for two years, and finally with Dr. McMenomy for the past two years. These studies have given me the love for words that I have, and have been the largest contributors to my reading vocabulary (although few of these words have made it into my active writing and speaking vocabulary)."
As for the benefits of competing, Robert said, "First, I made new friends there. All the other contestants there were fascinating people with many similar interests to mine, including Latin and Greek. It was great to be able to make friends with a number of them. Second, as a result of winning the competition, I have gained an immense amount of experience being interviewed and filmed. This experience will help me in the future, both in future interviews and in my general communications skills."
For a half-dozen articles on how to win these competitions, go to www.home-school.com and click on "Articles." See you there!