---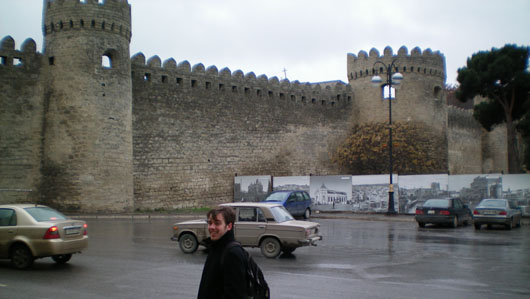 The old city walls of Baku, built during the time of the Crusades, loom behind Joshua as if they are still the guardians of the city.
Does homeschooling prepare kids for the "real world"? Yes, if by the "real world" you mean the entire globe. Read this and see it for yourself!
I hadn't seen our oldest son, Joshua, for a year and a half when this Christmas my husband and I traveled halfway around the world to see him. Josh looked different than the day we said goodbye. He smiled more confidently, he stood taller, and his face was more chiseled. My son had changed over the 18 months. Amid the joy of reunion, one of the many questions I had pondered and desired a reply to was, "How did this happen? How did a boy, homeschooled in rural Nebraska, end up halfway around the world serving in the Peace Corps?"
In this homeschool mom's humble opinion, 24 year-old Josh has traveled and lived in other regions of the world enough for one lifetime. During his sophomore year at the University of Nebraska-Omaha he spent a summer semester studying Economics and Marketing at the Helsinki School of Economics in Finland. During his senior year, he studied the Japanese language and East Asian Foreign Relations for 11 months in Shizouka University in Japan. At 22 he graduated with honors and worked in Washington DC as an intern for a Nebraska Senator until beginning pre-service training for the Peace Corps.
We watch with great anticipation as our children grow and then one day step back and realize how much they have grown. During my recent visit, I asked Josh if I could interview him about his homeschooling experience and how it shaped his ventures into the world.
MOM: How do you think your global curiosity developed?
JOSH: I think my global curiosity developed in several different ways. Every afternoon we were given ample time to read about topics that interested us. Also, we were exposed to a wide variety of cultural experiences in our home such as missionaries that came to dinner. Another thing we did was take formal enrichment classes outside the home. The first class I took was about the global impact of weather and another one of my favorites was the German language classes we took from a woman who was a native of Switzerland. Our German heritage was also another way for me to delve into other cultures and customs at a young age. But, I think it was actually the monoculture of our small rural community that propelled me to seek and appreciate other cultures.
MOM: What was your favorite subject in homeschool?
JOSH: History! I loved the real stories and History provided a reference point for me and a commentary on human nature. It gave me both a positive and a negative view. History also allowed me to view aspects of human nature that were beyond my everyday life. From history, I was able to learn about people's mistakes. I kind of think of it as experience concentrated. A vast total of other's life experiences were distilled and placed in a book for me to read and learn from.
MOM: What do you feel was the most influential course of study that you took in your high school years?
JOSH: When I was 14, I took a writing course that required me to do in-depth research into -different topics pertaining to world history and write clearly and persuasively about my point of view. I continue to use this skill today.
MOM: Tell us about your community college experience.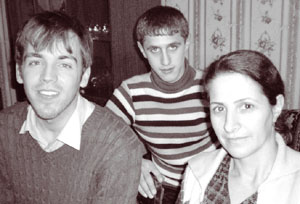 Josh (left) with Maleck and her son Michael. Hospitality was never lacking in Azerbaijan. Maleck was very involved with the Language Training Programs the Peace Corps offered.
JOSH:
In our family's homeschool we did early college entrance. I had just turned 16 when I began attending a community college near our home. There I studied courses of interest and began building upon my homeschool education. Along with academics, I became active in Student Senate, Campus Crusade for Christ, and Honor Society.
MOM: What was your major and how did you decide upon it?
JOSH: At 18, I began attending the University of Nebraska in Omaha (UNO). That year, my sister Laura studied abroad in Venezuela for a semester and she came home positively changed! Laura's metamorphosis was exhibited by her increased awareness and interest in international affairs. I guess it was contagious, because I also became keenly interested in these topics. I graduated with majors in International Studies and Political Science and a minor in Geography.
MOM: Why did you choose to join the Peace Corps after you graduated from UNO?
JOSH: My first exposure to Peace Corps Volunteers was through professors and faculty at UNO. I was impressed by the change the Peace Corps made in their lives and the global perspective that they presented me in the classroom through their experiences.
MOM: Describe where you are located and what is it like.
JOSH: I am working in the country of Azerbaijan in the snow-capped Caucus mountain range. The communities where I work are populated with 5,000 to 7,000 people. They typically consist of three to five stores that sell sundries and food, two to three schools, and a mosque.The people have occupations such as small merchants, teachers, farmers, and health care workers.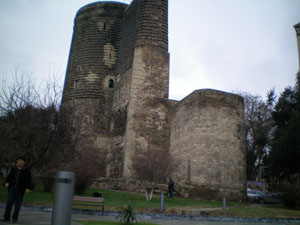 The people in the villages are some of the most hospitable and caring people that I've met in the world, There is always a pot of tea (chai) and a saucer of fruit preserves to sweeten it.
A little-known fact about Azerbaijan is that it contains 11 out of 13 of the climate zones. The weather in the winter gets down to 20°F and in the summers my region gets as warm as 80°F.
MOM: Describe how you serve in the Peace Corps.
JOSH: I work with locally elected community development planning boards in the grant writing and project planning process. I am also teaching students English, computer skills, and community mobilization skills. My goal is to develop these skills through activities and games and create future leaders.
MOM: Tell me about your language training.
JOSH: During the first three months in Azerbaijan I spent time doing intense language training in a village near the capitol of Baku. There we studied Azeri for six hours a day, five days a week, for a full three months. Since completing pre-service training, I have continued to study and be tutored in Russian.
MOM: How did homeschooling contribute to your Peace Corp experience?
JOSH: The educational autonomy that was developed during my homeschool years has allowed me to develop projects and interests aside from what is available in the Peace Corps curriculum. I'm also able to do more independent in-depth study of the culture.
MOM: Describe one of your favorite projects.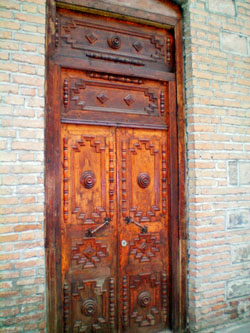 The first impression of an Azeri home is the ornate door built into brick or stone walls.
JOSH:
A friend of mine, whom I met in a 4-H speech contest, is teaching English in South Korea. We have connected our English students as a form of cultural exchange via email using the English language as the medium.
MOM: So, what do you do for enjoyment in Azerbaijan?
JOSH: Exploring the ancient ruins and museums while sampling the regional cuisine are some things that I enjoy. Hiking in the wooded Caucus Mountains is another interest that has been developed since I came here. Reading remains one of my chief joys and I am currently taking pleasure in discovering the history and literature of this region.
MOM: What are your goals post Peace Corps?
JOSH: I would like to continue living abroad for another two to five years post-Peace Corps and then acquire my Masters in International Relations and Central Asian Studies. I would like to work for an NGO (non-government organization) or in some capacity for the U.S. State Department.
A young boy seated at the kitchen table in rural Nebraska now uses the flexibility homeschooling provides to examine a world that enticed him to explore. My son attributes his zeal for learning and his desire to experience the world to his early exposure to other cultures, enrichment experiences, and his love of history.
I now held my breath as I asked one final question that nagged me.
MOM: So Josh, what is your final verdict on homeschooling?
JOSH: I am grateful that I had parents that loved me so much that they poured out their lives to educate me at home.
I smiled at his kind-hearted reply and noticed by his diplomatic response that he is, indeed, well suited for a career in the State Department.