---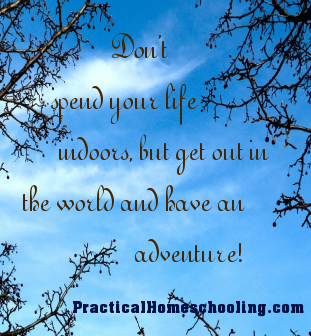 What are you going to do this summer? "Nothing," is a bad answer. "Hang out, and do summer workbooks to make sure we don't forget everything," is OK, but you could do better. "Work right through nonstop," is a good idea, but only if your kids can handle it.
Our suggestion: Don't let your kids' minds turn soft from non-use, but don't make them hang around the house all year. Kids were not created with boundless energy in order to spend their lives sitting behind desks. Have an adventure! Learn to program, strengthen your faith, climb a mountain, sail the high seas, embark on a safari, explore the wilderness, visit a military academy, and get that wealth of experience that you might have missed year-round.
Homeschool Retreats
You are not alone in the universe. There are thousands of other homeschool families out there, going through everything you are. A homeschool conference or retreat offers a chance to learn from those who've gone before, meet other homeschoolers, make instant friendships, and browse through halls full of fine educational materials created for people like you.
For a few days or a full week, a homeschool conference is a wonderful chance to recharge your batteries as a family and enjoy some time seeing new sights and meeting new people.
Glorieta Conference Center in Glorieta, New Mexico, holds an annual homeschooling conference. The conference center has many recreational activities - everything from horseback-riding, hiking, playing mini-golf, and boating to just sitting back and taking in the wonders of God's creation in the Sangre de Cristo mountains. We've been up there before. The woods are fun to explore, the mini-golf course is challenging yet beatable, the air is fresh, and the trees are good to climb! This year's homeschool conference, Homeschool 2000, will feature Bill Jack, an excellent, entertaining speaker from Worldview Academy who we've had the privilege to watch in action, Cathy Duffy, author of The Christian Home Educators' Curriculum Manuals, Ray Ballmann, author of The How and Why of Homeschooling and How Your Family Can Flourish, Wesley Callihan, founder of Schola Classical Tutorials and also a past PHS columnist whose articles you can see on our website (www.home-school.com), and Tom and Colene Lewis, veteran homeschoolers who've worked with the media to put a positive face on homeschooling and who've been instrumental in changing the Arizona homeschool laws for the better.
My sister Sarah and I will be there this year. We'll be giving a number of educational workshops, which anyone is welcome to attend. I hope to see some of you there!
This is a very affordable family vacation. The package for a family of five, which includes food, lodging, recreation, and attendance at all conference activities for the entire five days, comes to $929. Additional family members cost only $15 extra per person per night, and you can get a good price on an extra room as well. There are a number of options, with prices ranging down to $279 for a tent site.
(Traveler's Tip: Being high in the Rocky Mountains, the air at Glorieta is somewhat thinner than at sea-level. So you may find yourself short of breath before your lungs adjust to the thinner air. If you plan on visiting Glorieta, or any other mountain retreat, go and enjoy the view; but don't push yourself too hard if you're not used to the altitude.)
A few thousand miles east, and a few thousand feet closer to sea level, you might try the Sandy Cove Homeschool Conference 2000. The Sandy Cove conference center is located on the beautiful shores of the Chesapeake Bay in Maryland. This week-long homeschool conference is filled with all kinds of educational and fun activities. Speakers will include Monte and Karey Swan, Tim and Katherine von Duyke, and many others of note. For lodging, you can splurge with a suite or pitch a tent on the campground. Take the whole family! Try out boats and waterskiing, hiking, minigolf, field trips, and more! This conference is focused more on Christian family life than homeschool per se, but it will have a curriculum fair, some homeschool workshops, and enough activities to make it worthwhile.
H.E.L.P. 2000, sponsored by Bob Jones University Press, will provide a chance for many homeschool parents to meet, receive encouragement, learn useful skills and techniques from others who've been there, and look at many kinds of curriculum, including of course the famous Bob Jones University Press line of materials. Speakers will include Ron Hamilton (Patch the Pirate), Cal Thomas, and Tom Lester. The convention will be hosted at "The World's Most Unusual University," Bob Jones University in beautiful South Carolina, and appears to be targeted towards adults, though BJUP does allow you to bring the kids.
Cool Trips on Big Ships
Most folks will tell you that while kids are on vacation from "school," they aren't learning anything. But we know better. Let's have a look at a Caribbean cruise vacation just for homeschoolers. Hosted by Dick Warren Worldwide Travel, a Christian-run company, the Homeschool Cruise 2000 will visit the islands of San Juan, Tortola, and St. Thomas on a roundtrip from Florida.
The Paradise, a brand-new cruise ship, will be both your home and your transportation on this week-long cruise. 855 feet long, and weighing in at 70,367 tons, the Paradise has a barber shop, a mall, three swimming pools, and complete athletic and exercise facilities, for those of you who don't want to break your exercise program over a week-long vacation. To make your travel time more enjoyable, the Paradise is a non-smoking ship, including the crew.
Here's where the education comes in. You can, of course, go ashore at any of the ports and explore, but you can also take tours priced from $16 up to $99. The tours are cultural (San Juan City and Shopping Tour), entertaining (Juan Carlos and His Flamenco Rumba Show), scientific (Bioluminescence Bay Kayak Tour), or simply unique (Glass Bottom Boat or Submarine tours).
Or cruise the northeast! Travelink (christiancruises.net) is hosting a New England Homeschool Cruise, this October 14-21. You'll visit the cities where U.S. history began, then continue up the coast towards Canada, see the sights, and enjoy the culture. Tours are available at every port, though your signup price only includes one.
While you're out at sea, your homeschool calendar will continue, with a variety of workshops, entertainment, and seminars to choose from. The Denton Brothers will teach historical theme-based curriculum for ages 4-12, and also lead a session for teens about mission, entrepreneurship, and business. Michael Farris, president of the Home School Legal Defense Association, will give speeches and also lead Sunday morning service. David Teems will provide music. There will be a basic photography class for teens. All the usual cruise ship accommodations, like athletic facilities, will also be available. Shipside spectators, when traveling by the heavily-wooded shore, will have a good view of fall foliage, and may have a chance for whale watching.
Now this is a vacation. Windjammer Barefoot Cruises is offering 6- and 13-day Caribbean sailing expeditions, targeted towards any able-bodied youngster with a spirit of adventure. There's a new expedition starting every Monday throughout June, July, and August. You can choose between two tall ships, the Polynesia and the Legacy, and learn skills like trimming the sails, manning the helm, celestial navigation, tying knots, and other sailing skills. You can listen to sailor stories, learn French (on the Polynesia), enjoy music and dancing, and go on island excursions, including water sports and shoreside exploration. There's music and dancing onboard the ships, and when you're done with the whole experience you are awarded a cadet sailing certificate. You receive personal attention from counselors and water sports counselors. All the above is included in the Cadet Program, for ages 13-17.
Cadets need to bring along at least one parent or responsible adult (who pays the adult rate). Junior Jammers (age 6-12) get 50 percent off if one parent is along or can come along free if both parents are coming.
Too old for Windjammers? Go to college! Hocking College, to be precise. Looking for a top-rated, fully accredited college where you learn by practical, hands-on activities? Want to have an "adventure," and get a college degree for it? If you sign up for their two-year ecotourism degree, you'll know enough to start your own wilderness tour company. And you don't learn it all in the classroom - you learn it out in the wilderness, by doing it! Hocking offers a variety of "hands on" degrees, plus certification for jobs like Park Rangers.
What does this have to do with vacations and adventures? Well, Hocking College has a 2-college-credit "learn to sail in the Bahamas" course running this June, for a reasonable price. Bring your own mask, snorkel, and fins, and learn how to use them! And walk away, not just with an experience, but with college credit. To me, this sounds like an excellent way to spend a week, and to get a look at the way this unique college operates as well.
Theme Parks
For homeschooling fun with a more kinetic flavor, take a look at your regional theme park. If you have been reluctant to bring your family during one of the regular days because of the mass of pop-culture teens that typically flock to these parks during the summer, attending a homeschool day can give you the best of both worlds - a friendly environment with a lot of good fun.
Six Flags theme parks, in cooperation with Harvest Home Educators, have been offering special homeschool family days for over three years now. The normal crowds will be absent, so you'll actually have a chance to get at the rides. In addition to the regular attractions, parents can also browse the onsite curriculum fair, with a variety of vendors displaying their homeschool-friendly products. Or take a break to hear some words of encouragement and inspiration from a special speaker.
Silver Dollar City, in Branson, MO, is also offering a homeschool weekend. You get about a third off the entrance fee, though you have to reserve your tickets by phone, as opposed to buying them at the front gate. Silver Dollar City is an interesting mix of amusement park and history and culture exhibit, with fast, scary rides that involve getting the passengers very wet. The homeschool weekend will be held during the "Festival of America," featuring Normal Rockwell artwork, exhibits by craftsmen, traditional American foods, pioneer and Native American activities, and more besides. Learn a little about colonial history, while facing your fears on that ride's 60-foot drop . . . What could be more fun?
Worldview for Kids
Amidst the theme parks and conferences, don't overlook opportunities for using the flexible summer schedule to devote yourself to academic and personal challenges.
Worldview Academy Leadership Camps offer young adults intensive training in Worldview, Leadership, and Christian Apologetics. Camps are offered at several locations throughout the United States. My two oldest sisters and I attended the Missouri leadership camp a couple years ago. Sarah, Frank, and I will be attending the Sky Ranch camp in Van, TX, this year, and Magda will be at the Liberty, MO camp. These camps involve a lot of "classroom" time, and a lot of right-to-the-point educational lectures on how Christianity affects your perspective on the world, and on what other common worldviews you will face as a Christian. When we visited the Liberty, MO camp a couple years ago, we toured an art museum, listening to commentary on the religious background of the art, participated in frustrating debates with the WVA staff's "evil twins," who embody various anti-Christian worldviews and refuse to get caught by anything in debate, we adhered to a strict schedule, met some great folks, and had a "joyful" time.
Another opportunity for worldview training is the Summer Christian Leadership Seminar sponsored by Summit Ministries. Young adults (16 and up) can choose from nine different two-week sessions in Manitou Springs, Colorado. Plenty of recreational opportunities are available, but the heart of The Summit is what you'll take home with you. Summit's purpose is teaching how to use God's word in life, in society, and in response to many of the problems that face the world today. Originally designed to prepare Christian youths for the many challenges of the college environment, Summit intends to give you a sound foundation in Christianity, and to bolster your faith by showing how the Bible relates to the real world.
To make our repertoire complete, we have to mention the Christian Worldview Student Conference. This conference is all about practical Christianity; what the Bible really says about life, government, business, the environment, charity, philosophy, and so on. Instructors for 2000 will include Ken Gentry, Don Moeller, Ed Welch, Steve Wilkins, and Doug Wilson. This is not a camp to send your kid to in order to get him "evangelized." This is a conference for students who are already fairly well-grounded in scripture and want to know more. Despite the packed schedule, a couple hours every day are set apart for recreation time, and there will be a talent show. Bring your musical instruments, sports stuff, and whatever you feel would make for an edifying time. Don't bring anything unseemly or distracting. Be polite, and come ready to learn, because that's what you'll be doing at this conference.
Educational Camps
Aptly termed a "learning adventure," Alpha Omega Creation Tours offers family vacation packages in Colorado. There are plenty of opportunities for hiking, horseback riding, rock climbing, and rappelling. For the "challenge" activities, like a slightly scaled-down version of what you might find at an Outward Bound expedition, you would attend the Red Cloud camp. For more "sporty" activities, you would attend the Twin Peaks camp. What makes these camps unique among the myriad summer camps you could attend is the teaching on creation that you will receive. Find out why you can believe the Bible literally and still be a reputable scientist. And when you have a break, try something fun and outdoorsy like archery or fishing! This is a family affair; the parents come as well.
The Visual Manna Art Camp is a unique alternative to traditional summer camps. Held in Salem, MO, each five-day camp features specialized instruction in the fine arts, with training in drawing, painting, chalk art, carving, weaving, music composition, and more. The Yelleville, AR camp has two dance and gymnastics teachers, and horsemanship training as well, and focuses on western art (e.g., Remington and Russell). The other camp focuses on art skills and science, with lots of activities for both. Unlike some art courses, Visual Manna will teach actual art skills, not "activities." According to their brochure, students will use good-quality art equipment of many kinds, and also learn dance, drama, and mime. Future artists, take note!
The Citadel Summer Camp is run out of the Citadel, the Military College of South Carolina, in Charleston. Its purpose is to grow strong patriotic young citizens. The Citadel does not want misfits; it wants civil young ladies and gentlemen. While students will be drilled in formations, will be expected to wear uniform, and will have daily room inspections, there will also be many fun activities. These include team sports of many kinds, camp radio, sharpshooting, boy or girl scout projects, drum & bugle corp., SCUBA, and a lot more.
Since the Citadel is a military college, everyone will practice air rifle marksmanship. There is an optional hunter safety program. If you're scared of the "kids and guns" phrase that TV is trying to make synonymous with "evil," remember that the Citadel staff trains students in the responsible use of firearms. This is probably the safest place on earth your kid could be taught about guns.
The Citadel Summer camp is only open to kids aged 10 to 15. It's recommended for kids fascinated by the military, or kids who enjoy physical activity based near civilization (as opposed to out in the wilderness somewhere).
What could be more fun than writing programs and building robots? This June and July, at the Logo Summer Institutes, you can do just that. The programming language Logo is a variant of LISP originally designed in the 60's by a project team headed by Marvin Minsky and Seymour Papert (who was the subject of our cover story in Homeschool PC #9). Logo's purpose was to be an easy, logical programming language that anybody, even small children, could learn, while being open-ended enough to use for elaborate applications.
The Logo Foundation will be hosting two different kinds of Logo Summer Institutes, and running each one twice, in two different locations, so you have two chances at an open calendar. Homeschoolers are welcome! The Logo Immersion institute will teach students how to create games, animated stories, and multimedia presentations, how to use Logo to explore math, science, language, and music, and how to design Logo environments for very young children. The Logo Robotics institute will teach how to design and build cybernetic devices and how to control them with Logo, how to make scanners, robot arms, conveyer belts that sort items, and all sorts of other neat stuff.
The Rockford Institute's Third Annual Summer School, titled "The Greek Roots of Christendom," will be a haven for the sort of people who read The Iliad and The Spirit of '76. Hosted by the same people who bring you Chronicles magazine, this week-long get-together will dip into the Greek roots of western civilization as we'd like to know it. It would be a good idea to be well-read in Homer, Plato, Aristotle, Herodotes, Thucidides, and a number of other "big names" from their time, as well as be familiar with American history and the paleoconservative view of economics and government put forward in Chronicles. Registration is priced pretty reasonably, and accommodations for out-of-town students will be on riverfront property (Cliffbreakers Suites). Transportation will be provided to and from Cliffbreakers every day, as well as to dinner. As a special bonus, if you show up early (as in 9 AM on August 1), you can attend an optional workshop: "Why It's Necessary to Teach the Classics and How to Do It Right." The Rockford Institute's Summer School is meant for future statesmen, educators, and citizens, plus of course their parents, with mature and educated enough minds to appreciate the material.
Answers in Genesis (AiG), known for its unwavering position on the literal truth of a six-day-creation, as per the Bible, is now offering two Answers In Genesis Summer Retreats. The AiG Summer Retreats are for anyone who wants to know how science supports the Bible, what the Bible actually says about creation, and why it matters to us today. Seminar speakers include Practical Homeschooling columnist Ken Ham, Buddy Davis, John C. Whitcomb, Paul Landis, and Carl Kerby.
The six-day AiG Wild West Family Retreat includes a number of fascinating activities: viewing Dr. Ed Holroyd's ancient coin collection, touring Dinosaur Ridge with Dr. Holroyd (followed by a speech by Ken Ham about Dinosaurs and the Bible), visiting the Denver Museum of Natural History, participating in a "challenge course," visiting the Denver Zoo, fascinating seminars and speeches, and other activities around the conference center.
The five-day AiG Indiana Family Retreat has seminars and speeches too, of course, and an outing to the Newport Aquarium, viewings of AiG videos, a tour of the AiG headquarters and the site for the proposed Creation Museum, an outing to the Cincinnati Zoo, and more.
If your budget is somewhat more limited, you could try your local YMCA. Ours offers a good number of summer camps, from theater, dance, and art to gymnastics, circus, and in-line skating. Prices range from $25 to $205, depending on options and member status. These are for summer only, but you ought to have time to get into them even just before they start. YMCA may have a few adventure camps too, in local forests, on local lakes, or wherever they can get their hands on a little wilderness.
Vacation Lodging
Maybe you don't want your summer crammed with pre-arranged activities, but you'd still like to get away from everyday life. Resorts are great for that sort of thing, but you want a resort that your kids will enjoy, an experience that'll improve them. All you need is a little wilderness where you can let them loose - a place without television, where, to have fun, your kids will have to go outside and explore. At the very least, they'll learn to walk with a stride as opposed to that mincing little walk kids do when they're indoors all the time. Education isn't just about "book learning." So, if you've got the money and the time, look into these excellent resorts!
A whole different world! The lodge on Little St. Simons Island is for anybody who needs a little peace and quiet and a lot of nature. The entire 10,000-acre island is privately owned, and carefully preserved in its natural state. The ancient forests are full of old cedar, pine, oak, magnolia, and other kinds of trees. The island has a seven-mile-long beach, completely pristine. If you want beach time entirely to yourself, without blaring boom-boxes (perhaps without another soul in sight!), you can have that here.
If you have kids who love the outdoors, this is the place to take them. Little St. Simons Island is filled with fascinating wildlife year-round (bird migration is heaviest in April), and the staff hosts nature activities like shore skeining, kayaking, or bird-watching hikes, year-round (even January). Since it's in Georgia, the island doesn't have the kind of bitter winters found inland or to the north. The summers, of course, are hot and humid. The best time to visit would probably be during fall or spring.
Your first impression looking at the prices may be "ouch." You can, however, get a price discount for visiting during off-season (starts in August; everybody else is in school while you still have freedom), and get a per-person discount for taking a lot of people at once. You can see a pricing breakdown on the website, or call. Also, consider that, unlike many resorts, the prices include everything. Food, lodging, entertainment, activities, kayaks, bikes, boats, horseback riding, boat trip to/from island, and anything else that's available. In other words, once you're settled in, you can pick any mode of exploration you want without worrying about extra price. Another reason kids will love this place.
Off-seasons were made for homeschoolers. Aspen Lodge is set at the base of Long's Peak (which rises 9,200 feet), in the Colorado Rocky Mountains. You can explore 1,600 acres of ranchland or take a biking trip up into the mountains, eat cowboy suppers, take hay rides, or canoe and fish on the small, stocked lake. The area is also home to a lot of wildlife, so you can try spotting deer, elk, bighorn sheep, and lots more. There's a complete livery stable, a fleet of mountain bikes available, a stocked lake for fishing (small lake, about 200 or 300 yards across), tennis courts, volleyball, indoor exercise facilities, a weight room, a ropes course, and more.
The lodge itself is a bed-and-breakfast sort of affair, quite reasonably priced (especially excellent for families during the off-season, when only we homeschoolers can bring kids)! Food, lodging, and activities are included in the price, though you will have to pay extra for horseback riding or mountain bike rentals. If your cooped-up kid has ever told you he wanted to be a cowboy, try spending the night (or the week!) at Aspen Lodge, and let him loose in ranch country, where there's plenty of room to stretch his legs.
Adventure Camps
Looking for powerful adventures beyond those of mundane camps? If you have an active youngster (or not-so-active youngster who needs a physical challenge), you should be! Whether it's a tour of Alaska, a sea kayaking trip on the Outer Banks, or rock climbing, these camps get you away from the familiar routine and "separate the men from the boys" (and the women from the girls!).
Kids: Look through this section and run it by your parents; make your own choices before dear old Dad suggests something. That will give you some input on what you really want to do.
Parents: If your kids are terrified at the thought of flying off somewhere strange and new, try father-son activities, camps, or expeditions. However, if they're more independent-minded, it may be more of a growing-up experience for them to go it alone. Keep this in mind before you book little Jimmy into a stay-over camp for the first time in his life or before you book yourself into little Johnny's camp.
The traditional, time-honored American camp experience is a great way to make a more rounded individual out of a kid. Traveling somewhere, meeting people, enjoying the outdoors, and having an experience beats hanging around the house. The American Camping Association publishes an 8-1/2 x 11" half-inch-thick directory of accredited camps, certified to be kid-safe, as well as lots of practical advice, aimed at parents, on what to bring, how to prepare your kids for a stay-over camp, and much more. If you're looking for a special interest camp, like a Jewish or YMCA camp, you may be able to find one in this directory. (I'm studying Tae Kwon Do, and I could only find two martial arts camps in the index, and they were YMCA.) If your kids want to attend the kind of camp you'll find in the start of The Parent Trap, that's what this directory is full of, from cover to cover. It sells for $10.95, but it could conceivably save you a lot more in research and planning. (American Camping Association, 5000 State Road 67 North, Martinsville, IN 46151. www.ACAcamps.org.)
In some way related to the Sandy Cove Conference Center, Camp Sandy Cove is a Christian outdoorsy sort of camp, in the Pocono Mountains of Pennsylvania. There's a lot of physical activity, and ongoing Bible study, at this camp. Week-long camps you could attend include canoeing, backpacking, Adirondack Mountains camping, and leadership training. These activities are aimed towards two age groups: "Scouts and Maidens," age 7-11, and "Warriors and Squaws," age 11-14. (In my opinion, the warriors got the better end of that deal . . . The counselors are referred to as "chiefs," following the cowboys-and-Indians naming convention.) Any kid who's got the will and the strength is welcome, "regardless of race, religion, or national origin." And, yes, the camp is ACA-accredited. The LIT (Leaders in Training) course, involving Bible study and a three-week out-of-camp expedition, is the sort of thing I'd have loved to do when I was young enough to try it.
Outward Bound is for mature teens, so I'll be writing the next couple paragraphs to the future attendee, not his parents. If you're mature enough to handle an Outward Bound camp, you shouldn't need your parents to decide it for you. North Carolina Outward Bound offers physical challenges, and some mountain hiking and wilderness training, all in the Appalachians. There's some cliff climbing, whitewater paddling, mountain biking, wilderness hiking, leave-no-trace camping techniques, and of course classes in gourmet camp cooking. We said in our last "adventures" feature that this was a survival camp. Outward Bound really doesn't prefer to be known as a "survival camp" per se; they'll air-drop food and supplies at certain spots, and you're supposed to have enough provisions to make it without trouble. You don't have to go out picking mushrooms and hunting wild squirrel, to put it another way. Students will camp with groups, and solo at one point. They will be trained in wilderness skills and gradually given more initiative and less direction by counselors.
Outward Bound was originally designed by the British Navy, when they noticed that, in general, the older sailors would actually survive longer than the younger, stronger ones when a ship went down. They concluded that it was because the younger sailors didn't have the same will to live as the older ones, so they invented Outward Bound to build confidence, and foster a stronger will to live. When you attend an Outward Bound camp, you won't just be learning the proper mindset for survival, you'll be learning how to explore the wild without spoiling it for anybody else, how to navigate in the wilderness, and of course many other outdoor skills such as water navigation, mountain climbing, and mountain biking. I intend to take a few of these courses myself, when time permits.
Teen Missions offers a variety of missionary experiences to a good number of countries, from Australia to Britain to Egypt or even America. Kids signed up for these courses will receive "boot camp" training. The emphasis will not be largely on fun, but on the work in question. That work may be personal ministry; it may be helping out with a hospital; it may be building facilities somewhere. In any case, while there may be some recreation time, shopping and exploring will have to be cut short in favor of the trip's main purpose. Students who enter these camps may be traveling to the other side of the world under adult supervision, likely doing physically challenging work. A great opportunity to gain experience and try out missionary work at a young age, and get a feeling for the field.
Explore the last remaining frontierland on earth! Any kid who enjoys the Walt Morey books we sell in our catalog should love this trip. Lasting 9 days, 8 evenings, the Alaska Family Safari includes everything from dinner on day one to fees, tickets, permits, lodging, transportation, guided events, and more besides. Beginning in Fairbanks, AK, the Safari takes you by way of the historic Alaska Railroad to Denali National Park, then by bus to the middle of the Alaska wilderness, via a restricted-access road that only a few organizations have permits to travel. The only way you can get in is on a park service bus. You'll then stay at a lodge at the remote end of the national park. Mountain bikes are available for exploration. Three days of the adventure are spent at the lodge, where you can explore on your own, gold-pan, try grailing fishing, take guided hikes led by trained naturalists, and enjoy naturalist programs in the evenings. Wildlife photographers, for example, give slideshows and stories of their explorations, or wildflower experts and mountain climbers present their Alaska adventures. Very educational for anybody who wants to come back and explore on his own.
Here are a few of the activities you can participate in on the Alaska Family Safari. You could take a tour of the Alaska Sea Life Center, a research and showing facility, which recently unveiled a new marine wildlife and marine habitat exhibit. You can visit the new Alaska Native Heritage Center, where you learn about the history and culture of Alaska's native peoples. You can try more adventuresome activities, like kayaking, scenic rafting (no rapids, just a splendid view), or a one-day small-ship cruise to Kenai Fjords National Park, where you can see puffins, whales, otters, sea lions, eagles, mountain goats, and of course bears. The cruise rides by the glaciers, where you can sometimes get to watch icebergs calve off.
Tours and Local Attractions
American Student Travel offers trips to pretty much anywhere in the USA. Pick anywhere and you can set up a tour - provided you can get together at least 35 people willing to pay for it. Take the entire support group on a tour of Silicon Valley, climb up inside the Statue of Liberty, whatever other tour you want to arrange. AST can find a tour staff that knows the area to help you out, can arrange a flight for you and send a guide along, all included in the tour price.
If you don't want to travel, take a one-day vacation from your regular routine and see the sights in your area. Here in St. Louis, Missouri, for example, many people have never been to the Gateway Memorial Arch. I've never seen the inside. There are many museums and other attractions out there.
Many of these local attractions want to attract homeschoolers. Waterways, Ltd., 6532 Lancaster Dr., Warrenton, VA 20187, (800) 288-7925, www.educationalfieldtrips.com, offers educational hour-long ferry rides on the Potomac River in Washington, DC; the Susquehanna River in Harrisburg, PA; and the Hudson River in New York City. Homeschoolers participating in the "Newspapers in Education" program (in which local newspapers provide newspapers for educational use along with special educational inserts) noticed Waterways' tours on the newspaper insert, and set up some group field trips. Waterways tells us that they received raves from both the children and parents that came, and they are now seeking for more ways to let homeschoolers know about their field trips.
Wherever you travel this year - across the country, across the state, or across town - take your homeschool with you. You'll be making memories as a family and learning about life.
And that's what homeschooling is all about!
---
Was this article helpful to you?
Subscribe to Practical Homeschooling today, and you'll get this quality of information and encouragement five times per year, delivered to your door. To start, click on the link below that describes you:
USA Individual
USA Librarian (purchasing for a library)
Outside USA Individual
Outside USA Library