---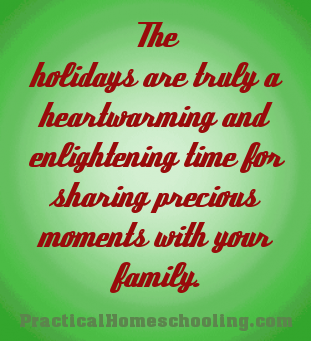 ''Snow!" One surprised child in flannel pajamas cries out. "Ma, it snowed last night!"
"Yes, look at all that white."
"Ma, would you let us play outside before school starts . . . please?"
"Yes, but for only one hour. A foot of snow isn't enough for public school to close in Maine. I don't want the neighbors to see you playing hooky for too long. I'll make oatmeal while you dress."
After all the adjusting of suspenders on snow pants, searching for "matching" pairs of mittens and wrapping ears up in scarves, Mother is able to sip some tea in peaceful solitude by the kitchen window. What does Mother do when she gets a few quiet moments to herself to think clearly and without interruption? She prays and plans. She wraps her fingers around the tea cup to warm them and then writes out her thoughts, hopes and wishes. In a few weeks it will be Christmas. She wants her children to celebrate the advent of God's Son and find joy in a few family traditions.
As the afternoon sun becomes sleepy and lowers itself in the sky and the house grows dim, she carries a heavy box out of attic storage. It is full of picture books that depict wintry scenes, big books which contain excerpts of Christmas chapters from classics like Little Women and Wind in the Willows, short stories such as The Gift of the Magi by O. Henry and The Fir Tree by Hans Christian Andersen, and poems by Christina Rossetti, G. K. Chesterton, Eleanor Farjeon, and Clement C. Moore. In the box are also meditations for advent, carol singing books, some tin cookie cutters, and craft and recipe books. There are cassettes of Christmas music played on all kinds of instruments, some sung by people once popular. There are several cassette renditions of A Christmas Carol by Charles Dickens, read by different narrators.
"We are not going to read or do all of these things this evening. You may choose one or two things from the box." Mother basks in the satisfying, comforting thought that she has taught all her children to read and now they all enjoy sitting down with a good story. The sounds of Mother making supper in the kitchen cannot be heard over Tchaikovsky's "Nutcracker Suite" playing in the background while the children read. But a few whiffs of something simmering do invite one hungry child into the kitchen.
"What book is that in your hand?" asks Mother.
"It's the one you used read to me when I was little."
"Oh, yes, that's one of my favorites: Too Many Mittens by Florence and Louis Slobodkin."
Supper is eaten by the light of the new set of red candles.
"Mom, I wish we could have a fire in the fireplace."
"You know the landlord won't allow it."
The dinning room's fireplace has a cherry-wood mantlepiece that matches the built-in china cabinet. The architect of this Victorian house must have known that when the family sat down to supper the setting sun would light up the stained glass on the western wall as the fire would light up the room from the eastern wall. Mother optimistically asks, "The candle light is pretty though, isn't it?"
After all the dishes are washed, the two eldest children bring out their instruments. One child at the cello and one at the violin practice Christmas songs which will in two weeks' time be played for loved ones who, sadly, leave Christ out of Christmas.
"Lo, How a Rose E'er Blooming," "Bring a Torch," "Jeannette, Isabella," "Gloria in excelsis Deo," and "Coventry Carol" are among their list of favorites. Mother has spent years driving children to lessons, encouraging and gently correcting them. She considers this time to be a good investment. Now she is able to hear hearts and hands in harmony giving praise and melody to God. Mother prays that the songs the children chose will cause the family to ponder things divine.
During the following week, Mother brings home pounds of butter, sugar and flour for the children to make Great Grandmother's sugar cookie recipe. This is the only time of year she makes cookies. The child who most enjoys getting her hands messy stands in front doing the largest share of mixing and rolling. It doesn't matter if they over-handle the dough. If the gingerbread bells, trees, birds, and men bake harder, this simply means they won't crumble and break. "Let your brother make some, too. He likes putting the sprinkles on," reminds Mother as she keeps watch over a batch of cookies in the oven. Butter browns quickly and somebody has to stand guard. What wonderful cookies and what a horrible mess! One child sweeps, one mops, and one washes the bowls and spoons in the sink. Mother mustn't wear herself out during the holiday. It can happen too easily. She must reserve some energy for the inevitable holiday requests, like "Hey Ma, are we going to make Christmas cake again this year? You know, the one with all the chopped dried fruit?"
Not all the little gifts given at Christmas are homemade, but usually a few are. Christmas is a good time to perfect some needle skills. "Make your stitches consistently even," says Mother to her eldest daughter, who decides to make scented pot holders.
One daughter makes a knitted gingerbread boy to be stuffed with wool and cloves.
"Mom, why is there a hole here?"
"You dropped a stitch. Here, let me fix it for you."
Their younger brother takes some of the same spices to make a scented orange. He uses cloves like little thumb tacks making a design on the orange's thick skin. He remembers what to do from the year before. Later Mother shows the girls how to mend a red, slightly moth-eaten, woolen sweater that is to be worn on Christmas Eve.
Although the three Rs are carried on in these later days of December, Mother does allow for a little straying from the normal courses. "Mom, can we use the rest of our school time today to write to friends?"
"Well, all right, but keep in mind that school isn't out yet. We still have some lessons to accomplish before we put all our school books aside for the week."
An hour goes by and the children are still writing and drawing cards for their far-away friends. They are so absorbed in their task that they don't notice Mother privately collecting a list of all the words they have asked her to spell over the last hour. Aren't they in for a surprise!
Mother remembers a time in her childhood when she made paper snowflakes by folding a perfect square of white paper into triangles and snipping out swirls and shapes with sharp scissors. Whenever winter comes around, it seems only natural to show her children how to make paper snowflakes. The children's little hands like to cut snippets out of folded paper. They're happy with their crude "holey" shapes decorating the windows. Mother seems to like them, too. But the carpet fills with paper snippets so often that she would be seen, time and again, surveying the devastation and asking, "Hey, didn't I just vacuum this place?"
Not too many winters ago Mother obtained the Dover book, Easy-to-Make Decorative Paper Snowflakes. For $3.50 the children can now cut lacy, more intricate designs by following the patterns in this book. A visitor or two will often comment on their attractiveness as seen from outdoors.
Thus the family tradition of playing good music, singing, sewing, cooking, drawing, writing, reading, and cutting paper snowflakes is carried on from year to year. This article reflects the Christmas experiences of the Andreola family who now live in snowy Maine.